Main content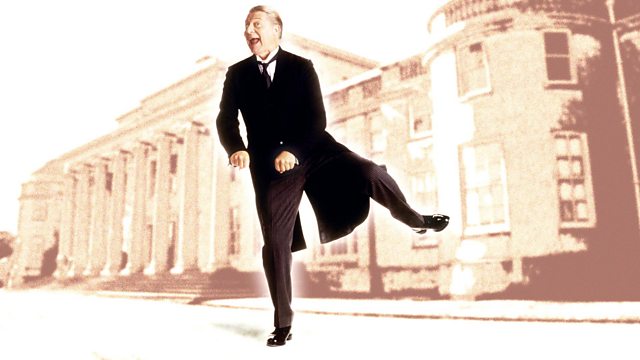 Wondrous Wodehouse plotting. Blackmail is now afoot - as well as petty larceny and fisticuffs by the rhododendrons. Gussie elopes, but with whom? Can Bertie stay out of jail?
Martin Jarvis reprises his award-winning Broadway characterisation as Jeeves. Masterly comic plotting down at Totleigh, directed by Rosalind Ayres and also starring Joanna Lumley, Ian Ogilvy and Michael York.
Local curate Rev 'Stinker' Pinker (Julian Sands) is in love with Sir Watkyn Bassett's niece, Stiffy Byng (Moira Quirk.) They can't get married until Pinker gets a vicarage of his own. Sir Watkyn (Ian Ogilvy) holds one in his gift, but he's not keen on Stinker. Control-freak Stiffy orders Bertie (James Callis) to help.
Bad idea.
Blackmail, petty larceny, elopement and knock-out blows ensue. Can Jeeves (Martin Jarvis), untangle these threads and keep the young master out of jail? Will bibulous Major Plank (Michael York) or cheery Aunt Dahlia (Joanna Lumley) hinder things?
Of course, it's Jeeves who engineers a surprising conclusion.
Cast:
Aunt Dahlia...Joanna Lumley
Bertie Wooster...James Callis
Jeeves...Martin Jarvis
Roderick Spode...Adam Godley
Major Plank...Michael York
Sir Watkyn Bassett...Ian Ogilvy
Rev Harold Pinker...Julian Sands
Stiffy Byng...Moira Quirk
Madeline Bassett...Elizabeth Knowelden
Gussie Fink-Nottle...Matthew Wolf
P.C. Oates...Darren Richardson
Emerald Stoker...Tara Lynne Barr
Cyril/Butterfield...Kenneth Danziger
Dramatised by Archie Scottney
Sound Design: Mark Holden
Director: Rosalind Ayres
A Jarvis and Ayres production for BBC Radio 4.
More episodes
Next
You are at the last episode
Credits
| Role | Contributor |
| --- | --- |
| Aunt Dahlia | Joanna Lumley |
| Bertie Wooster | James Callis |
| Jeeves | Martin Jarvis |
| Roderick Spode | Adam Godley |
| Major Plank | Michael York |
| Sir Watkyn Bassett | Ian Ogilvy |
| Rev Harold Pinker | Julian Sands |
| Stiffy Byng | Moira Quirk |
| Madeline Bassett | Elizabeth Knowelden |
| Gussie Fink-Nottle | Matthew Wolf |
| PC Oates | Darren Richardson |
| Emerald Stoker | Tara Lynne Barr |
| Cyril | Kenneth Danziger |
| Butterfield | Kenneth Danziger |
| Author | PG Wodehouse |
| Adaptor | Archie Scottney |
| Director | Rosalind Ayres |