Main content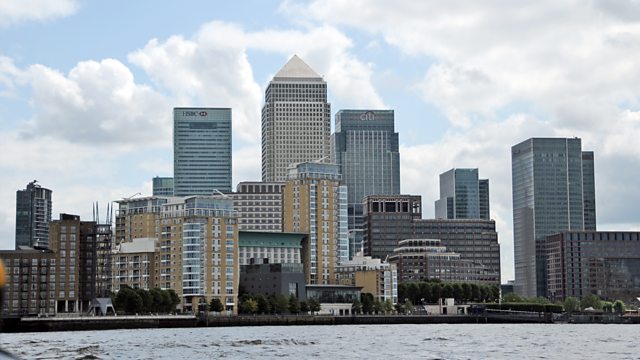 The Long Shadow of Canary Wharf
In April 1988, Margaret Thatcher laid the foundations of Canary Wharf; 30 years on, Jane Martinson speaks to others like her who have grown up in the shadows of the development.
In April 1988, Margaret Thatcher drove in the first pile of the building that was to be the tallest in Britain and to represent her vision of renewal, free markets and international finance. Thirty years on, journalist Jane Martinson looks back on the aspirations and speaks to those who have grown up and grown old in the shadow of Canary Wharf.
Thirty years ago, work began on a tower destined to transform London into a global financial capital. Canary Wharf, completed in 1991, heralded a new world order in which new jobs and new buildings were meant to improve the lives of all Londoners, not least the mainly white working class residents at the bottom of its 50 floors.
In 1987, the Isle of Dogs was an area of high unemployment and the highest concentration of council homes in England. Today, tensions over low paid jobs and housing are huge. While there have been winners and losers from the changes of the past three decades, the voices of these residents, particularly white working class women, have all too rarely been heard.
This programme mixes archive of the time - rich in promise of future prosperity - with a series of intimate and revealing conversations between the denizens of the Isle of Dogs today with someone who knows this area well - because it is where she grew up. Jane Martinson lived in a council house, went to the local comprehensive and worked on a local market stall on Saturdays before going on to become a journalist. Join her on a journey home to a changed Britain.
Last on