Main content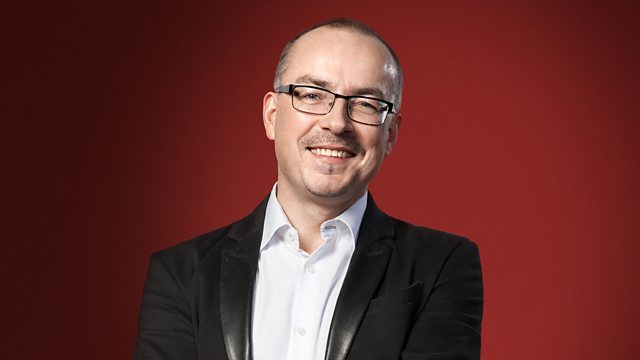 Andrew McGregor with Edward Seckerson, Katy Hamilton and Chris O'Reilly
Building a Library on Leonard Bernstein's comic operetta Candide, with Edward Seckerson, plus Katy Hamilton and Chris O'Reilly with new releases to mark Record Store Day.
with Andrew McGregor, plus guests Katy Hamilton and Chris O'Reilly who mark Record Store Day with their selection of new releases and a discussion about the various ways of consuming recorded classical music.
9.30
Building a Library: Leonard Bernstein's Candide with Edward Seckerson.
Based on Voltaire's 18th-century satirical novel about the misadventures of the pure-hearted and naive Candide and his much more worldly mate Cunégonde, Leonard Bernstein's 1956 operetta isn't just another Broadway show. It opened during the infamous witch hunts of Senator McCarthy and the House Un-American Activities Committee, which Bernstein and and book author Lillian Hellman had experienced firsthand. So alongside the blend of wit, sophistication and comedy, including brilliant parodies of operatic forms like 'Glitter and be Gay', the references to the Spanish Inquisition - 'What a day, what a day for an auto-da-fe' - and the irony of Candide's mantra that everything is for the best in the best of all possible worlds give the work a dark undercurrent.
That Candide never had the lasting success he thought it deserved really bugged Bernstein who tinkered with it on-and-off until the end of his life, resulting in multiple versions and the question of which, if any, is definitive.
11.45
Disc of the Week: Andrew chooses an outstanding new release.
Record Review
9.00am 
VIVALDI: LE QUATTRO STAGIONI
ANTONIO VIVALDI
The Four Seasons: Spring, RV269
The Four Seasons: Summer, RV315
The Four Seasons: Autumn, RV293
The Four Seasons: Winter, RV297
Concerto for strings 'Il riposo - per il Santissimo Natale', RV 270
Violin Concerto in E major, RV271 'L'Amoroso'
Concerto for Violin "Il Grosso Mogul" in D major RV 208
Rachel Podger (violin); Brecon Baroque
Channel CCS SA40318 (Hybrid SACD)
PETER NAVARRO-ALONSO: LE QUATTRO STAGIONI
PETER NAVARRO-ALONSO
Le Quattro Stagioni: I. La primavera (After Vivaldi's RV 269)Top of Form
Bottom of FoLe Quattro Stagioni: II. L'estate (After Vivaldi's RV 315)of Form
Bottom of FormLe Quattro Stagioni: III. L'autunno (After Vivaldi's RV 293)op of Form
Bottom of FormLe Quattro Stagioni: IV. L'inverno (After Vivaldi's RV 297)
Concerto in B Minor (After Vivaldi's RV 580)
Alpha, Ekkozone (ensembles), Mathias Reumert (conductor)
DaCapo 8.226591 (digital download available. CD released 27th April)
THE YOUNG RICHARD STRAUSSp of Form
Bottom of FormRICHARD STRAUSS
Piano Trio No. 2 in D major, AV 53
Quartet in C minor, Op. 13
Münchner Klaviertrio; Tilo Widenmeyer (viola)
Genuin GEN 18496 (CD)
CANTICLES OF THE SKY
JOHN LUTHER ADAMS
Sky with Four Suns
Sky with Four Moons
Sky with Nameless Colors
Sky with Endless Stars
Oliver Coates (multitracked cello and electronics)
RVNG INTL RVNGNL48 - exclusively on LP for Record Store Day 21/04/18
9.30am – Building a Library –
Edward Seckerson on Leonard Bernstein's Candide
Composer:     Leonard Bernstein
Piece:             Candide
Reviewer:      Edward Seckerson
Recommended Recording:
Original 1956 Broadway Cast recording:-

Robert Rounseville (Candide), Samuel Krachmalnick (conductor)


Sony/Columbia
SK 86859 (digital download)
Other Recommended Recording:
Below is another recording that Edward also liked, although we can't guarantee availability.
1988 Scottish Opera recording:-
Mark Beudert (Candide), Justin Brown (conductor)
Jay Records
CDTER1156 (CD)
10.35am New Releases – Record Store Day with Katy Hamilton and Chris O'Reilly
BRUCKNER: SYMPHONY NO. 7 AND WAGNER: SIEGFRIED'S FUNERAL MARCH
ANTON BRUCKNER
Götterdämmerung, WWV 86D / Act 3
Symphony No. 7 in E major:
Gewandhausorchester; Andris Nelsons (conductor)
DG 4798494 (CD)
MAHLER: SYMPHONY NO. 6 IN A MINOR 'TRAGIC'
GUSTAV MAHLER
Symphony No. 6 in A minor 'Tragic'
Minnesota Orchestra; Osmo Vänskä (conductor)
BIS BIS-2266 (digital download available.  Hybrid SACD released 27th April)
BRAHMS: VIOLIN SONATAS NOS. 1-3 (COMPLETE)
JOHANNES BRAHMS
Violin Sonata No. 1 in G major, Op. 78
Violin Sonata No. 2 in A major, Op. 100
Violin Sonata No. 3 in D minor, Op. 108                               
Tasmin Little (violin); Piers Lane (piano)
Chandos CHAN10977 (CD)
BRAHMS: VIOLIN SONATAS NOS. 1-3 (COMPLETE)
JOHANNES BRAHMS
Lieder (5), Op. 105
Violin Sonata No. 2 in A major, Op. 100
Violin Sonata No. 3 in D minor, Op. 108
Lieder und Gesänge (8), Op. 59
Violin Sonata No. 1 in G major, Op. 78
Sirkka-Liisa Kaakinen-Pilch (violin); Tuija Hakkila (piano)
Ondine ODE 1315-2 (CD)
ANTONY GORMLEY: SOUNDS OF THE STUDIO
ANTONY GORMLEY
Sounds of the Studio (Part 1)
Sounds of the Studio (Part 2)
Gearbox Records LP GB1544 - exclusively on LP for Record Store Day 21/04/18
MARTINŮ: DOUBLE CONCERTOS FOR VIOLIN AND PIANO
BOHUSLAV MARTINŮ
Concerto in D major for two violins and orchestra H329
Rhapsody-Concerto for Viola and Orchestra
Concerto for Two Pianos and Orchestra, H292
Deborah Nemtanu and Sarah Nemtanu (violin)
Momo Kodama and Mari Kodama (piano)
Orchestre Philharmonique de Marseille; Lawrence Foster (conductor)
Pentatone PTC5186658 (Hybrid SACD) 
BEETHOVEN: VIOLIN SONATAS VOL. 2
LUDWIG VAN BEETHOVEN
Violin Sonata No. 4 in A minor, Op. 23
Violin Sonata No. 5 in F major, Op. 24 'Spring'
Violin Sonata No. 7 in C minor, Op. 30 No. 2
Chloë Hanslip (violin); Danny Driver (piano)
Rubicon RCD1011 (CD)
WALTON: VIOLA CONCERTO, PARTITA FOR ORCHESTRA &
SONATA FOR STRING ORCHESTRA
WILLIAM TURNER WALTON
Viola Concerto (1961 Version)
Sonata for String Orchestra
Partita for Orchestra
James Ehnes (viola); BBC Symphony Orchestra; Edward Gardner (conductor)
Chandos CHSA5210 (Hybrid SACD)
HAYDN: PIANO TRIOS
JOSEPH HAYDN
Piano Trio No. 27 in A flat Major, Hob.XV:14
Piano Trio No. 32 in A major, Hob.XV:18
Piano Trio No. 35 in C major, Hob.XV:21
Piano Trio No. 40 in F sharp minor, Hob.XV:26
Piano Trio No. 41 in E flat minor, Hob.XV:31                                    
Trio Wanderer
Harmonia Mundi 902321
(digital download available from 21st April. CD released 4th May)
11.45am – Disc of the Week
VIVALDI: LE QUATTRO STAGIONI
ANTONIO VIVALDI
The Four Seasons: Spring, RV269
The Four Seasons: Summer, RV315
The Four Seasons: Autumn, RV293
The Four Seasons: Winter, RV297
Concerto for strings 'Il riposo - per il Santissimo Natale', RV 270
Violin Concerto in E major, RV271 'L'Amoroso'
Concerto for Violin "Il Grosso Mogul" in D major RV 208
Rachel Podger (violin); Brecon Baroque
Channel CCS SA40318 (Hybrid SACD)