Main content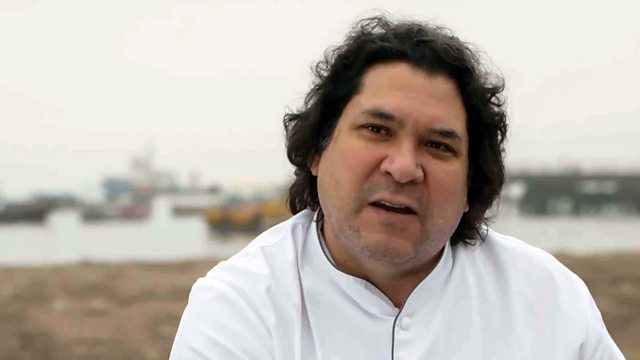 The four remaining cooks travel to Lima, capital of Peru, where they face three challenges and must impress leading industry figures from the Peruvian food scene.
Finals Week continues, and just four cooks remain. Now they embark on a culinary adventure of a lifetime to Peru. Over the last decade, Lima, the capital, has led a food revolution that has popularised Peruvian cuisine around the world. Here the finalists face three challenges, guided by two of Peru's most acclaimed chefs.
The first challenge takes place in Lima's major fish market Chorillos, where, in teams of two, they are tasked with recreating four popular iconic Peruvian dishes to serve to a group of local fishermen. To help the finalists make sense of this unfamiliar cuisine, they are mentored by one of Peru's most prolific and celebrated chefs, Gaston Acurio.
Next, the amateurs have the honour of working with chef Virgilio Martinez. His world-renowned restaurant Central is known for its unique menu which offers diners a taste of the incredible biodiversity found at different Peruvian altitudes. The four contestants work during a busy lunch service at Central and are given three hours to each cook a dish from Virgilio's 17-course tasting menu. Virgilio's cooking is precise and his standards exacting, so there is no room for error.
Finally, the finalists face the daunting challenge of creating a special dinner at the Lima Country Club Hotel for Gaston, Virgilio and three other leading industry figures from the Peruvian food scene - Roberto Grau, Pia Leon and Malena Martinez. The amateur cooks must draw on their experiences of Lima to create their own Peruvian-inspired dish and impress their high-profile guests.
Credits
| Role | Contributor |
| --- | --- |
| Judge | John Torode |
| Judge | Gregg Wallace |
| Executive Producer | David Ambler |
| Series Producer | Katie Attwood |
| Director | Ryan Daly |
| Production Manager | Sarah Howard |
| Production Company | Shine TV |
Past Winners - what are they up to now?