Main content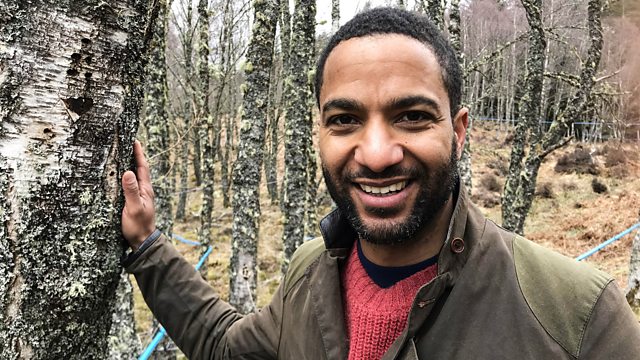 Loch Ness
Sean Fletcher and Naomi Wilkinson are in the wilds around Loch Ness. They travel to to Glenurquhart where they go head to head in a game of shinty.
Sean Fletcher and Naomi Wilkinson are in the wilds around Loch Ness. Sean is on the Erchless Estate, where they are busy tapping birch trees for the next big culinary thing - birch sap. He also meets the sporran maker putting a twist on this traditional item of Scottish clothing.
Naomi spends the day with seventh-generation crofter Iain McLeod and his daughter Chloe to get a taste of crofting life. It is lambing time so there is plenty to keep Naomi busy. She then meets Michelle Anderson Carrol, a vegetarian who rears rare breed pigs for meat.
Then it is off to Glenurquhart, the home of shinty, where Naomi and Sean take sides and go head to head in this ancient Scottish game.
Tom Heap takes a look at the rise in popularity of a vegan diet, and Adam Henson is on the Welsh estate where they keep bison.
Music Played
Timings (where shown) are from the start of the programme in hours and minutes
00:05

Anders Niska, Klas Wahl

The Darkness

00:54

The Grates

19 20 20
Birch syrup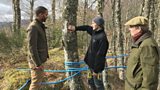 Sean's visiting the Erchless Castle estate, near Struy, for a taste of one of the new ways its managers are maximising the land's economic potential.
And the sweet and sticky secret to their diversification plans lies in the hidden sap rising in thousands of birch trees across the estate.
Birch tree boffin Jim Mann is one of the first people in the UK to tap birch sap on a commercial scale, distilling it into syrup on site in a converted shipping container.
But with just a three-week window in which to harvest the sap, can Jim make the venture a commercial success?
Crofting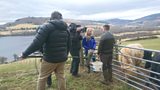 Naomi's discovering what it takes to be a crofter, working a small landholding – known as a croft - in the Highlands around Loch Ness.
Naomi's spending time with seventh-generation crofter Iain McLeod to see the challenges and rewards this uniquely Scottish agricultural system brings.
But what makes a croft, well, a croft? There're many answers but Iain sums it up as "too big for a hobby but too small for a living".
Naomi also meets Iain's daughter Chloe, who's set to become the family's eighth-generation custodian of the croft...and of a traditionally Scottish way of life.
Activism and Veganism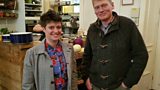 Tom Heap's looking at the why animal rights activists are trespassing on farms, filming what they find and posting it on the internet. He hears how they want to show people how our food is reared. He also hears from farmers on the other side of the argument who say they are being targeted and demonised.   
But direct action might not be the biggest threat. Tom meets Jack Monroe and learns about the rise in popularity of vegan and vegetarian diets. He then catches up with Nuffield scholar Tom Levitt who explains the impact of this change on the dairy industry.  
Sporrans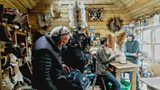 Traditional Highland dress wouldn't be complete without a sporran hung over the front of a kilt. They take a huge amount of time and skill to make and come in a variety of styles with different meanings.
For Kate Macpherson, sporrans have become her lifelong passion and work. Kate has a background in taxidermy and spends up to eight weeks hand-crafting sporrans using roadkill brought to her by locals.
Sean is venturing into the Highlands to seek out Kate's workshop to see if his stitching skills are up to scratch…and to try on a sporran for himself.
Microdairies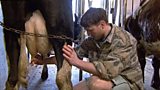 Farming is often a 24/7 operation and it's no different for Adam, who's on the early-morning shift as the lambing season demands extra care and attention…and sometimes some quick intervention.
Other farmers are, of course, up before the crack of dawn all year round and Adam's off to visit dairyman Josh Healy.
Josh runs a small organic farm in North Aston in Oxfordshire where he bottles and delivers the milk himself.
With just 17 milking cows and 250 local customers, this is a business that's all about quality not quantity…
Pig-farming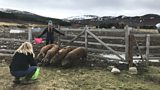 As a vegetarian, Michelle Anderson-Carroll is perhaps an unlikely candidate to be breeding pigs.
When the former operating theatre nurse took on a new croft, she brought in three pigs to plough up the land…but her love of the animals grew and she soon found herself pig-farming.
Now Michelle breeds the rare Oxford Sandy and Black – and today has 42 of the hardy animals, which Naomi has a go at moving round the croft...easier said than done!
Shinty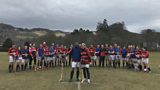 Just a stone's throw from Urquhart Castle is a team whose brutal sport is rooted in tradition yet is as popular as ever.
Shinty is a fast and furious game played with sticks on a pitch, bigger than a football field, where the aim of the game is to hit the ball into the goal.
Both Sean and Naomi are donning their kit at Glenurquhart Shinty Club to give the game a go but who will triumph in this first shinty match for Countryfile?
Credits
| Role | Contributor |
| --- | --- |
| Presenter | Sean Fletcher |
| Presenter | Naomi Wilkinson |
| Presenter | Tom Heap |
| Presenter | Adam Henson |
| Executive Producer | William Lyons |
| Series Producer | Joanna Brame |