Main content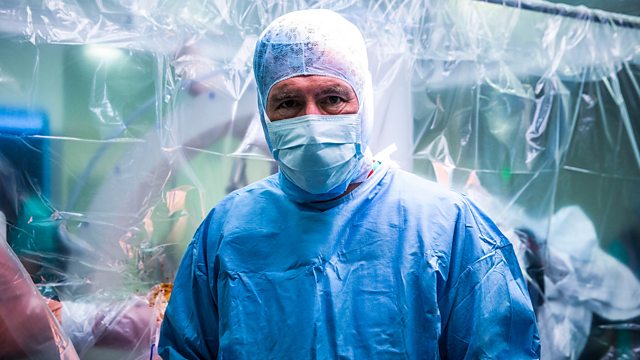 Documentary. Val is due to have groundbreaking reconstructive surgery on her jaw but with the NHS ruling in place, it cannot be deemed clinically urgent and should be cancelled.
The advice from the NHS to cancel all non-urgent surgery is taking a heavy toll at Nottingham University Hospitals. Once busy theatres lie empty as surgeons have their operation lists decimated. Patients who may have already waited months for surgery are left not knowing whether their operations will take place any time soon.
55-year-old Val is one such patient. Her entire jaw was destroyed by mouth cancer several years earlier. She cannot eat or talk. Leading maxillofacial consultant surgeon Dilip Srinivasan is due to operate on Val. He is planning to carry out groundbreaking reconstructive surgery which will aim to grow Val a new jaw inside a specially constructed frame. This surgery will transform Val's life but with the new NHS ruling in place, it cannot be deemed clinically urgent and should be cancelled. Dilip is determined to do everything he can to fight for Val's operation. He argues, 'She is someone who is suffering. And if medicine is not about treating people who are suffering, then what is it about?'
Orthopaedic consultant surgeon Tony Westbrook has had most of his routine surgical list cancelled. Currently in hospital, terminally ill Peter needs a hip replacement in the hope they can reduce his pain and send him home to spend his last few months with his family. Throughout January, any non-urgent hip replacement such as Peter's should be cancelled. However, Tony believes there are exceptional circumstances and does what he can to give Peter his surgery.
Nine-year-old Jayson suffers from scoliosis, a severe curvature of the spine. He is due to have major surgery to straighten his back which will transform his life. Paediatric surgery is supposed to be protected and is not part of the NHS ruling cancelling all non-urgent operations. However, like other paediatric intensive care units around the country, the unit at Queens Medical Centre is under severe pressure. Jayson has had his operation cancelled before due to a lack of specialist intensive care beds. As he arrives for his operation, Jayson and his mother Kerry have no idea whether or not it will go through. They wait in hospital while the decision is made.
Credits
| Role | Contributor |
| --- | --- |
| Executive Producer | Simon Dickson |
| Executive Producer | Lorraine Charker Phillips |
| Executive Producer | Ricardo Pollack |
| Series Producer | Sophie Jones |
| Series Producer | Emma Whitehead |
| Director | Rebecca Burrell |
| Director | Brigid McFall |
| Director | Hiral Patel |
| Director | Jack Rampling |
| Director | Lyttanya Shannon |
| Director | Chris Taylor |
| Director | Paul Wells |
| Director | Natasha Zinni |
| Production Company | Label1 Television Ltd |