Main content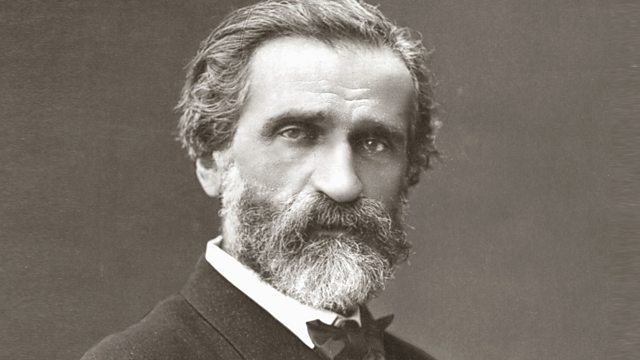 Donald Macleod explores Verdi's final years, his surprise operatic comeback and his relationship with young singer Teresa Stolz.
Few composers have made their mark on the world of opera like Giuseppe Verdi. He wrote a host of eminently hummable tunes as he rose to fame, paralleling the growing sense of identity which Italy was forging for itself in the 19th century, and establishing himself as the most successful Italian composer of his generation. Tracing his life is riddled with difficulties however, due to the artistic licence Verdi himself used when taking about his own history. Donald Macleod pieces together the truths as he traces Verdi's life and music and finds a story of shrewd investments, run-ins with the authorities, driving ambition, and emotional tragedy.
In the final programme of the week, Donald explores Verdi's final years, when after his Requiem, he made a surprise operatic comeback, and he developed a complex relationship with a young singer named Teresa Stolz.
Aida - Act 3 - Qui Radames verra!; O patria mia; Ciel! mipo padre!; Rivedrai le foreste imbalsamate; In armi ora si desta il popol nostro; Padre, a costoro schiava non sono
Eleonora Buratto (Sacerdoti)
Marco Spotti (Re)
Jonas Kaufmann (Radamès)
Erwin Schrott (Ramfis)
Ludovic Tezier (Amonasro)
Anja Harteros (Aida)
Orchestra and Chorus Dell'Academia Nazionale Di Santa Cecilia
Sir Antonio Pappano (conductor)
Requiem - Libera me
Anja Harteros (soprano)
Orchestra and Chorus of La Scala
Daniel Barenboim (conductor)
Otello - Act 1 - Una vela! Una vela!; Esultate!
Giacomo Prestia (Montano)
Ramon Vargas (Cassio)
Sergei Leiferkus (Jago)
Michael Schade (Roderigo)
Placido Domingo (Otello)
Orchestra and Chorus of the Bastille Opera
Myung-Whun Chung (cond)
Falstaff - Act 3 - Facciamo il parentado; Tutto nel mondo e burla
Soloists led by Bryn Terfel
Berlin Radio Choir
Berlin Philharmonic
Claudio Abbado (cond)
Nabucco - Act 3 - Va pensiero (Chorus of the Hebrew Slaves)
Westminster Choir
NBC Symphony Orchestra
Arturo Toscanini (cond)
Producer: Sam Phillips.
More episodes
Next
You are at the last episode