Main content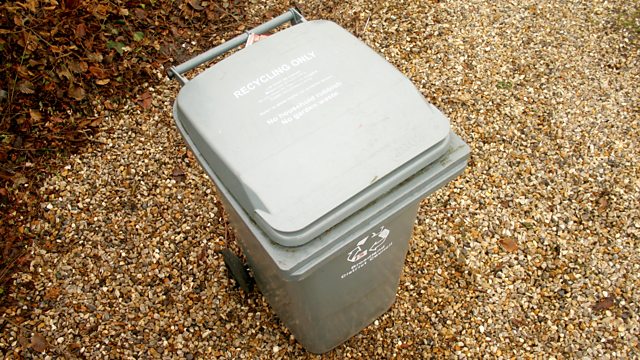 Recycling confusion, Redundant Churches, Turnips
Consumer news and issues. Why people are confused about recycling, the innovative ways some empty church buildings are being used and why sales of turnips have soared.
Research out today says two out of three people are confused about what they can recycle.
When in doubt, over a third of us throw packaging into the general waste.
The new figures are from a study by Ecover, the Belgian-based manufacturer of environmentally friendly cleaning products.
Our reporter, Bob Walker, visits a recycling plant in Southwark, London, to find out what can and can't be recycled.
We also speak to Paul O'Brien from the Association for Public Service Excellence, which advises local authorities on the costs of bin collections and recycling.
It's often said that shopping centres are the new cathedrals. We build them the way earlier generations built churches. We like to gather in them to shop on Sundays in the way people once came together, en masse, to worship.
The Church of England alone has more than 16,000 buildings. But sharp falls in UK church attendance since the 1960s is leaving lots of empty buildings.
Churches are often local landmarks, with protected heritage status.
Our reporter Vernon Harwood has been finding out what new developers like to do with them.
The turnip has a bit of a reputation as not being a very pretty or appetising vegetable.
It was the favourite food of Blackadder's Baldrick, and it's traditionally been thrown at bad actors or gladiators, and memorably, one England football manager was likened to one.
But it's had a bit of a resurgence, as Waitrose claims more of us are eating it.
They say they've seen an 80 per cent rise in sales - and their chief executive chef Jonathan Moore, reckons they're one of the most versatile ingredients in the kitchen.
We speak to consumer journalist, Harry Wallop, about why the humble turnip has suddenly become so trendy.
Presenter: Peter White
Producer: Tara Holmes.
Last on
Chapters
Salisbury

An update on how the attack has affected trading and tourism in the town.

Duration: 05:26

Recycling

Most people in the UK are confused about recycling.

Duration: 06:35

Salmon Lice

Consumers' demand for Scottish salmon risks 'irrecoverable' damage to the environment.

Duration: 06:26

Churches

The innovative ways some empty church buildings are being used.

Duration: 08:04

Turnips

Why sales of turnips are up by 80 per cent.

Duration: 04:24

Flight Compensation

A new ruling could mean more of us will be able to claim compensation for delayed flights

Duration: 06:03

Broadcast