Main content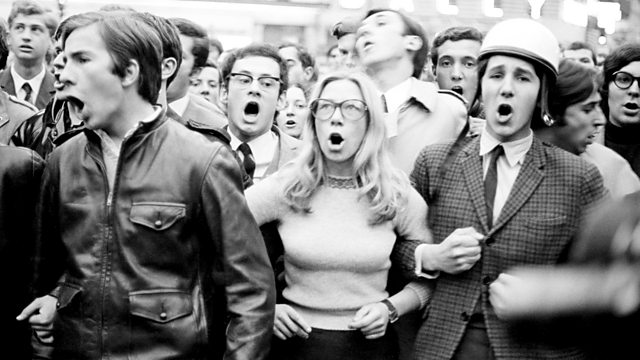 1968: Radicals and Riots
Andrew Marr looks back at Paris 1968 with journalist Sophie Pedder, historians Agnes Poirier and Richard Vinen and philosopher Roger Scruton.
Fifty years after radicals took to the streets of Paris and stormed campuses across the Western World, Andrew Marr unpicks the legacy of 1968.
Historian Richard Vinen finds waves of protest across the western world in his book The Long '68: Radical Protest and Its Enemies. Some movements were genuinely revolutionary, such as the ten million French workers whose strike nearly toppled the government. But on American university campuses and in British art schools, protests took the forms of civil rights marches and feminist collectives, whose narratives changed the way we think today.
In Paris, left-wing students armed with works of philosophy took on the police and the state. But Paris was still coming to terms with its Nazi occupation, explains Agnès Poirier. Her new book follows the artists and writers of the 40s and 50s, from Simone de Beauvoir and Jean-Paul Sartre to Miles Davis and James Baldwin, as a new generation helped France regain its reputation for art, passion and political action.
Not only left-wing radicals were inspired by the events of that year. In 1968 philosopher Roger Scruton was holed up in a Paris bedroom studying while rioters smashed windows outside. Scruton was horrified by the chaos and destruction, and turned his back on the left-wing politics of his childhood. He became part of a generation of new conservatives who sought to preserve the past rather than fight for an unknown future.
Today France is facing new waves of strikes, with railway workers bringing the transport system to a halt and Emmanuel Macron pushing through sweeping reforms to social security. Sophie Pedder, Paris bureau chief for The Economist and author or a new biography of Macron, asks what France in 2018 owes to the events of 1968.
Producer: Hannah Sander.
Last on
Agnès Poirier
Agnès Poirier is a Paris-born and London-educated journalist, writer, critic and broadcaster.
Left Bank: Art, Passion and the Rebirth of Paris 1940–1950 is published by Bloomsbury.
Richard Vinen
Richard Vinen is an author and Professor of History at King's College, London.
The Long '68: Radical Protest and Its Enemies is published by Penguin.
Roger Scruton
Sir Roger Scruton is an author, composer and writer. He is currently visiting professor of philosophy at the University of Oxford and Senior Fellow at the Ethics and Public Policy Center, Washington DC.
Sophie Pedder
Sophie Pedder is a political commentator, writer and Paris Bureau Chief for The Economist.
Revolution Française is out later this year and is published by Bloomsbury.
Credits
| Role | Contributor |
| --- | --- |
| Presenter | Andrew Marr |
| Interviewed Guest | Sophie Pedder |
| Interviewed Guest | Agnes Poirier |
| Interviewed Guest | Richard Vinen |
| Interviewed Guest | Roger Scruton |
| Producer | Hannah Sander |
Broadcasts