Main content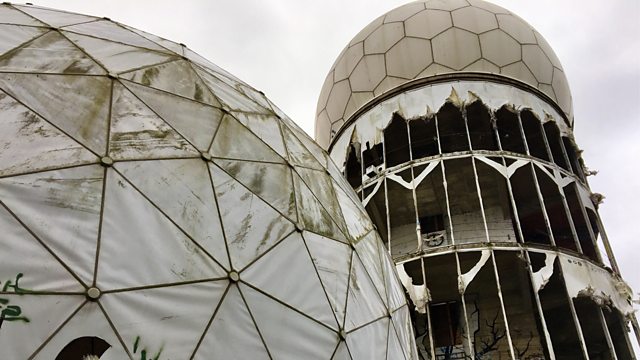 Cold Art
Documentary. Louise K Wilson meets fellow artists who, like her, make work inspired by the Cold War. The artists explore the creative mark left by the threat of nuclear war.
Louise K Wilson meets fellow artists who, like her, make work inspired by the Cold War.
Whether it's childhood memories, the background hum of the threat of nuclear armageddon, or the futuristic architecture, many artists are creatively stimulated by the imagined possibilities of a war which never turned hot.
Louise K Wilson travels to three very different sites with Cold War connections to explore their artistic appeal.
On a freezing winter morning, we meet artist Stephen Felmingham at the South Creake, Royal Observer Corps post, near Bloodgate Hill in Norfolk. He has been fascinated by the Cold War since he was a child, and remembers the presence of the American airbase near his home. This dank, underground shelter is the first ROC post Stephen became aware of - it overlooks his former primary school - and it began a six year practice of him visiting the national network of tiny, monitoring posts where he draws using his peripheral vision.
Hush House at Bentwaters Parks - formerly RAF Bentwaters - in Suffolk is a large hanger with a protruding concrete exhaust tunnel. The building was used to test jet engines and is acoustically treated to absorb the massive amount of noise created by this process. Despite the RAF title, Bentwaters was an American airbase which was home to much covert activity. Sound artist and scenographer Kathrine Sandys spent her childhood holidays camping nearby, and has strong memories of the activity she and her brother imagined took place there. Kathrine staged a sound and light installation in Hush House in 2010.
Field Station Berlin is former NSA listening station built in the Cold War to intercept communications from the East. It stands at the top of a man made rubble mountain, created by the women of the city as they disposed of the bombed out wreckage of Berlin in the second world war. At the base of Teufelsberg (or Devil's Mountain) stands Hitler's flagship military technical college, built so strongly that it couldn't be demolished, so was instead buried in rubble.
Every attempt to commercialise the site has failed and it is now home to a loosely marshalled collective of artists, some of whom live on site. While the buildings are brooding, decaying and unmistakably from the Cold War, its lure as a base for artists is mainly due to the space, lack of regulation and very low cost. It seems to be a magnet for people who want to exist outside of conventional society.
Produced by Freya Hellier
A Loftus Media production for BBC Radio 4.
Last on
Clips

Broadcasts