Main content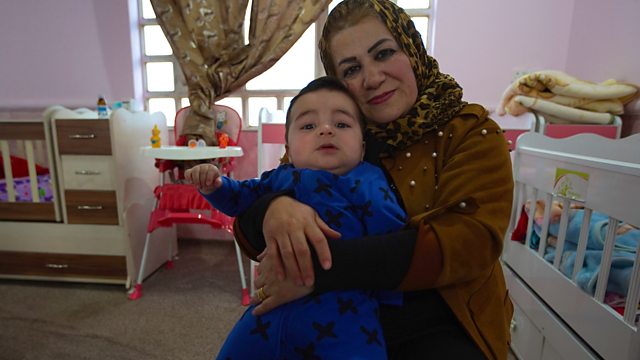 The Child Saver of Mosul
A whirlwind of passion and energy, Sukayna Muhammad Younes is on a mission to find the children lost in the war against so-called Islamic State in Iraq and reunite their families.
A one-woman whirlwind of passion and energy, Sukayna Muhammad Younes is a unique phenomenon in Iraq. A council official in the half-destroyed city of Mosul, former stronghold of so-called Islamic State, she's on a mission to find and identify the thousands of children who went missing during the conflict - and reunite them with their families. It's a massive task - and deeply controversial because Sukayna makes no distinction between children who are victims of IS - and those who belonged to IS families. "They're all just children - all innocent," she says. Tim Whewell follows Sukayna through the rubble of the city, visiting her orphanage, trying to find missing parents, meeting families who want to reclaim children. Can she solve the mystery of Jannat - an abandoned fair-haired girl who may be the daughter of a foreign IS family? Can she help Amal, sister of a dead IS fighter, to adopt her baby niece? How can families afford the expensive DNA tests the authorities require before families can be reunited? As she tries to solve these problems Sukayna also has to look after her own family of six children - and cope with personal tragedy. Two of her brothers were killed by jihadis; her family home, used as an IS base, is now in ruins. Highly charismatic - Sukayna now wants to go into politics. "I am a mini-Iraq," she says - her family includes members of many communities - and she believes the country desperately needs more dynamic, tolerant people like her, to bring real change and overcome divisions. But it's hard to be a high-profile, energetic woman in patriarchal Iraq - and she's faced death threats both from remaining IS supporters - and those who think she's too ready to help "terrorist" families.
Presenter Tim Whewell
Producers Nick Sturdee & Mike Gallagher.