Main content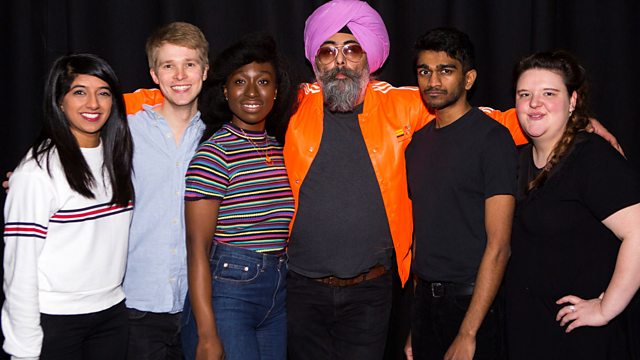 Multicultural sketch show written by white, black, Asian and minority ethnic stand-ups and writers from across the UK. Hosted by broadcaster and comedian Hardeep Singh Kohli.
Broadcaster and comedian Hardeep Singh Kohli sets out to find the next generation of white, black, Asian and minority ethnic satirical sketch writers, with a keen eye on finding the funny in a multicultural Britain.
Traditionally, some of the best UK sketch comedy shines a satirical light on social issues of the time, finding comedy from difficult subject matter or awkward social convention. When it comes to multiculturalism, sketch team Goodness, Gracious Me kicked open the door with their classic 90s sketch show, including the legendary Going For An English routine.
Sketchtopia aims to make sharp observations about modern Britain and, most importantly, allow shared experiences, common points of reference and authenticity to come together and hold a mirror up to our society and tell us a truth about ourselves.
Stand-ups and comedy writers from diverse backgrounds have been invited to give us a comic snapshot of UK society through their own observations and experiences. In these divisive times, Sketchtopia aims to poke fun at our multicultural society and tries to discover a diverse, multi-ethnic Utopia through good old-fashioned British sketch comedy.
In this episode - charity adverts, the potential loss of Eurovision, diversity in the workplace, and a young Indian traveller returns from his gap year in the UK with exciting new experiences...in a Tesco Metro.
Host: Hardeep Singh Kohli.
Performer: Vivienne Acheampong
Performer: Luke Manning
Performer: Jamie-Rose Monk
Performer: Nimisha Odedra
Performer: Paul G Raymond.
Script Editors: Sanjeev Kohli and Donny Mcleary
Writers: Sadia Azmat, Asmara Gabrielle, Kai Samra, Lizzie Bates, Anna Emerson, Athena Kugblenu, Joanne Lau, Jim Felton and In Cahoots.
Producer: Gus Beattie.
A Gusman production for BBC Radio 4.