Main content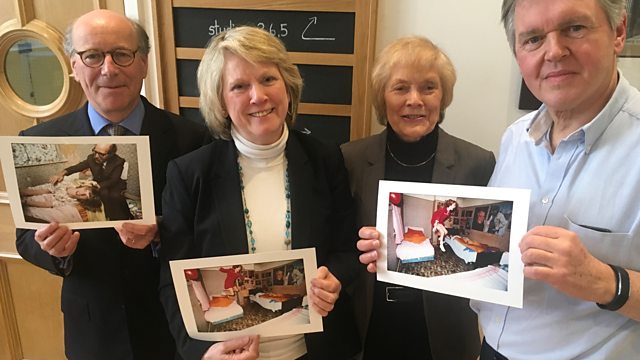 The Enfield Poltergeist
Sue MacGregor reunites a group of witnesses to the Enfield Poltergeist, a strange series of 'paranormal events' which started to occur at a council house in north London in 1977.
Sue MacGregor reunites the witnesses of the so called Enfield Poltergeist.
Poltergeist activity was first reported at the Hodgson family's three bedroom North London council house by Woman Police Constable Carolyn Heeps, in August 1977.
Over the next 18 months, over thirty eye witnesses, including neighbours, psychic researchers, several journalists, and the local lollipop lady, said they saw heavy furniture moving of its own accord, objects being thrown across a room, and the daughters seeming to levitate several feet off the ground. Many also heard, and recorded, unexplained knocking noises, and finally a gruff voice claiming to be a "G.H.O.S.T."
The activity was centred on the two daughters, Janet and Margaret Hodgson, who were then 11 and 14, with Janet acting as the conduit for the mystery voice. It has been described as the most documented paranormal event in Britain, with psychic researcher Maurice Grosse leading the observations.
With both sceptics and believers intrigued by the case, the question still remains - was this a true entity of the unexplained? Or could the activity be blamed on human mischief making?
Joining Sue to discuss, and attempt to explain, what they witnessed are former BBC Radio reporter Roz Morris, who recorded the poltergeist for The World This Weekend; Graham Morris, then of the Daily Mirror, who took a famous series of photographs of the girls levitating; and Richard Grosse who, as a newly qualified solicitor, helped his father cross-examine the Enfield poltergeist.
The programme also features Janet and Margaret Hodgson, the two daughters at the centre of the case, reflecting on events forty years later.
Researcher: Dan Hardoon
Producer: David Prest
A Whistledown production for BBC Radio 4.
Last on
Rosalind Morris catalogues a trail of paranormal events in Enfield, North London in 1978.

Sue MacGregor reunites the witnesses of the so-called Enfield Poltergeist in 1977.
Broadcasts