Main content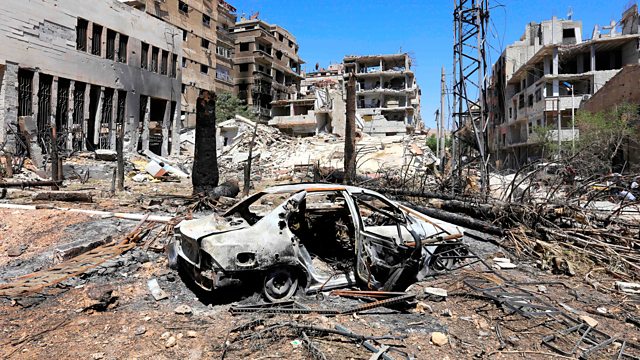 Syria attack could spark 'dangerous escalation' - Russia
In-depth reporting and analysis from a global perspective as the US, UK and France discuss a co-ordinated response following the Douma chemical attack.
The imminent threat of air strikes against Syria over the chemical attack in Douma, which killed 75 people, has dominated the news agenda in the last day or so, today, there has been a great deal of talking about whether the US, the UK and the French, will take co-ordinated action. We'll hear about the legal constraints in taking such action, hear from a Syrian opposition voice and the Lib Dem leader Sir Vince Cable. Also Enoch Powell's rivers of blood speech is 50 years old, and still controversial; BBC Radio 4 will broadcast it in full, using an actor. Hanif Kureishi thinks it's a great idea; Lord Adonis is appalled.
Picture: A Syrian soldier sits next to a poster of President Assad
Credit: AFP/Getty.
Podcast
In depth reporting, intelligent analysis and major breaking news from a global perspective