Main content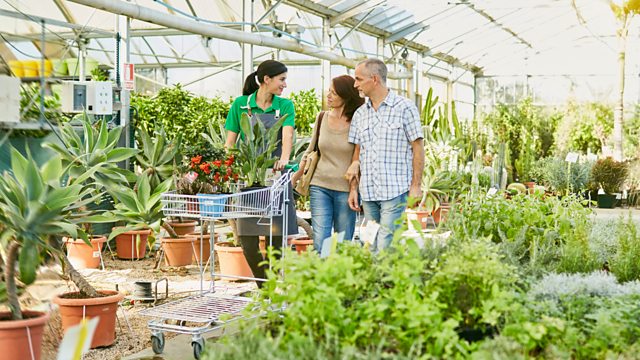 Garden centres, Online gambling, Cyber security
Garden centres are seeing a freeze on sales after the cold weather, plus the tactics some gambling companies use so they do not have to pay customers their winnings.
The Gambling Commission says some gambling companies are treating customers unfairly by allowing them to gamble, then later finding an excuse not to pay out winnings. We hear how one customer's account was restricted only after he won thousands of pounds. He says the gambling firm has treated him unfairly. Complaints website Resolver tell us how many complaints about gambling companies they have had.
Some Garden Centres are reporting a massive drop in sales this Spring because of the cold weather. The Founder of Squire's Garden Centres, Colin Squire talks about their difficult season. Plus Matthew Appleby from Horticulture Week magazine tells us how the whole sector has been affected.
According to research, the new benefit, Universal Credit, is hitting the self-employed really hard. People being switched to it who work for themselves are being unfairly treated. The report says that when it comes to payments to top up low incomes, the self-employed can be left more than six hundred pounds a year worse off than an employed worker on the benefit, even if their year-end earnings are identical.
The National Cyber Security Centre is holding its annual conference, CYBERUK 2018 in Manchester this week. Our reporter Shari Vahl went along to find out how in light of the recent Facebook data scandal the industry is trying to relay our fears about the technology in our homes that collects our personal information.
And, since the vote to leave the European Union, British farmers and producers have been keen to push the opportunity of more consumers buying British. But does the squeeze on our spending mean while our intentions to buy local may be genuine, are we really just looking for the cheapest option?
Presenter: Winifred Robinson
Producer: Lydia Thomas.
Chapters
Gambling Disputes

Are gambling websites treating customers unfairly?

Duration: 06:29

Gardening Centres

How has the bad weather effected garden centre profits?

Duration: 06:04

HS2

How the planned HS2 is impacting Stone in Staffordshire.

Duration: 06:36

Universal Credit

The new benefit, Universal Credit, is hitting the self-employed really hard.

Duration: 07:00

Buying British

Are customers swayed by production location or price?

Duration: 05:56

Cyber Security

Should everything that links to the internet have a use-by-date?

Duration: 06:13