Main content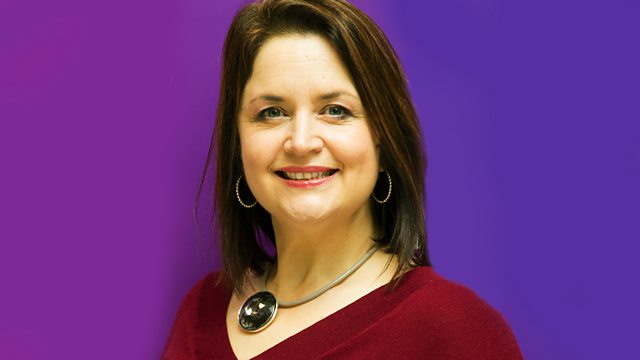 Screenwriter-turned-novelist Ruth Jones, International girl band GRRRL, Children and mental health.
Presented by Jane Garvey. Featuring screenwriter turned novelist Ruth Jones, tips on helping young people with mental health issues, and music from international girl band GRRL.
Ruth Jones is best known for her screenwriting, becoming a household name with Gavin and Stacey, and cementing it with Stella. But now she's turned her hand to novels. Never Greener tells the story of Kate, a successful actor presented with a second chance at the love affair that defined her. Ruth joins Jane to discuss writing unsympathetic characters, and whether you should leave the past in the past.
Just before Easter, four defendants in a rape case in Northern Ireland were found innocent of all the charges against them. They were well-known rugby players. Despite the unanimous, not guilty verdict, the case has caused a stir in the whole island of Ireland. There have been public rallies calling for a change to the way the justice system handles sexual assault cases, and a hashtag and a special Facebook page have been created. We talk to Monica McWilliams, Former Northern Ireland's Human Rights Commissioner, about the fall-out from the case.
One in ten children and young people will experience mental health difficulties - the most common being symptoms of anxiety and depression. But if you notice a problem, what can you do? And how should your approach change depending on the child's age? Last week we looked at younger children. Today tips from Dr Sarah Vohra ,a psychiatrist specialising in children and young people, to help 11 to 13 year olds.
Meet GRRRL, are a seven piece all-female band brought together from the four corners of the world. Three members - Wiyaala, Sohini Alam and AWA talk about their UK tour and perform live in the Studio.
Presenter Jane Garvey
Producer Beverley Purcell.
Clips

Chapters
Ulster Rape Trial

Duration: 11:37

Good Friday Agreement - 20 years on

Duration: 07:54

Ruth Jones

Duration: 11:08

Children and mental health - 11 to 13 year olds

Duration: 05:53

Support For Victims Of Sexual Assault

Support and Advice On Children's Mental Health

Credits

| Role | Contributor |
| --- | --- |
| Presenter | Jane Garvey |
| Interviewed Guest | Ruth Jones |
| Interviewed Guest | Monica McWilliams |
| Interviewed Guest | Sarah Vohra |
| Interviewed Guest | Wiyaala |
| Interviewed Guest | Sohini Alam |
| Interviewed Guest | AWA |
| Producer | Beverley Purcell |