Main content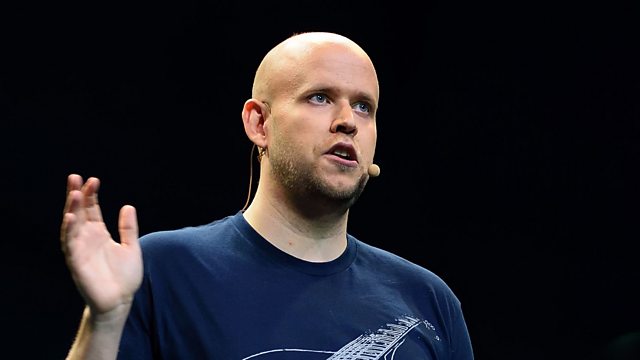 Daniel Ek
Series of profiles of people who are currently making headlines. Mark Coles tracks the life of the co-founder and CEO of the music streaming service Spotify, Daniel Ek.
Daniel Ek, co-founder and CEO of music streaming service Spotify. Mark Coles tracks the life of the shy Swede transforming the music industry.
This week 35-year-old Daniel Ek became very, very rich when his company Spotify floated on the New York Stock Exchange - with an initial value of more than $26 billion.
It's a long way from his home in a working-class suburb of Stockholm where Daniel's interest in both music and computers was piqued at an early age.
He started his first businesses while a teenager, in between starring in school musicals, and earned his first fortune in his early 20s.
He launched Spotify in 2006 with business partner Martin Lorentzon, with a goal to 'save the music industry' at a time when illegal downloads were eating into profits.
Today Spotify has revolutionised the way we listen to music and last year Daniel Ek was named the most-powerful person in the music industry by Billboard magazine - but what does the future hold in store for the tech industry's latest billionaire?
CONTRIBUTORS
Tony Kinberg, Daniel Ek's former music teacher
Kina Zeidler, journalist and author of Det Svenska Techundret (The Swedish Tech Miracle)
Jonas Nordlander, co-founder & CEO of Avito and founder and former owner of Tradera.
Pelle Lidell, founder of EKKO Music Rights Europe and former executive at Universal Music
D.A. Wallach - musician, tech investor and former artists services lead at Spotify
Diego Planas, former Spotify employee.