Main content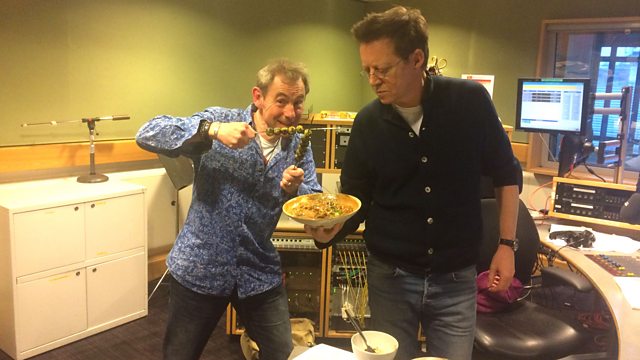 Beef Stroganoff, Cockroach Confession, Barbershop Quartets
Beef stroganoff is on offer from resident cook Nigel Barden in the latest mouth-watering 'Foodie Thursday'.
Last on
Music Played
Madonna

Deeper And Deeper

Madonna - Greatest Hits Volume 2.
Maverick.

Wings

With A Little Luck

Pure McCartney.
Virgin EMI Records.

Liam Gallagher

For What It's Worth

(CD Single).
Warner Bros.

Nick Lowe

I Love The Sound Of Breaking Glass

MAX

Lights Down Low (Latin Urban Mix)

Pretenders

Stop Your Sobbing

The Pretenders - The Singles.
WEA.

Thin Lizzy

Don't Believe A Word

The Very Best Of.
Vertigo.

Jamiroquai

Virtual Insanity

Walk On - Hits From The Last 2 Decade.
Columbia.

Amii Stewart

Knock On Wood

The Soul Years: 1979 CD2.
Sanctuary Records Group.
5.

Charlie Puth

Done For Me (feat. Kehlani)

Elvis Presley

Good Luck Charm

Presley - The All Time Greatest Hits.
RCA.

Tina Turner

The Best

Tina Turner - Simply The Best.
Capitol.

Sting

&

Shaggy

Don't Make Me Wait

Glen Campbell

Rhinestone Cowboy

Ultimate Country (Various Artists).
Telstar.
Beef Stroganoff
by Tom Kerridge from Tom Kerridge's Lose Weight For Good (Absolute Press)
This classic creamy casserole is made with mushrooms, smoked paprika and slices of pan-fried rump steak. It is also still filling without the rice, should you want to reduce the calorie count.
Each serving provides 795 kcal (505 kcal without rice), 59g protein, 87g carbohydrates (of which 18g sugars), 18g fat (of which 7.5g saturates), 18g fibre and 4.5g salt.
Serves 2
Prep time: less than 30 mins
Cooking time: 10 to 30 mins
Ingredients
½ tbsp light olive oil 1 large onion, finely sliced 3 garlic cloves, finely chopped 1 beef stock cube 2 tsp sweet smoked paprika 1 tbsp tomato purée 400g tin beef consommé 150g/5½oz chestnut mushrooms, thinly sliced 1 tbsp Dijon mustard 2 rump steaks (175g/6oz each), trimmed of all fat olive oil spray 60g/2¼oz cornichons or small gherkins, sliced 75ml/2½fl oz half-fat crème fraîche 2 tbsp finely chopped flat-leaf parsley 2 tbsp roughly chopped chervil 2 tbsp dried onion flakes sea salt and freshly ground black pepper  
To serve (optional)
160g/5¾oz basmati rice, freshly cooked  
Method
Heat the light olive oil in a large frying pan over a low–medium heat. Add the onion and cook gently for 10 minutes, or until softened and starting to caramelise.
Stir in the garlic and cook gently for 2 minutes. Crumble in the stock cube and stir in the paprika and tomato purée. Cook, stirring, for 2 minutes. Add the beef consommé, mushrooms and mustard. Bring to the boil then lower the heat and simmer for 10–15 minutes, or until the volume of liquid has reduced by half.
Meanwhile, place a griddle pan over a high heat. Bash the steaks between two sheets of cling film, until about 5mm/¼in thick. Spray each side with six sprays of oil and season with salt and pepper. When the griddle is smoking hot, add the steaks and cook for 1 minute on each side. Remove and set aside to rest.
Once the sauce has reduced, remove from the heat and stir through the cornichons, crème fraîche, and most of the parsley and chervil (reserving some for garnishing). Stir in the juices from the resting meat and check the seasoning. Cut the meat into thick slices and stir into the sauce.
Mix together the dried onion flakes and reserved chopped parsley and chervil. Serve the stroganoff sprinkled with the onion and herb mix, with the rice on the side, if you like.
For Bobbie, Nigel used a lentil soup instead of beef broth and served it up with a side dish of skewered sprouts.
Skewered Sprouts 
by Celia Brooks from Superveg (Murdoch Books)
Trim the sprouts and stab each one all over a few times with then end of a skewer.  
Place in a bowl and drizzle over some soy sauce and toss.  Leave for a few minutes.  
Thread the sprouts onto skewers through the base.  Brush all over with olive oil.  
Cook over hot coals or gas flames, turning occasionally, until slightly charred and just tender.
Broadcast