Main content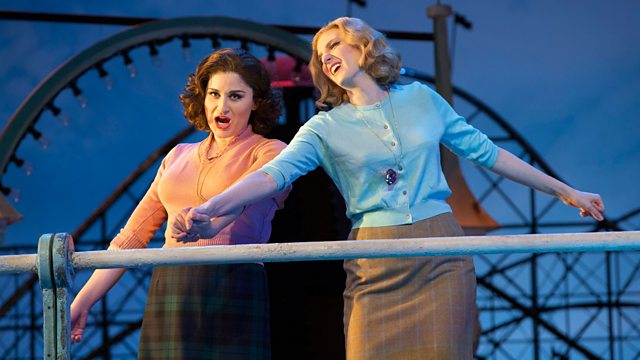 Mozart's Cosi fan tutte from the Met in New York
Direct from the Met in New York, Mozart's Cosi fan tutte with David Robertson conducting the Metropolitan Opera House orchestra and chorus, in this spicy tale of love and treason.
Direct from the Met in New York, Mozart's Cosi fan tutte with David Robertson conducting the Metropolitan Opera House orchestra and chorus. The tenor Ben Bliss and the bass-baritone Adam Plachetka take on the roles of Ferrando and Guglielmo, the two young officers in the Neapolitan army who enter a bet to see if their girlfriends Fiordiligi and Dorabella, sung by the soprano Amanda Majeski and the mezzo-soprano Serena Malfi, will be faithful, with intriguing results. This spicy tale of love and treason was the last collaboration between Mozart and librettist Lorenzo Da Ponte. Mary Jo Heath presents with commentator Ira Siff.
Fiordiligi ..... Amanda Majeski (soprano)
Dorabella ..... Serena Malfi (soprano)
Despina ..... Kelli O'Hara (soprano)
Ferrando ..... Ben Bliss (tenor)
Guglielmo ..... Adam Plachetka (bass)
Don Alfonso ..... Christopher Maltman (bass)
New York Metropolitan Opera Chorus
New York Metropolitan Opera Orchestra
David Robertson (conductor).
Episode Image Credit: Marty Sohl/Metropolitan Opera
Synopsis
Act I
Ferrando and Guglielmo discuss the fidelity of women with Don Alfonso. They claim that their own fiancées, Fiordiligi and Dorabella, are immune to any temptation. Don Alfonso insists that all women are unfaithful, and his two friends demand that he prove it. So Don Alfonso challenges them to a wager. He wants to show them both that even their girlfriends are no exception to the rule. The two of them agree to followDon Alfonso's instructions for the next 24 hours.

Fiordiligi and Dorabella are waiting for their lovers. But in their place, Don Alfonso arrives to announce that Guglielmo and Ferrando have been called up for military duty at short notice. They are just coming back to say their farewells.

Despina tries to comfort the two women over their loss and urges both Dorabella and Fiordiligi to find new lovers in the meantime. They are shocked at the idea.
Ferrando and Guglielmo return, disguised as foreigners. They remain unrecognized,and now begin to woo the two women. Despina helps them, but their efforts are in vain. The friends are rejected brusquely, and already begin to celebrate winning their wager. But they are too soon, as the agreed 24 hours are not yet over. While Ferrando ponders his love for Dorabella, Despina is preparing the next steps with Don Alfonso, raising the question as to the true nature of love.

The two spurned 'foreigners' now pretend to commit suicide. They succeed in impressing Dorabella and Fiordiligi, awakening their pity. The two men are seemingly saved from death by Despina, now disguised as a healer. The women's display of compassion encourages the men to try another attempt at courtship; this confuses Dorabella and Fiordiligi and they depart, furious.
ACT II
Fiordiligi and Dorabella are ready to marry their new lovers. Despina pretends to be a notary and issues the marriage contracts. The new couples sign them. Don Alfonso now unexpectedly announces the return of the women's original fiancés. Guglielmo and Ferrando reveal their true identity. The irritation is considerable; the experiment has succeeded, and nothing is how it was before.
Despina shares her own experiences of love's variety with the two women. Dorabell aand Fiordiligi decide to engage with the two men, just for the fun of it. Each already has her own favourite – namely the fiancé of the other. A crisscrossing game ensues.Dorabella accepts Guglielmo's attempts at courtship, while Fiordiligi struggles with conflicting feelings and desperately tries to find a way to preserve her honour and innocence. Guglielmo reports to Ferrando his experiences with Dorabella. Despite her betrayal, Ferrando still feels deeply committed to her, though she meanwhile seems to have taken on Despina's views wholesale. Ultimately, the despairing Fiordiligi also follows her on this path, becoming Ferrando's lover. Don Alfonso sees his beliefs confirmed: 'Così fan tutte – that's how all are!'.
Katharina John - Translation by Chris Walton