Main content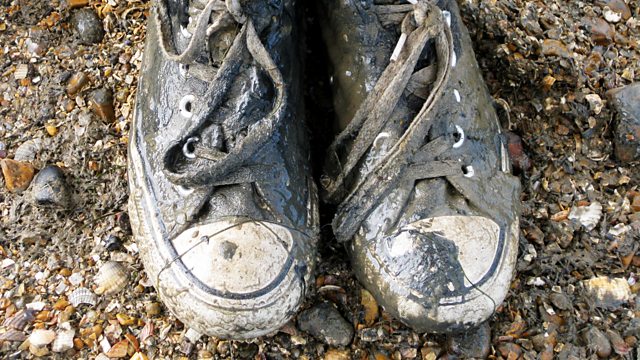 In Love with Mud: A Poetic Exploration of Mud
What does mud mean to us? Poet Fiona Sampson takes us on an evocative journey to find out, from sheep farming to geological research and from welly wanging to the trenches.
Fiona Sampson presents a radio poem about mud.
Moving downriver from upland bogs to tidal mudflats, and passing through sheep fields, research field stations, village fetes and battle fields along the way, we meet the people who make mud a way of life. Farmers, archaeologists, builders, ecologists and potters, as well as the great British public at play, reflect on what mud means to them.
It's a kaleidoscopic portrait, and mud emerges from it as our flexible friend - every bit as useful as it is dangerous, and as much fun as it is a nuisance.
We discover how mud is graded and measured, and the work it's doing in protecting environments from rising sea levels. We hear about the Fertile Crescent and the role of mud in making the first human settlements possible. We remember that, central to so much of farming, mud is what feeds us, and we celebrate the traditional crafts of cob construction, clay tiling and ceramic work, alongside the hard work of a restoration builder.
We also hear about some of the odder mud-related pastimes that have become popular in recent decades - bog-snorkelling and welly wanging.
With contributions from Kate Baker, Rob Barnett, Harry Clark, Hywel Davies, Gordon Green, Julia and Grace Maloney Homersham, Alison Palfrey, Peter Salmon, Tom Watkins, Corinne Westacott, poetry by R.S. Thomas, archive testimony from World War One soldiers and music by Benjamin Britten and Harrison Birtwistle.
A Terrier production for BBC Radio 4.