Main content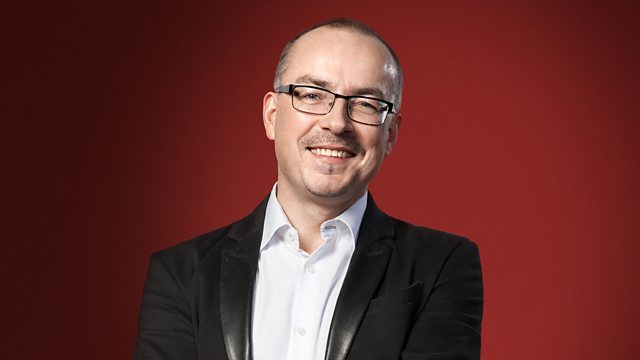 Andrew McGregor with Alexandra Coghlan and David Owen Norris
With Andrew McGregor. Including Building a Library.
with Andrew McGregor
9.30
Building a Library: Tallis's Lamentations of Jeremiah with Alexandra Coghlan
Thomas Tallis set the first and second lessons of Tenebrae for Maundy Thursday in the 1560s at a time when it was popular to make musical settings of the Holy Week readings from the Book of Jeremiah. These haunting settings are among Tallis's most performed pieces. Composed during the turbulent years of the mid 16th Century, Tallis's Lamentations have most often been read as a personal and private lament on the state of English religious life.
10.45
David Owen Norris reviews reissues of the great Chilean pianist Claudio Arrau known for his interpretations of a wide repertoire including especially Bach, Beethoven, Schubert, Chopin, Schumann etc.
11.45
Andrew chooses an outstanding new release as his Disc of the Week.
Record Review
9.00am  
Bach Inspiration
BACH, J S: Orchestral Suite No. 2 in B minor BWV1067; Partita in A minor for solo flute BWV1013; Easter Oratorio BWV249 (excerpt); Trio Sonata in G major BWV1038; Cantata BWV211 'Schweigt stille plaudert nicht' (Coffee Cantata) (excerpt); Ich habe genug BWV 82a
Juliette Hurel (flute), Mailys de Villoutreys (soprano), Ensemble Les Surprises, Louis-Noel Bestion de Camboulas (director)
ALPHA ALPHA358 (CD)
SCHUTZ: Auferstehungshistorie SWV50, Musikalische Exequien SWV 279-281 Op. 7
La Chapelle Rhenane, Benoit Haller
CHRISTOPHORUS CHR77417 (CD)
EINEM: Philadelphia Symphonie Op. 28; Geistliche Sonate Op. 38; Das Stundenlied Op. 26
Ildiko Raimondi (soprano), Iveta Apkalna (organ), Gabor Boldoczki (trumpet), Wiener Philharmoniker, Franz Welser-Most (conductor)
ORFEO C929181A (CD)
9.30am – Building a Library – Alexandra Coghlan on Thomas Tallis' Lamentations of Jeremiah
Recommended Recording:
Tenebrae Consort, Nigel Short (conductor)
Signum SIGCD901
Other Recommended Recordings:
Below are other recordings that Alexandra also liked, although we can't guarantee availability.
Hilliard Ensemble, Paul Hillier (conductor)
ECM 8333082
The Cardinall's Musick, Andrew Carwood (conductor)
Hyperion  CDA68121
Clerks of the Choir of New College, Oxford, Edward Higginbottom (conductor)
CRD CRD3499
10.20am New Releases:
LAMBERT: Lecons de tenebres
Marc Mauillon (baritone), Myriam Rignol (viola da gamba), Thibaut Roussel (lute), Marouan Mankar-Bennis (keyboard)
HARMONIA MUNDI HMM90236364 (2CD)
Seven Words from the Cross
trad.: Were you there?; Amazing Grace; Wondrous Love; Deep River
BILLINGS: The New England Psalm Singer: When Jesus Wept; Jordan; David's Lamentation; In Deep Distress I Oft Have Cried
DISTLER: Geistliche Chormusik, Op. 12; Geistliche Chormusik, Op. 12: No. 5, Ich wollt, dass ich daheime wär
HILDEGARD: Caritas abundat
BUCKLEY: Break it Gently to my Mother
 POULENC: Quatre motets pour un temps de pénitence (excerpt)
PORVALDSDOTTIR: Þann heilaga kross
MÄNTYJÄRVI: Death may dissolve
SHEPPARD: In manus tuas I
BRADBURY: Just As I Am
Carrie Cheron (alto), Sarah Moyer (soprano), Margot Rood (soprano), Clare McNamara (mezzo-soprano), Cory Klose (tenor), Douglas Dodson (counter-tenor), Alexander Nishibun (tenor), Fiona Gillespie Jackson (soprano), Dana Whiteside (baritone), Skylark Vocal Ensemble
SONO LUMINUS DSL92219 (Blu-ray audio + CD)
Hieronymus Praetorius: Missa Tulerunt Dominum Meum
LASSO: Responsorium
HANDL: Filiae Jerusalem nolite; Tulerunt Dominum meum
H. PRAETORIUS: O vos omnes; Missa Tulerunt Dominum meum
HASSLER: Deus, Deus meus
GABRIELI: Maria stabat ad monumentum
Siglo de Oro, Patrick Allies (director)
DELPHIAN DCD34208
Telemann Cantatas
TELEMANN: Aller Augen warten auf dich TVWV 1:66; In Christo gilt weder Beschneidung noch Vorhaut TVWV 1:929; Ich bin der Erste und der Letzte TVWV 1:816; Siehe, eine Jungfrau ist schwanger TVWV 1:1326
Sabine Goetz (soprano), Marnix De Cat (alto), Philippe Gagne (tenor), Werner Van Mechelen (bass) Ex Tempore, Mannheimer Hofkapelle, Florian Heyerick (conductor)
CPO CPO5550832 (CD)
1045 New Releases: David Owen Norris and Claudio Arrau
CLAUDIO ARRAU - COMPLETE PHILIPS RECORDINGS
Claudio Arrau (piano), Henryk Szeryng (violin), Janos Starker (cello)
Concertgebouw Orchestra, London Philharmonic Orchestra, Boston Symphony Orchestra, London Symphony Orchestra, Symphonieorchester des Bayerischen Rundfunks.
Bernard Haitink, Eliahu Inbal, Colin Davis, Christoph von Dohnanyi,
Leonard Bernstein (conductors).
Decca 483 2984 (80 CDs)
11.45am – Disc of the Week
BEETHOVEN: Missa Solemnis in D Op. 123
Ann-Helen Moen (soprano), Roxana Constantinescu (mezzo-soprano), James Gilchrist (tenor), Benjamin Bevan (baritone), Bach Collegium Japan, Masaaki Suzuki (conductor)
BIS BIS2321 (Hybrid SACD)