Main content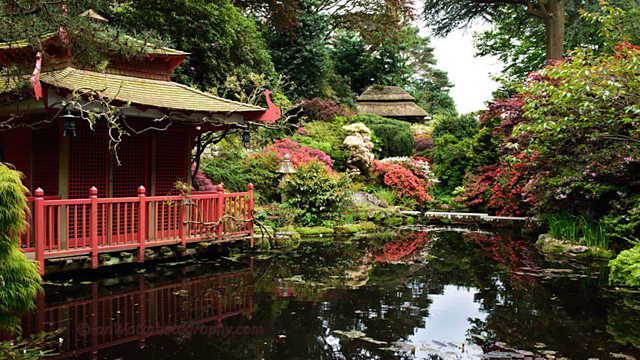 Compton Acres: Correspondence Edition
Peter Gibbs presents a correspondence edition from Compton Acres in Dorset. Anne Swithinbank, Christine Walkden and Bob Flowerdew help answer the questions.
Produced by Dan Cocker
Assistant Producer: Laurence Bassett
A Somethin' Else production for BBC Radio 4.
Fact Sheet
Q – I would like some hanging baskets but the spot gets a lot of sun.  How can I increase water retention, stop them drying out, and can you recommend suitable plants for a drier/sunnier basket?
Christine – Get washing up sponges, mince them and mix them in with the soil.  You could also line the basket with washing up sponge squares. 
Bob – Put plastic sheeting on the lining
Anne – Plant an old saucer in the base.  Succulents like Portulacca, Pelargoniums would work
Christine – Mesanreanthemums would work
Bob – On hot days put ice cubes on top of the soil and they'll slowly melt in
Charlie (from Compton Acres) – We use a mixture of swell gels and John Innes-based compost.  Grasses would work in a drier basket.
Q – I[ve inherited several purple/white heathers but they're getting too big so I'd like to divide them.  How can I do it?
Anne – You can't really divide heathers because they've got such a woody base
Bob – Cutting hard back will probably kill them
Anne – You can easily take cuttings
Q – Is it safe to apply moss killer where Crocuses are growing?
Christine – It should have any effect.  Always read the instructions.
Anne – You don't need to get rid of moss
Bob – Feed the lawn better rather than trying to kill the moss
Q – I have a problem with brown rot on my ninety-year-old apple tree.  What can be done?
Bob – Old apple trees are prone to running out of potash.  Give it some wood ash. 
Christine – It could be bird damage
Anne – Codling moth could be the culprit
Q – I potted a Christmas Cactus cutting twenty years ago (15cm x 10cm) and it seems happy enough but do I need to repot it?
Christine – I have one that's about 4ft across!  I would definitely repot into a slightly bigger pot (8 or 10 inches), fill that with John Innes No2 and keep it watered.
Peter – Unlike a regular cactus you should keep a Christmas Cactus shaded and wetter.
Q – I have a large courtyard which I've filled with pots of annuals and Hostas.  I want to propagate the Hostas from seed but only three of the plants produced seed pods.  How can I get more seeds?
Bob – Hand pollination with a paintbrush is the answer
Christine – Feed with potash too
Bob – Remove the flowers that you haven't pollinated and then the plant will put all its energy into that one
Anne – Sow the seeds fresh in the autumn and leave them in the greenhouse until the next spring
Q – I have a thyme lawn that I planted in 2013 and it has become quite patchy.  What can I do?
Bob – Thymes are short-lived plants.  Decorative ones like Dune Valley go very quickly. I would start again.