Main content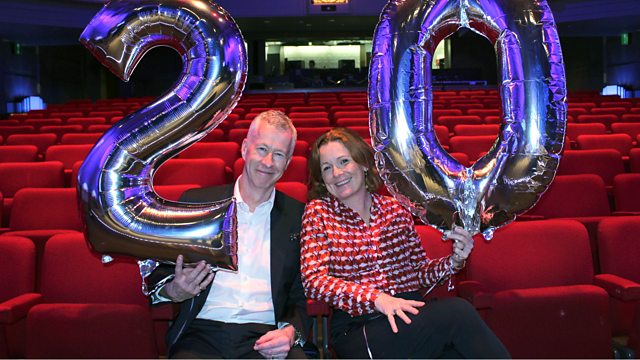 Front Row 20th Anniversary
Liz Carr, Bob Geldof, Lionel Shriver and Testament each make a case for the most significant artwork created during Front Row's first two decades on air.
To mark 20 years of Front Row Kirsty Lang and John Wilson host a celebratory extended edition live from the Radio Theatre at Broadcasting House in London.
Liz Carr, Bob Geldof, Lionel Shriver and Testament make their case for what they think is the most significant art work of the last 20 years.
Neil MacGregor, the former director of the British Museum and familiar voice to Radio 4, considers cultural developments and diplomacy since 1998.
There's a live performance from singer-songwriter Rae Morris. She'll join Caleb Femi, the Young People's Laureate for London, and Liv Little, founder and editor-in-chief of gal-dem - a magazine for young women of colour - to consider the scene for young emerging artists and to look ahead to what the next 20 years might bring.
Kate Fox, our poet-in-residence for the day, writes a rapid-response poem.
And Mary Beard pops in to tell us about the new series of Front Row Late which starts later tonight on BBC2.
Presenters: Kirsty Lang and John Wilson
Producers: Rebecca Armstrong and Hannah Robins.
Last on
Twitter Poll Terms & Conditions
1. From time to time BBC Front Row (@BBCFrontRow) will ask you to give your opinions on various topics by way of an online vote hosted by Twitter. Participants can take part only by accessing Twitter at 
https://twitter.com
.
Participants will find a question and a list of several alternative answers. Participants can register their vote by electronically selecting the answer they wish to vote for.
2. The BBC does not control the Twitter voting platform and is not able to independently verify the results.  Twitter is solely responsible for the robustness of any vote results.  Voting is conducted on Twitter's terms of use located here: https://twitter.com/tos . A guide to Twitter Polls is located here:https://support.twitter.com/articles/20174524?lang=en
3. Participants cannot vote by any other method. You may only vote once. The final result will be shown when the vote has closed.  Live results will be displayed during the vote window. These should not be taken as an indicator of the final published results, but merely as a snapshot for interest.
3. Once the vote is open, the time remaining in the vote window until close will be displayed. Any votes registered outside the announced voting window will not count.
4. This is not a competition and there will be no prize.
5. The BBC reserves the right to suspend voting if it has reasonable grounds to suspect that fraudulent voting has occurred or if it considers there has been any attempt to rig the voting. The BBC has the right to substitute an alternative selection method at its absolute discretion.
6. If, for any reason, the online voting system fails, the vote may be suspended or a contingency plan may be actioned.
7. The BBC reserves the right to change, cancel or suspend the vote at any time.
8. The BBC cannot accept any responsibility whatsoever for any technical failure or malfunction, or any other problem with any online system, server, provider or otherwise which may result in any vote being lost or not properly registered and recorded.
9. Please note that any BBC staff member or anyone who is directly connected in any way with the production of the programme is not eligible to vote.
10. The voting is this programme accords with the BBC's Code of Conduct for Voting: BBC Code of Conduct for Voting.
11. To the extent it collects any personal data, the BBC will only use your personal data for the purposes of running this vote. The BBC complies with the Data Protection Act 1998, as amended. For more information please see: BBC Privacy Policy.
12. These Terms and Conditions are governed by the laws of England and Wales
Credits
| Role | Contributor |
| --- | --- |
| Presenter | Kirsty Lang |
| Presenter | John Wilson |
| Interviewed Guest | Liz Carr |
| Interviewed Guest | Bob Geldof |
| Interviewed Guest | Lionel Shriver |
| Interviewed Guest | Testament |
| Interviewed Guest | Neil MacGregor |
| Interviewed Guest | Rae Morris |
| Interviewed Guest | Caleb Femi |
| Interviewed Guest | Liv Little |
| Interviewed Guest | Mary Beard |
| Performer | Kate Fox |
| Performer | Rae Morris |
| Producer | Rebecca Armstrong |
| Producer | Hannah Robins |
Broadcast