Main content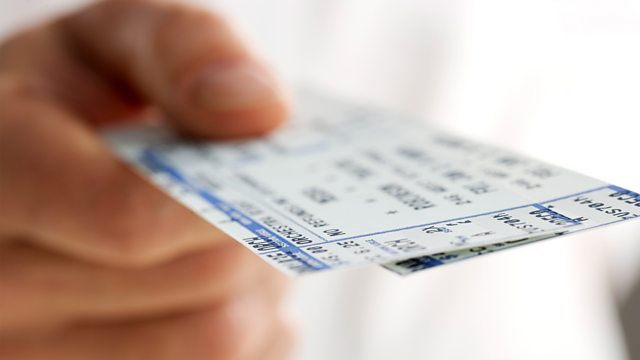 Concert Tickets, Council Bailiffs, Vegan Football
Consumer affairs programme. Ticket seller See Tickets responds to claims that it is not doing enough to prevent touts inflating prices plus the football club that has gone vegan.
The concert ticket industry has long faced questions and complaints about inflated prices on ticket re-sale websites. The secondary ticket sellers say part of the problem is a lack of transparency by the official primary sellers. Today we ask the chief executive of one of the biggest primary ticketing websites, See Tickets, about what is being done to tackle the touts.
People who have been harassed by bailiffs are to be asked to tell their stories in an official 'call for evidence' organised by the Ministry of Justice. It follows a review by the ministry which found that there are still concerns over bailiffs using aggressive behaviour, despite a change in the rules in 2014. Local councils are among the biggest users of bailiffs. They were sent in almost a million times in England and Wales last year to collect unpaid council tax, business rates, parking fines and over-paid housing benefit. The Money Advice Trust tells us about research it published recently which examined how councils make use of bailiffs.
You are sure to have noticed at the supermarket how many more vegan products there are to buy. That is in spite of there still being a relatively tiny number of people in the UK following the diet. But it's not just food and cosmetics, now there is even a vegan football club. One of the smallest clubs in the league tells us how since going vegan, it's converting lots of other people to the way of life too.
Presented by Winifred Robinson
Produced by Natalie Donovan.
Chapters
Tickets

What are the real problem facing the ticketing industry?

Duration: 07:20

Plastic Bags

The amount of plastic bags in the UK water ways has decreased.

Duration: 04:00

HSBC Account Closure

Is it to easy to close a HSBC account?

Duration: 03:47

Animal Welfare and Labeling Standards

What does the Red Tractor logo mean?

Duration: 08:12

Foodie Footie

Forest Green football club are a vegan club, and winning converts.

Duration: 06:57

Council Tax Bailiffs

Debt advice charities have complained about bailiffs intimidating people in debt.

Duration: 08:06