Main content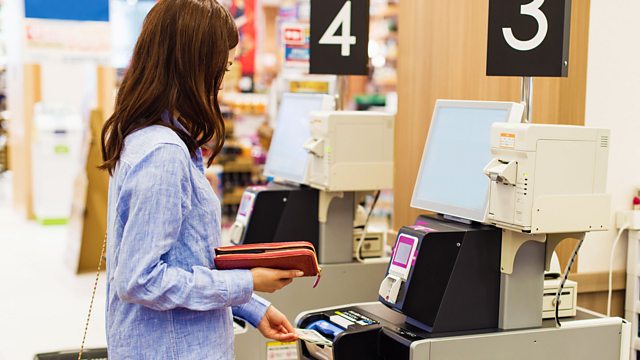 Self-checkouts, Leasehold regulator, Protein powder
Consumer affairs programme. A major supermarket is putting in CCTV cameras to camp down on theft at self-checkouts. Do we leave our moral compass at the tills when we use them?
Self check-outs came to the UK in 2002 and we now have more per head of the population than anywhere in the world. But for consumers it's been a love/hate relationship. Some were dismayed at the lack of social interaction - others revelled in it. They've certainly changed the way we shop but is there a darker side? Has the self-checkout shifted our moral compass when it comes to the idea of stealing? One major supermarket thinks so: it's installed CCTV and mirrors at 300 stores across the country as a survey reveals one in three of us have stolen goods at the self-checkout.
The Government has abandoned the idea that private letting agents can be trusted to regulate themselves. That follows years of complaints from renters about unfair charges. The promise is that in the not-too-distant future, letting agents will have to have professional training and abide by industry standards - flagrant breaches of the rules will be a criminal offence. There'll be a new regulator to enforce all of this.
Also a new system was promised to help leaseholders challenge unfair fees and service charges.
The Secretary of State for Housing Sajid Javid tells us more.
Sales of protein powders and other fitness supplements are rising dramatically. Protein powders that stared out as a niche product for bodybuilders have become mainstream. You can get them in supermarkets now. The next big thing seems to be Branched-Chain Amino Acids - or BCAAs. These are tablets, powders or drinks containing three of the nine amino acids essential to human health. The three are meant to help build muscle fibre after excercise.
But some nutritionists are warning that amino acids taken as supplements have no real benefits and that they can become habit-forming. We'll hear all sides of the debate.
Chapters
Leaseholder Regulator

The Government has abandoned the idea that private letting agents can regulate themselves

Duration: 06:57

House of Fraser

Is House of Fraser the latest shop to be facing trouble?

Duration: 06:13

Viagogo

You & Yours has found that the ticket seller Viagogo is in breach of Google's new rules.

Duration: 02:57

UK House Prices

How has foreign money has made a difference to the average price of a home in the UK

Duration: 04:30

Self Service Checkouts

Security at self service checkouts.

Duration: 05:00

Protein Powder

Sales of fitness supplements are rising dramatically. Are they safe?

Duration: 08:03

April Changes

April brings the start of a new tax year and a load of price increases.

Duration: 04:55