Main content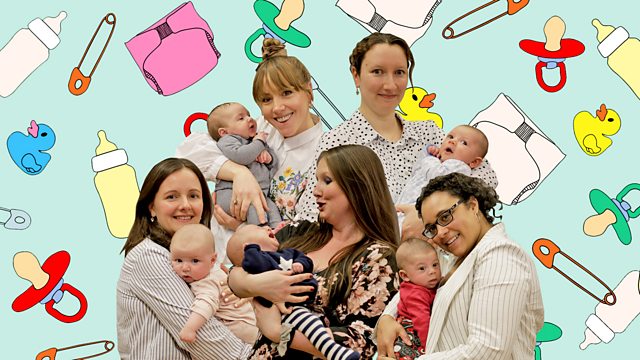 Bump, Birth and Beyond - Sharing Birth Stories
Birth stories as part of our series, Birth, Bump and Beyond, Winnie Mandela, a history of women in Holloway Prison and being a young feminist in Myanmar.
In our series Bump Birth and Beyond we've been following the stories of four listeners who, together with reporter Abby Hollick, were due to have their babies around the same time. Charlotte Dore, Rowan Lawton, Laura Lang were first time mums-to-be, Jen Barratt was expecting her second and Abby her third. They join us with their newborns and share their frank birth stories - what happens when it doesn't go according to plan?
Following the death of Winnie Mandela, we discuss the anti-apartheid campaigner and symbol, along with her former husband, Nelson, of South Africa's struggle for three decades. We hear archive of Winnie speaking from her home in Soweto in 1986 when former Woman's Hour presenter, Sue MacGregor, visited her there, and director, Pascale Lamche, who spent three years making the award-winning documentary 'Winnie' joins Tina Dahlely to examine her legacy.
Holloway Prison was the largest and most famous women's prison in Europe until its closure in 2016. It housed a lot of high profile prisoners, including Emmeline Pankhurst, Diana Mitford and Myra Hindley. It also held many others that you won't have heard of but who are no less interesting - including spies, prostitutes, refugees and nightclub queens. In her new book, Bad Girls: A History of Rebels and Renegades, Caitlin Davies looks at the lives of these female inmates. Caitlin explains what these women's lives can teach us about how women were treated in the justice system over more than a century.
The Vagina Monologues celebrated its 20th anniversary this year, but until last month, it had never been performed in Myanmar, or even translated into Burmese. In fact, there wasn't actually an official translation for the word vagina: only slang-terms. Nandar is one of the women who organised the performance, and joins Tina from Yangon.
Presenter: Tina Daheley
Producer: Kirsty Starkey.
Last on
Chapters
Winnie Mandela

Duration: 11:13

Bump, Birth and Beyond - Sharing Birth Stories

Duration: 13:52

Caitlin Davies

Duration: 09:06

The Vagina Monologues in Myanmar

Duration: 06:48

Support for labour and birth

Credits

| Role | Contributor |
| --- | --- |
| Presenter | Tina Daheley |
| Interviewed Guest | Pascale Lamche |
| Interviewed Guest | Caitlin Davies |
| Interviewed Guest | Charlotte Dore |
| Interviewed Guest | Rowan Lawton |
| Interviewed Guest | Laura Lang |
| Interviewed Guest | Jen Barratt |
| Interviewed Guest | Nandar |
| Reporter | Abigail Hollick |
| Reporter | Rachel Briggs |
| Producer | Kirsty Starkey |

Broadcast