Main content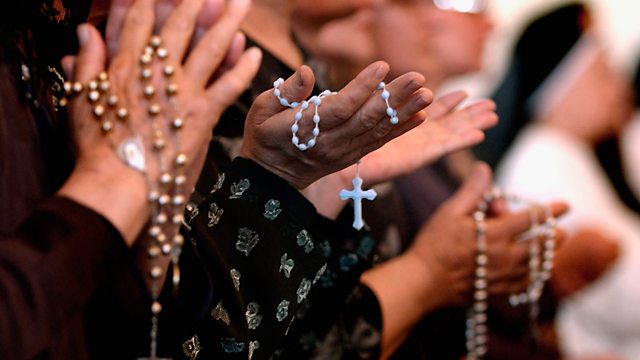 Faith and Doubt
Amol Rajan discusses faith with Naomi Alderman, Richard Holloway, Laurie Stras and Malcolm Guite.
Amol Rajan discusses faith and doubt. Religion is a recurrent theme in Naomi Alderman's novels. Her first book, Disobedience, explored a Jewish girl's split with orthodox religion, while in Liar's Gospel she told multiple stories of Jesus through the eyes of those around him.
Obedience was a virtue for the nuns of sixteenth-century Italy, but the music they wrote and sang was far less virtuous. Music professor and performer Laurie Stras has unearthed sensual and experimental works by nuns including the daughter of Lucrezia Borgia. And while many flocked to the nunneries to hear these women perform, others accused them of irreligious vanity.
Historian and Anglican priest Malcolm Guite tells the life of Samuel Taylor Coleridge and finds religious imagery permeating Coleridge's most famous work, The Rime of the Ancient Mariner.
And the writer and former Bishop of Edinburgh, Richard Holloway, asks how spiritual belief can help us face our mortality, in his new book Waiting for the Last Bus.
Producer: Katy Hickman.
Naomi Alderman
Naomi Alderman is a novelist and game writer.
The film of her novel Disobedience is coming out in American cinemas in April and to the UK later this year.
Richard Holloway
Richard Holloway is a writer and broadcaster, and was Bishop of Edinburgh and Primus of the Scottish Episcopal Church. 
Waiting for the Last Bus is published by Canongate Books.
Laurie Stras
Professor Laurie Stras is a musicologist and performer, and Professor of Music at the University of Southampton.  
With music from Lucrezia Borgia's Daughter 'Suscipe verbum, virgo Maria' published by Obsidian.
Malcolm Guite
Dr Malcolm Guite is a poet, theologian, songwriter and Chaplain of Girton College at Cambridge University. 
Mariner: A Voyage with Samuel Taylor Coleridge is published by Hodder & Stoughton.
Credits
| Role | Contributor |
| --- | --- |
| Presenter | Amol Rajan |
| Interviewed Guest | Naomi Alderman |
| Interviewed Guest | Richard Holloway |
| Interviewed Guest | Laurie Stras |
| Interviewed Guest | Malcolm Guite |
| Producer | Katy Hickman |