Main content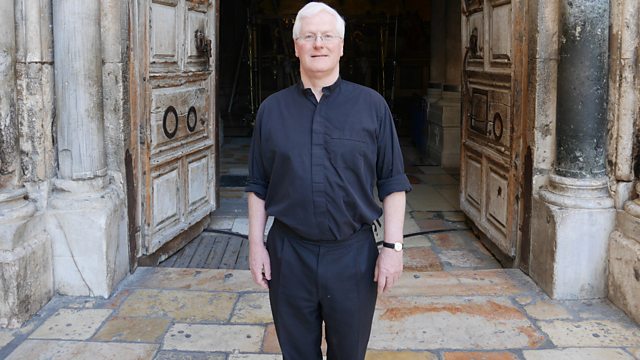 The Holy Sepulchre
Robin Griffith-Jones presents an Easter special from the Holy Sepulchre, Jerusalem, an extraordinary church that is believed to house the site of Jesus's burial and resurrection.
In this special Easter edition of the programme, Master of London's Temple Church Robin Griffith-Jones travels to the most sacred location in the Christian world. The Church of the Holy Sepulchre in Jerusalem is believed to house the tomb in which Jesus Christ was buried and resurrected.
The Holy Sepulchre has been a site of pilgrimage since at least the 4th Century. Robin explains that, for Christians, a journey to the Sepulchre is a journey from geographical and spiritual peripheries to the very centre of the world.
Having been granted unrestricted access, Robin is led into the tomb of Christ itself by Archbishop Aristarchos Peristeris, a Greek Orthodox monk who describes the enduring power of sacred places to bring the believer closer to the divine.
Walking around the Holy Sepulchre's stunning rotunda, a vast dome flanked with columns, Robin takes in the various chapels and sacred spaces belonging to the six Christian denominations which all lay claim to the space. In the distance, pilgrims sing hushed hymns that echo off the polished marble.
The Holy Sepulchre offers an extraordinary sonic experience. In the Chapel of Calvary, believed to be the site of the crucifixion, Greek monks chant their prayers as thick clouds of insense fill the space. Meanwhile, in a chapel behind Jesus' tomb, a group of Coptic Christians sing during a communion service.
At the end of the day, we hear the great double doors of the Sepulchre close and the vast metal bolts lock. Standing in the courtyard, with the sun setting over Jerusalem, Robin notes that this daily ritual in which the monks are locked inside the Sepulchre is a powerful symbol of Jesus' own entombment, from which he rose.
A TBI Media production for BBC Radio 4.
Readings
Title: Confessions
Author: Saint Augustine
Publisher: Penguin Classics
Title: Letter 108.9.2, Obituary of Paula
Author: Saint Jerome (trans. John Wilkinson)
Publisher: University of Liverpool Press
Title: The Life of Constantine
Author: Eusebius Pamphilus (trans Averil Cameron and Stuart G Hall)
Publisher: Oxford University Press
Title: Romans 6:3-5
Translator: Robin Griffith-Jones