Main content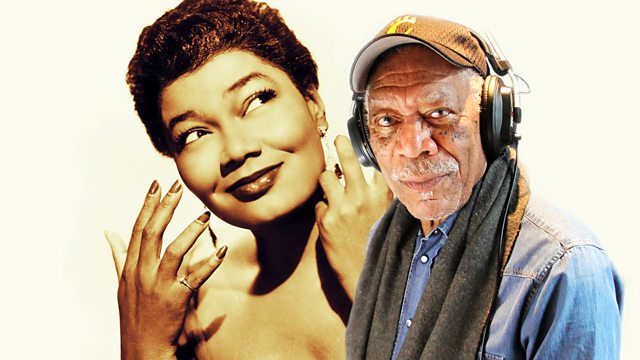 The Raw Pearl Bailey
Morgan Freeman celebrates the centenary of one of the finest actresses and singers to grace the Broadway stage and the Hollywood screen: the late great Pearl Bailey.
2018 is the centenary year of Pearl Bailey's birth and to celebrate we hear from those who admired her the most and understood her unique qualities as both a singer and an actress.
Hollywood actor, Morgan Freeman is one of Pearl's biggest fans, He made his Broadway debut with Pearl when she starred in David Merrick's all-black production of Hello Dolly in 1967. Morgan says it was a monumental moment for him 'watching Pearl Bailey sass the audience' as well as absorbing her professionalism. He says by hanging out together between shows and playing Bridge gave him the opportunity to get to know the real Pearl.
A preacher's daughter, Pearlie Mae sang and danced her way from Depression coal mining towns to Broadway and into the hearts of America. She saw herself more as a singer than an actress - 'I tell stories to music' whereas most audiences saw a combination of the two. Pearl had a distinguished charm - with her warm, lusty singing voice accompanied by an easy smile and elegant gestures that always enchanted audiences and later translated smoothly from the nightclub stage and Broadway to film and television.
After winning a competition at The Apollo Theatre in Harlem she decided to pursue a career in entertainment. She first appeared in Vaudeville in New York in 1941 at the Village Vanguard where she sang with the Sunset Royal Orchestra and Count Basie's band. During the Second World War she performed for the troops. Her Broadway debut followed in 1946 in St Louis Woman. Bailey's popularity as a singer and stage actress led to many offers to appear in Hollywood films. She then went on to host her own TV show 'The Pearl Bailey Show' which included such guests as Andy Williams, Bob Hope, Dinah Washington and Ella Fitzgerald to name but a few.
It was on the movie set of 'Porgy and Bess' (1958) that Bailey won an early skirmish for black civil rights by demanding the elimination of 'undignified and unnatural' Negro dialect from the George Gershwin drama. "There's a lot of people out there waiting for a dialect, so let's talk the way we really talk, without the 'dems and deses". "We don't talk like that. Maybe we did 50 years ago, but not now." Other noted film roles came in Carmen Jones and St Louis Blues.
Morgan feels wholeheartedly that 'Hello Dolly!' is among the top five best shows of his career and he tells us how this African-American show broadened the perspective of audiences at that time. The New Yorker drama critic John Lahr describes Pearl's performance in Hello Dolly! as one of the best he has ever seen and how playing the title role won her a Tony Award. Cab Calloway also co-starred with Pearl.
This one hour programme centres on Pearl's personal memories about her all singing and dancing family - particularly her brother Bill Bailey; discovering Tony Bennett with Bob Hope and helping the career of Diahann Carroll; and meeting the love of her life Louie Bellson who was the drummer in Duke Ellington's Orchestra. Pearl often suffered from the sting of racism and we hear how humour was often used as a survival tool amongst the black community particularly in Las Vegas and New York. On TV The Ed Sullivan Show helped to launch the careers of many African-American performers despite the many prejudices throughout America. Some of these included Nat King Cole, Lena Horne, Harry Belafonte, Louis Armstrong, Eartha Kitt and Pearl Bailey herself was on the show 23 times.
At the latter end of Pearl's career, after she retired from the stage, she took an interest in politics and had friendships with Presidents and performed at The White House in 1975. She was appointed to the US delegation at the United Nations. She then went on to study theology and got a bachelors degree at the age of 67. She continued to makes guest appearances on TV shows and recorded voice-overs for commercials and Disney Movies like 'The Fox and Hound'. Pearl died peacefully in Philadelphia at the age of 72.
With contributions from The New Yorker Drama critic John Lahr, singer Imelda May, Black music historian Stephen Bourne, and writer & producer Suzanne Kay (and daughter of Diahann Carroll).
Last on
Clips

Broadcasts