Main content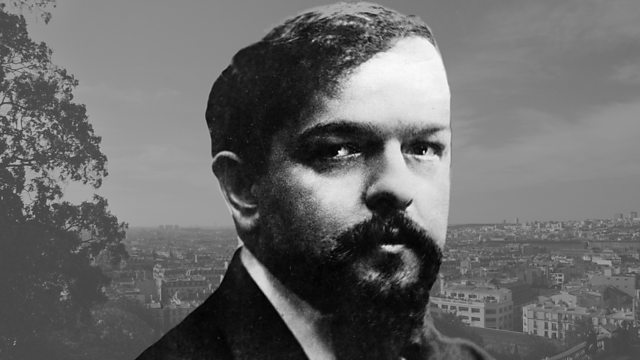 Debussy's Paris
Tom Service with new perspectives on Debussy in the composer's 100th anniversary year.
Presented by Tom Service.
As part of "Debussy's Paris" on BBC Radio 3, marking the 100th anniversary of the composer's death this weekend, Tom explores new perspectives on Debussy's music.
At a centenary conference hosted jointly by the Royal Northern College of Music and the University of Glasgow, Tom discovers Debussy's Manchester connection, and meets researchers at the forefront of today's thinking about the French composer: Marianne Wheeldon, on the legacy of the late works written during the First World War; Helen Abbott and Mylene Dubiau on bringing meaning out in performances of his songs; and Matthew Brown, on the influence of Bach on the Violin Sonata.
Tom also talks to the conductor Francois-Xavier Roth about releasing the colours in Debussy's music, both with his French period instrument ensemble Les Siecles and with the London Symphony Orchestra. The composer Betsy Jolas reveals the inspiration of the Sonata for Flute, Viola and Harp on her own music, and Bruno Mantovani, director of the Paris Conservatoire, considers whether young composers today are retaining enough of a Debussy connection.
Plus the author of a new biography, Stephen Walsh, on the challenges of putting into words how Debussy's music works.
Last on
Chapters
Francois-Xavier Roth

Duration: 00:20

Royal Northern College of Music Debussy in 2018: A Centenary Celebration

Duration: 10:54

Betsy Jolas

Duration: 05:32

Royal Northern College of Music Debussy in 2018: A Centenary Celebration

Duration: 04:42

Book: Debussy A Painter in Sound (Stephen Walsh)

Duration: 05:26

Francois-Xavier Roth

Duration: 00:14

Royal Northern College of Music Debussy in 2018: A Centenary Celebration

Duration: 09:44

Bruno Mantovani

Duration: 02:37

Broadcast