Main content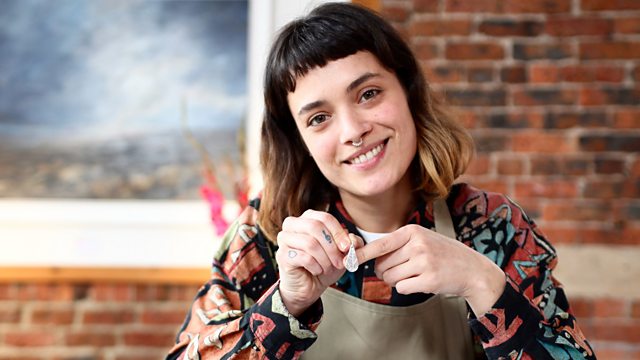 Rookie crafters discover the ancient arts of silver jewellery-making and cross-stitch, but with a 21st-century twist. Origami expert Sam Tsang teaches us how to make a snack box.
Rookie crafters discover the ancient arts of silver jewellery-making and cross-stitch, but with a distinctly 21st-century twist. Also demonstrating how making things with your hands can give you an enormous sense of pride, origami expert Sam Tsang shows how to make an origami snack box- perfect for popcorn.
In a converted biscuit factory in the Ouse Valley, home to Newcastle's thriving artistic community, silversmith Lisa Cain welcomes six amateur crafters to her two-day workshop in silverclay jewellery. Each of the students will make two pieces of jewellery to take home or give to a loved one.
Silverclay is a new material, discovered by Mitsubishi in the 1990s, and Lisa has been teaching students how to use it for longer than anyone else in the country. She likes it because it's so accessible for first-timers. Comprising the three parts of silverclay particles, water and binder, silverclay starts off looking like putty. It's malleable to work with and takes all kinds of texture - everything from leaves to lace to latticework - very well. As the water and binder are removed, all that's left is the silverclay and this can then be polished - in a process that seems quite magical - to a fine glossy finish.
Jimmy is a patissier and a perfectionist. He wants to mould a rose similar to the kind he makes out of sugar fondant, but this is an ambitious make for even the most experienced of silverclay artists. Meanwhile, his girlfriend Sara plunges straight in to her model of their whippet, Blue. Jimmy thinks she's being hasty but Sara puts him right - 'Oh Jimmy, I'm not a photocopier' - and goes on to surprise everyone with her creation.
Hampton Court Palace is home to the Royal School of Needlework and it is here that our second workshop is held, taught by visiting lecturer and self-proclaimed 'manbroiderer' Jamie Chalmers, aka Mr X Stitch. Jamie has a huge following and is introducing cross-stitch to a new generation of embroiderers through his workshops and lectures.
Across a single day, six cross-stitch novices learn how to embroider their initials onto a t-shirt, and how to convert their own designs into pixelated cross-stitch patterns. Lena, who has ADHD, claims she has no idea how much time has passed as the students fall into a mesmeric state of flow. Gareth the blacksmith, however, sets himself the near impossible task of recreating a white-hot furnace in cross-stitch as a reminder of his teacher Pete's favourite phrase - keep it hot! He needs time to finish it off at home, and in a touching postscript, travels to Shropshire to give his finished work to Pete who is quite overcome by the gift.
Credits
| Role | Contributor |
| --- | --- |
| Production Company | RDF Television |
| Executive Producer | Teresa Watkins |
| Director | Lulu Valentine |
| Narrator | Martha Kearney |
| Producer | Samuel Burr |
| Production Manager | Anna Wood |
| Editor | Jamie Crookston |