Main content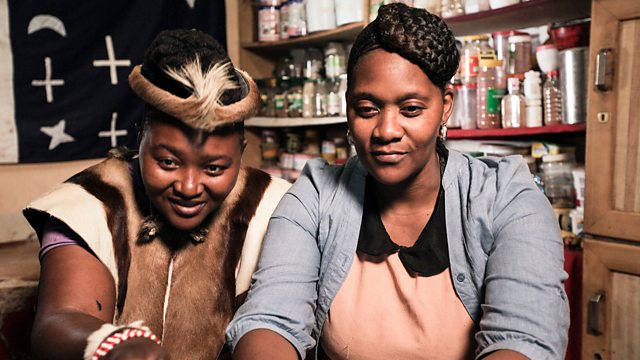 Ten Brits embark on one of the toughest weeks of their lives with the secret advice of strangers from around the world. Here, a husband-to-be and a new dad get help.
In a warm and entertaining five-part series, ten Brits, about to embark on one of the toughest weeks of their lives, welcome the support and advice of wise strangers from around the world through a secret in-ear device for one week. Whilst the sages' words are beamed live right into their ear day and night, family, friends and colleagues remain totally unaware of these unseen secret helpers. As the Brits face challenges and dilemmas, the sages tell them exactly what they think in real time, offering tips, advice and home-grown perspectives on life, love and everything in between.
Via the wonders of modern technology, an Irish nun, a traditional healer and her friend from South Africa, a couple of retired cops from New York, two Italian mamas and a Norwegian health guru watch the person live going about their week and hand-hold them towards their significant event, whether it is a wedding, the first week of fatherhood or a new business launch.
In the first episode, it's Dan and Brett's turn to prove themselves with the help of the secret friends. Dan, 32, used to be a gregarious, motorbike riding salesman with the world at his feet. After suffering two massive strokes, he was left blind and unable to walk, and his girlfriend Suzy has spent the last year helping him to regain his sight, speech and mobility.
Although he may look like someone who has fully recovered, when he pushes himself too hard he gets migraines, cannot walk and gets aches and pains down the left side of his body. He also gets anxious when faced with large crowds of people. With a week to go to their wedding, Dan is desperate to support Suzy, but he is worried that if he pushes himself too hard he won't make it to the altar. Dan needs all the help he can get from the sages in the lead-up to the most important day of his life. Will Suzy discover she has unusual guests at her big day?
Brett is a first-time parent. He and his wife Jess have just brought their identical twins home from the hospital. They are exhausted from a scary pregnancy fraught with medical complications. It is not long before he is secretly getting instructions from the secret helpers and is impressing his wife with burping techniques, home-cooked meals and South African lullabies. Brett wants to learn to be a dad who fully supports his wife and will help settle the twins before he returns to work.
The sages are Gwen and Elisa from South Africa, italian mamas Chiara and Agata, Mark and Joe the New York cops, Sister Una from Ireland and health guru Lillian from Norway.
More episodes
Previous
You are at the first episode