Main content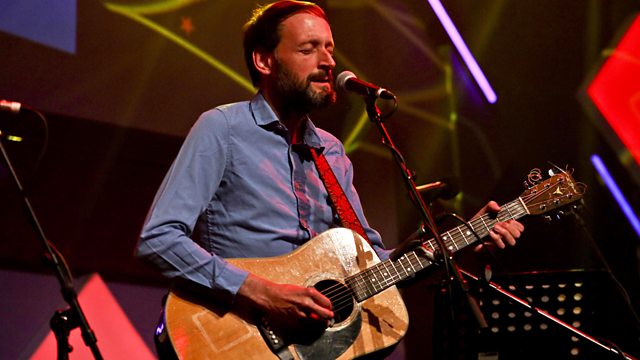 Alasdair Roberts' Late Junction Mixtape
Scottish musician, unorthodox folk singer and champion of traditional song Alasdair Roberts crafts a Late Junction mixtape.
Prolific Scottish musician, unorthodox folk singer and champion of traditional song Alasdair Roberts crafts a mixtape for Late Junction.
Influenced by traditional folklore and time spent in the School of Scottish Studies archive in Edinburgh, as well as a healthy obsession with the darkest corners of musical history, Alasdair is equally at home creating his own epic ballads and channelling ancient songs he's dug up from the distant past. His work, spanning 25 years and at least that many albums, weaves together his own original storytelling with interpretations of traditional songs and myth from Scotland and beyond.
Known for his collaborations, Alasdair has worked with just about everyone, from the Scottish psych folk quintet Trembling Bells to German electronic duo Joasihno, as well as performing as part of folk supergroup The Furrow Collective. His most recent collaboration with Amble Skuse and David McGuinness, 'What News' on Drag City, has been described by another of his collaborators, the legendary Shirley Collins, as 'the album of the decade'.
Expect eerie field recordings from early 20th century Iowa, haunting female vocals from Transylvania and, of course, a sonic voyage into the nooks and crannies of Scotland's past.
Produced by Katie Callin for Reduced Listening.
Last on
Music Played
Anonymous

There Was a Woman All Skin and Bone

Her Bright Smile Haunts Me Still: The Anne and Frank Warner Collection.
Appleseed Recordings.

Interpreti din Transilvania

Maicuta m-o Leganat

Interpreti din Transilvania.
Electrecord.

Daniel Padden

&

Sarah Kenchington

The Mine Shaft

The Bellow Switch.
Shadazz.

David Behrman

On The Other Ocean

On The Other Ocean.
Lovely Music, Ltd..

Edwin Morgan

Canedolia

A Double Scotch.
Claddagh Records.

Jordi Savall

Tullochgorum, Reel

The Celtic Viol.
Alia Vox.

Alan and Cathy Roberts

Pretty Little Miss

BBC Radio Scotland live session, 1968.

Robert Carver

Sanctus

Ensemble: The King's Singers.

A History of Scottish Music – the Later Middle Ages.
Scottish Records.

Elizabeth and Jane Stewart

She's Got Eyes of Blue

Giriama Wedding

Kayamba Dance

Witchcraft and Ritual Music of East Africa.
Nonesuch Explorer.

Steve Reich

Pendulum Music

Ensemble: Sonic Youth.

Goodbye 20th Century.
Sonic Youth Records.

Anonymous

Noli Pater

Choir: Choir of Gonville & Caius College, Cambridge.

In Praise of St Columba – the Sound World of the Celtic Church.
Delphian Records.

Joseph Spence

Good Morning Mr Walker

Good Morning Mr Walker.
Arhoolie Records.

Pefkin

Swallows

Murmurations.
Morc Records.
Broadcast