Main content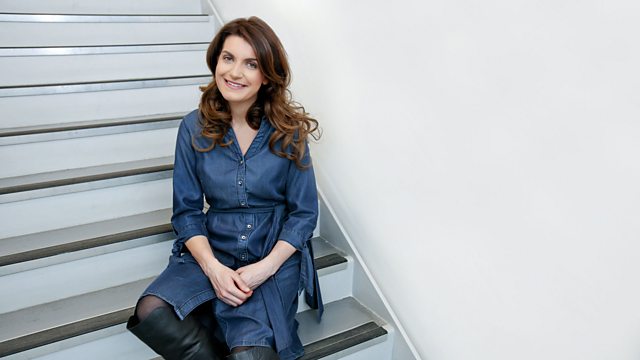 Thursday - Opera Matinee: Berg's Wozzeck
Alban Berg's gripping opera Wozzeck from Dutch National Opera, with Christopher Maltman in the title role, Eva-Maria Westbroek as Marie and Sir Willard White as the Doctor.
Alban Berg's Wozzeck from Dutch National Opera, with Christopher Maltman in the title role, Eva-Maria Westbroek as Marie and Sir Willard White as the Doctor.
Georgia Mann introduces this 2017 production of Berg's opera examining the complexities of the human soul.
The hapless soldier Wozzeck has an illegitimate child with Marie. When he discovers her affair with the handsome Drum Major, it's too much for him to bear. He gradually begins to lose his grip on sanity and stabs her before drowning himself.
Wozzeck .... Christopher Maltman (baritone)
Marie .... Eva-Maria Westbroek (soprano)
Marie's son ... Jacob Jutte (treble)
Captain / Half-wit .... Marcel Beekman (tenor)
Doctor .... Sir Willard White (bass)
Drum Major .... Frank van Aken (tenor)
Andres .... Jason Bridges (tenor)
Margret .... Ursula Hesse von d. Steinen (mezzo soprano)
First Apprentice .... Scott Wilde (bass)
Second Apprentice .... Morschi Franz (baritone)
Dutch National Chorus
New Amsterdam Children's Choir
Netherlands Philharmonic Orchestra
Conductor Marc Albrecht
And at 3.40pm
Georgia Mann continues this week's focus on the 2017 Robeco SummerNights festival in Amsterdam
Mozart: The Marriage of Figaro - Overture
Mozart: Piano Concerto No 23 in A major, K.488
Beethoven: Overture; Adagio; Allegro molto con brio (from The Creatures of Prometheus)
Beethoven: Piano Concerto No 1 in C major
Ronald Brautigam (piano)
Kölner Akademie
Conductor Michael Alexander.
Synopsis
ACT I
Scene 1
Wozzeck is serving the Captain who begs him to slow down, expressing his fear of the idea of eternity and his anxiety as to what he will do with the time that Wozzeck is saving him. A good man, says the Captain, takes his time. Upset by Wozzeck's refusal to do more than simply agree with him, the Captain taunts him. Wozzeck, declares the Captain, has no sense of morality, citing as evidence the fact that Wozzeck and Marie have an illegitimate child. Wozzeck replies that the Lord, who said 'Suffer the little children to come unto me', will not reject the child because of his illegitimacy, and that it is easy to have a moral sense when one has money. The Captain, confused by Wozzeck's strange eloquence, dismisses him, begging him once more to go slowly.
Scene 2
Wozzeck and his friend Andres are working. Wozzeck is unsettled by the place, the rising mist and the toadstool rings. Andres sings a folksong. Wozzeck hears noises beneath the ground; the rays of the setting sun cause him to have a vision of the world in flames. Darkness falls.
Scene 3
Marie sings to her son about 'handsome soldiers'. Her neighbour, Margret, comments on the way in which Marie fancies men in uniform. Marie throws her out and sings a lullaby to her
child. Wozzeck attempts to describe the strange feelings and hallucinations he experiences. He leaves to report back to the barracks. Marie is left considering her unbearable life.
Scene 4
Wozzeck is examined by the Doctor who, for a small sum of money, is using him to test his bizarre dietary theories. The Doctor reprimands Wozzeck for not having the willpower to control his urine and questions whether he has been following his prescribed diet. Wozzeck again attempts to describe his experiences. The Doctor regards Wozzeck's behaviour as the manifestation of a mental aberration and resolves to make this the basis of further scientific investigation. The Doctor is excited about the fame and immortality that his experiments will bring.
Scene 5
The Drum Major bursts in and struts before Marie. He attempts to embrace her and she gives in to him.


ACT II
Scene 1
Marie is admiring the earrings given to her by the Drum Major. The child is upset and twice she breaks off to sing him a song. Suddenly aware of Wozzeck's presence, she attempts unsuccessfully to hide the earrings. When Wozzeck asks where they have come from she tells him that she found them. Wozzeck remarks that he has never had the luck to find two such together. He gives Marie his wages from the Captain and the Doctor and leaves.
Scene 2
The Doctor and Captain meet. The Captain now tries to persuade the Doctor to take things more slowly. The Doctor, remarking on the Captain's poor physical condition, speculates on the likelihood of the Captain having a stroke in the immediate future. Wozzeck enters and the Captain and Doctor turn their attention to him, taunting him with remarks about Marie's affair with the Drum Major.
Scene 3
Wozzeck confronts Marie with his suspicions of her infidelity and attempts to strike her. Marie warns him not to touch her: 'Rather a knife in my heart than lay a hand on me.' Wozzeck is overcome by the image that Marie's remark has conjured up.
Scene 4
A group arrives and dances to the music of a band. Two drunken apprentices burst into song; Marie and the Drum Major join the dancers. Wozzeck sits alone watching. One drunken apprentice bursts into a lecture about all earthly vanity. A half-wit who has sidled up to Wozzeck tells him that the scene reeks of blood.
Scene 5
Wozzeck is unable to sleep. He imagines that he can still hear the music of the band and can still see Marie's unfaithfulness at the party. He hears voices and can see a knife hovering in front of him. The Drum Major enters, drunk, boasting of his conquest of Marie. Wozzeck whistles in his face. The Drum Major thrashes Wozzeck.



ACT III
Scene 1
Marie reads from the Bible.
Scene 2
Marie and Wozzeck are alone together. They talk gently of their relationship, although Marie grows ever more fearful. The moon rises a blood red. Wozzeck plunges the knife into Marie's throat.
Scene 3
Wozzeck begins a wild song and approaches Margret provocatively. Margret notices the blood on his hand and elbow and, when Wozzeck says that he has cut himself, remarks that he could not have wiped the blood from his right hand on his right elbow. Wozzeck is confronted by everyone with his crime.
Scene 4
Wozzeck returns to look for the knife with which he murdered Marie. He finds it and throws it into a pool. The red moon breaks through the clouds. He wades into the pool. The moonlight makes both him and the water appear blood red and Wozzeck wades in yet further, attempting to wash himself clean. He drowns. The Doctor and the Captain pass by and, hearing the sounds of someone drowning, they hurry on.
Scene 5
Marie's child is alone. He hears the voices of other children discussing his mother's murder and the discovery of her body.