Main content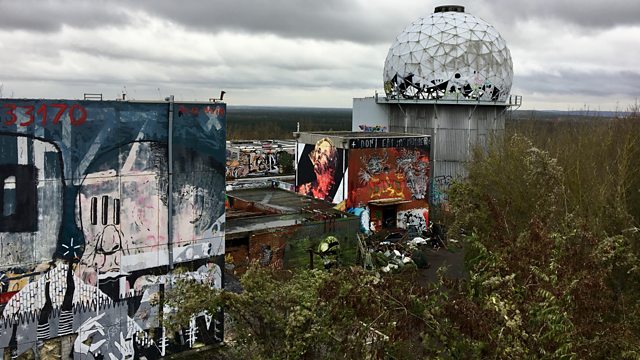 Max Reinhardt
Max Reinhardt reveals the sonic fingerprint of Field Station Berlin.
The sound of secrets and subterfuge. Perched on top of a man-made hill created from the remains of war-ravaged Berlin, Field Station Berlin is a stark reminder of the quiet but ever-present threat of the Cold War. Its huge, golf ball-like radomes were designed to intercept communications from the East but are now a magnet to graffiti artists. They're also a sonic playground; the highest radome is one of the few intact spherical spaces in the world and the acoustic effect is startling. Max presents a collection of field recordings made at the abandoned NSA listening post Field Station Berlin.
Elsewhere on the programme, Max has a music from cellist Clarice Jensen who co-created work with Jóhann Jóhannsson for her latest album, Brad Meldhau's take on Bach, and music by Charlemagne Palestine who pays tribute to his departed friend and collaborator Tony Conrad.
Produced by Freya Hellier for Reduced Listening.
Last on
Music Played
Scott Dunbar

Forty-Four

Classic Delta and Deep South Blues from Smithsonian Folkways.
Smithsonian Folkways Recordings.

Ryuichi Sakamoto

&

Motion Graphics

Fullmoon (Motion Graphics remix)

Async Remodels.
Commmons.

Michael Parsons

Pentachordal Melody

Performer: Anton Lukoszevieze. Performer: Andrew Sparling. Performer: Bridget Carey. Performer: Nancy Riffer.

Patterns of Connection - Instrumental Music 1962 -2017.

Malphino

Segundo Molienda

Visit Malphino.
Lex Records.

Alasdair Roberts

,

Amble Skuse

&

David McGuinness

Babylon

Miss Russell-Fergusson

Jabble

An Treisamh: Sound Spells For Harp And Voice.
Clarsach.

Clarice Jensen

For This From That Will Be Filled (a)

For This From That Will Be Filled.
Miasmah Recordings.

Yannis Kyriakides

U - for amplified choir and sine wave oscillator

Ensemble: Exmoor Singers. Director: James Jarvis.

Recorded by Freya Hellier

Field recordings from Field Station Berlin

Peggy Lee

Is That All There Is?

The Best Of Miss Peggy Lee.
Capitol Records.

Nina Simone

Why? (The King Of Love Is Dead)

Forever Young, Gifted & Black: Songs Of Freedom And Spirit.
RCA/Legacy.

Hamilton de Holanda

Bicho Homem

Casa de Bituca--The Music Of Milton Nascimento.
Adventure Music.

John Luther Adams

Canticles of the Sky: IV Sky with Endless Stars

Performer: Oliver Coates. Music Arranger: Oliver Coates.

Canticles of the Sky.
RVNG Intl..
4.

Charlemagne Palestine

STTT THOMASSS """"DINGGGDONGGGDINGGGzzzzzzz ferrrr TONYYY""""

STTT THOMASSS """"DINGGGDONGGGDINGGGzzzzzzz ferrrr TONYYY"""".
Blank Forms Editions.

Jerry David Decicca

The Other Side

Time the Teacher.
Impossible Ark Records.

Thundercat

,

DJ Candlestick

&

OG Ron C

Captain Stupido (Chopnotslop Remix)
Broadcast