Main content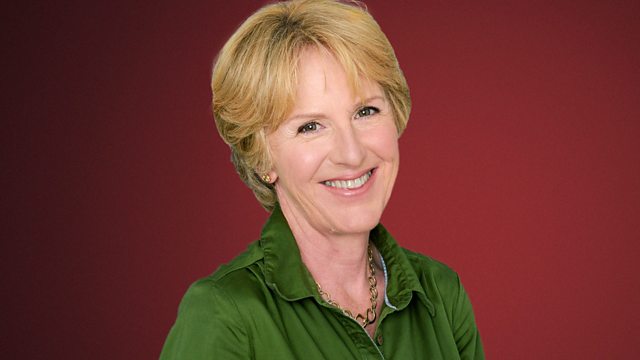 Bruckner in Katowice from the Polish National Symphony Orchestra
Catriona Young presents the Polish National Symphony Orchestra in Bruckner's 8th Symphony in Katowice.
Catriona Young presents the Polish National Symphony Orchestra in Bruckner's 8th Symphony in Katowice
12:31 AM
Anton Bruckner [1824-1896]
Symphony No 8 in C minor
Polish National Radio Symphony Orchestra, Katowice; Stanislaw Skrowaczewski (conductor)
1:50 AM
Bach, Johann Sebastian (1685-1750)
Prelude (Fantasia) in A minor, BWV 922
Wolfgang Glüxam (harpsichord)
1:57 AM
Shostakovich, Dmitri [1906-1975]
Quartet for strings No 8, Op 110, in C minor;
Artis Quartet
2:21 AM
Debussy, Claude (1862-1918)
Première rapsodie
Kari Kriikku (clarinet), Finnish Radio Symphony Orchestra, Jukka-Pekka Saraste (conductor)
2:31 AM
Dimitrov, Ivelin (b.1931-2008)
Songs at the Altar of Time
Evgenia Tasseva (reciter), Ivelina Ivancheva (piano), Polyphonia, Ivelin Dimitrov (conductor)
2:42 AM
Beethoven, Ludwig van [1770-1827]
Piano Sonata quasi una fantasia in C sharp minor, Op 27 No 2, (Moonlight)
Louis Schwizgebel (piano)
2:58 AM
Liszt, Franz (1811-1886)
Les Préludes - symphonic poem after Lamartine, S97
Orchestre National de France, Riccardo Muti (conductor)
3:16 AM
Tippett, Michael (1905-1998)
Five Negro Spirituals from 'A Child of our Time'
Vancouver Bach Choir (Choir), Bruce Pullan (Conductor)
3:28 AM
Vivaldi, Antonio (1678-1741)
Concerto in D major, RV 208, 'Grosso mogul'
Elizabeth Wallfisch (baroque violin), Australian Brandenburg Orchestra, Paul Dyer (director)
3:44 AM
Daniil Trifonov [b.1991]
Paraphrase on a Theme from Die Fledermaus
Daniil Trifonov (piano)
3:49 AM
Horovitz, Joseph (b. 1926)
Music Hall Suite
The Slovene Brass Quintet
4:00 AM
Haydn, (Franz) Joseph [1732-1809]
Symphony No 73 in D major, 'La Chasse'
Slovenian Radio & Television Symphony Orchestra, Pavle Dešpalj (conductor)
4:22 AM
Chopin, Frédéric (1810-1849)
Variations in E major on a German National Air, Op posth
Ludmil Angelov (piano)
4:31 AM
Mendelssohn, Felix (1809-1847)
Ruy Blas - overture, Op 95
Netherlands Radio Philharmonic Orchestra,
Hiroyuki Iwaki (conductor)
4:39 AM
Debussy, Claude [1862-1918]
Cello Sonata in D minor
Henrik Brendstrup (cello), Tor Espen Aspaas (piano)
4:53 AM
Goossens, Eugene [1893-1962]
Fantasy for nine wind instruments, Op 36
Janet Webb (flute), Guy Henderson (oboe), Lawrence Dobell and Christopher Tingay (clarinets), Daniel Mendelow (trumpet), Clarence Mellor (horn), John Cran, Fiona McNamara (bassoons)
5:03 AM
Liszt, Franz (1811-1886)
Légende No 1: St. François d'Assise prêchant aux oiseaux S175
Llyr Williams (piano)
5:15 AM
Tallis, Thomas (c.1505-1585)
Spem in alium, for 40 voices
BBC Singers, Stephen Cleobury (conductor)
5:24 AM
Falla, Manuel de (1867-1946)
Noches en los jardines de España (En el Generalife; Danza lejana; En los jardines de la Sierra de Córdoba)
Eduardo del Pueyo (piano), Netherlands Radio Philharmonic, Jean Fournet (conductor)
5:47 AM
Hartmann, Johann Peter Emilius (1805-1900) arr. Gunther, P & Teuber, U
Blomstre som en rosengård (Blooming like a rose garden)
Fionian Chamber Choir, Alice Granum (director)
5:53 AM
Schumann, Robert (1810-1856)
String Quartet in A major, Op.41 No.3
Faust Quartet: Ute Kunert & Cordula Frick (violins), Andreas Willwohl (viola), Birgit Bohme (cello)]
6:20 AM
Couperin, François (1668-1733)
Les Fastes de la grande et ancienne Ménestrandise (Mxnxstrxndxsx) (Pièces de clavecin - ordre 11)
Jautrite Putnina (piano).