Main content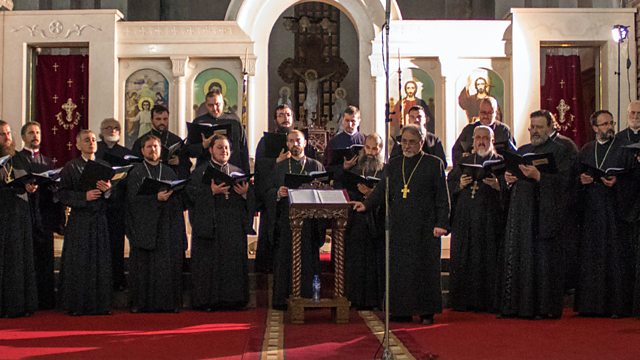 Andrew McGregor continues the annual day of music for Holy Week, including concerts from Copenhagen, Prague, Berlin, Guildford, Amsterdam and Sofia.
Andrew McGregor continues the annual day of music for Holy Week, with live and specially recorded concerts from around Europe.
4pm - Trinity Church, Copenhagen
A masterpiece of late 15th Century polyphony from the Eton Choirbook by Richard Davy, performed by Ars Nova Copenhagen under Paul Hillier
Richard Davy: St Matthew Passion
Ann-Christin Wesser Ingels (soprano)
Hanna Kappelin (soprano)
Elenor Wiman (alto)
Laura Lamph (alto)
Hanne Marie le Fevre (alto)
Jakob Skjoldborg (tenor)
Luís Toscano (tenor)
Adam Riis (tenor)
Asger Lynge Petersen (bass)
Jakob Soelberg (bass)
Ben McKee (bass)
Ars Nova Copenhagen
Paul Hillier (conductor)
5pm - Imperial Hall, Lobkowitz Palace, Prague Castle, Prague
Baritone Tomáš Král and Collegium Marianum perform a sequence of works by Marc-Antoine Charpentier
Marc-Antoine Charpentier:
Première leçon du mercredi ('Incipit lamentatio Jeremiae') H. 120, for bass, from 'Three Tenebrae Lessons'
Symphonie in G minor, H. 529, for three flutes or violins
Première leçon du jeudi ('De lamentatione Jeremiae') H. 121, for bass, from 'Three Tenebrae Lessons'
Tenebrae factae sunt, H. 129, from 'Nine Tenebrae Responsories'
Ouverture pour l'église, H. 524
Troisième leçon du vendredi ('Incipit oratio Jeremiae'), H. 125, for bass, from 'Three Tenebrae Lessons'
Tomáš Král (baritone)
Collegium Marianum
Jana Semerádová (director)
6pm - Philharmonie, Berlin
Alice Coote and Mariusz Kwiecień are soloists in a performance of Duruflé's Requiem with the Berlin Radio Chorus conducted by Robin Ticciati
Wagner: Prelude to Act 1 of Parsifal
Duruflé: Requiem, op. 9, for soloists, chorus and orchestra
Alice Coote (mezzo-soprano)
Mariusz Kwiecień (baritone)
Berlin Radio Chorus
Deutsches Symphonie-Orchester Berlin
Robin Ticciati (conductor)
7pm - Guildford Cathedral - LIVE
The BBC Singers perform Stainer's oratorio The Crucifixion, live from Guildford Cathedral; a venue for which conductor Barry Rose founded the cathedral choir back in 1961.
Stainer: The Crucifixion
Peter Auty (tenor)
Jeremy Carpenter (bass)
BBC Singers
Guildford Cathedral Choir
Malcolm Archer (organ)
Barry Rose (conductor)
8.30pm - Concertgebouw, Amsterdam
Ton Koopman conducts the Royal Concertgebouw Orchestra and the combined voices of the Netherlands Chamber Chorus, Amsterdam Baroque Chorus and Netherlands National Children's Choir in Bach's mighty St Matthew Passion.
Bach: St Matthew Passion, BWV.244
Evangelist ..... Tilman Lichdi (tenor)
Christ .....Manuel Walser (baritone)
Christine Landshamer (soprano)
Ann Hallenberg (contralto)
Mauro Peter (tenor)
Klaus Mertens (bass)
Netherlands Chamber Chorus
Amsterdam Baroque Chorus
Netherlands National Children's Choir
Royal Concertgebouw Orchestra
Ton Koopman (conductor)
12.00am - Saint Sofia Church, Sofia
Highlights of a concert featuring Orthodox chants for Palm Sunday and Easter performed by the Sofia Priests' Choir conducted by Kirill Popov
Anon: Troparion for the Annunciation (Mode 4)
Anon: Troparion for the feast of the Lord's entry into Jerusalem (Mode 1) (Chant from the town of Elena)
Anon: Ne otrvrati (Do Not Turn Away), Great Prokeimenon (Mode 8)
Ivan Kaikov: Dushe moya (O, My soul), Kontakion from the Great Canon of St Andrew of Crete (Mode 2)
Anon: Gospodi sil (O, Lord of Hosts), Eastern chant (Mode 8)
Anon: By the Rivers of Babylon, Polyeleion (Mode 3), after Psalm 137
Anon: Vzbrannoy voevode (Queen of the Heavenly Host), Papadic chant (Mode 8)
Sofia Priests' Choir
Kiril Popov (conductor)
Photo of Sofia Priests' Choir at Saint Sofia Church (c) Martin Mitov, March 2018.
More episodes
Next
You are at the last episode