Main content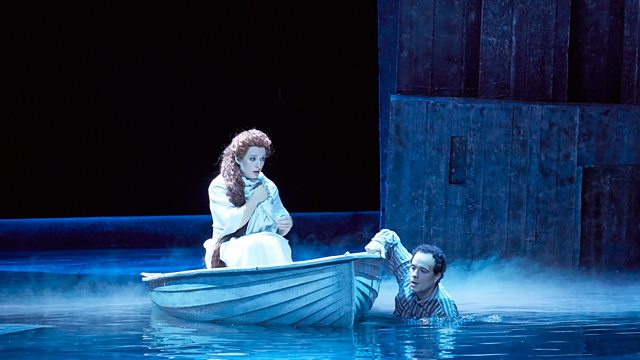 Debussy's Paris - Pelleas et Melisande
A performance of Debussy's supreme masterpiece, presented by Tom Service.
Debussy: Pelléas et Mélisande
Presented by Tom Service as part of "Debussy's Paris" marking the 100th anniversary of the composer's death this weekend. During the intervals Tom speaks with Professor Barbara Kelly, Debussy expert and Director of Research at Royal Northern College of Music.
Golaud ..... Simon Keenlyside (baritone)
Mélisande ..... Olga Bezsmertna (soprano)
Pelléas ..... Adrian Eröd (baritone)
Geneviève ..... Bernarda Fink (contralto)
Arkel ..... Franz-Josef Selig (bass)
Yniold ..... Maria Nazarova (soprano)
The Doctor ..... Marcus Pelz (bass)
Pelléas's father ..... Andreas Bettinger (baritone)
Vienna State Opera Chorus
Vienna State Opera Orchestra
Alain Altinoglu (conductor).
Synopsis
ACT 1
Scene 1: Golaud has lost his way. He comes upon an unknown girl sitting
by a spring. The girl is clearly distressed, but initially refuses any help and
only reluctantly discloses her name: Mélisande. A crown in the water brings
her past to mind. Golaud offers to retrieve it for her, but Mélisande threatens
to kill herself. When Golaud then admits to her that he too feels lost,
she agrees to go with him.
Scene 2: Six months later in Allemonde. Pelléas has received a letter from
his half-brother Golaud telling him that he has married Mélisande. If the
family is not willing to accept his new wife, he vows never to return to
Allemonde. Golaud fears that his grandfather, old Arkel, will not agree to
his marriage since he had another bride in mind for his grandson.
Geneviève, the mother of Pelléas and Golaud, now reads this letter to the
half-blind patriarch. The old man reluctantly agrees.
Pelléas wants to leave Allemonde to go to the side of his friend who lies
dying. Since Pelléas' father is also ill, Arkel forbids him to leave.
Scene 3: Mélisande has arrived in Allemonde with Golaud. She complains
of the oppressive darkness. Geneviève tells her that she too had to come
to terms with it. Together they go in search of the brightness of the sea.
Pelléas joins them, and he and Mélisande believe they can see the ship that
brought Mélisande. In spite of an approaching storm, the ship is setting sail
again. Pelléas talks about his possible departure.

ACT 2
Scene 1: Pelléas leads Mélisande to a fountain that once possessed magical
powers and asks her about her relationship with Golaud. To avoid answering,
Mélisande plays with her wedding ring. She drops it, and it falls into
the deep water. Mélisande is distressed by this, but Pelléas advises her to
tell Golaud the truth.
Scene 2: At exactly that same moment, Golaud has had an accident. Mélisande
nurses him and confesses to him how unhappy she is in Allemonde. Golaud
believes that her uneasiness is caused by her pregnancy. When he takes
her hands to comfort her, he notices that her ring is missing. Mélisande
lies to him, telling him that she lost her ring in a cave where she went to
collect shells for little Yniold, Golaud's son from his first marriage. Golaud
demands that she go and look for the ring that night; Pelléas should accompany
her.
Scene 3: Pelléas takes Mélisande to a cave so that she can later describe
her search for the ring to Golaud. When they come upon old indigents, the
victims of a famine, Mélisande insists on turning back.

ACT 3
Scene 1: Mélisande sings to herself, daydreaming. Pelléas comes in to say
goodbye to her. Mélisande begs him not to go away. Pelléas starts playing
with her hair, initially innocently, and Mélisande allows him to do so. When
Pelléas becomes passionately entangled in her hair, Golaud surprises the
couple and scolds them for their "childish games".
Scene 2: Golaud takes Pelléas down to the cisterns of death. Shuddering,
Pelléas rushes from the eerie dungeons.
Scenes 3 and 4: Having escaped from the darkness, Pelléas again encounters
Mélisande. Golaud again warns him to stay away from Mélisande.
Overcome by jealousy, Golaud tries to question his little son Yniold about
the relationship between Pelléas and Mélisande. He wants to force the boy
to spy on Mélisande and Pelléas.

ACT 4
Scenes 1 and 2: Pelléas tells Mélisande that his father has finally recovered
from his illness. His father implored him to take his leave immediately.
Pelléas and Mélisande arrange one last meeting. Arkel is happy that Pelléas'
father has recovered and hopes that happier days now lie ahead for the heavily
pregnant Mélisande and for the entire family. Golaud jealously humiliates
Mélisande and abuses her until Arkel tries to bring him to his senses.
Scenes 3 and 4: Yniold is looking for his toy at night. He realizes that the
sheep have died.
Pelléas and Mélisande declare their love for each other. When the gates are
shut, they are prepared to run away together. Golaud thwarts their plan; he
kills Pelléas and wounds Mélisande.

ACT 5
Mélisande is weakened as a result of the premature birth of her child, a
daughter. Golaud makes one last attempt to learn the truth from her. To
no avail.

With thanks to Vienna State Opera
Episode Image Credit: Wiener Staatsoper / Michael Pöhn