Main content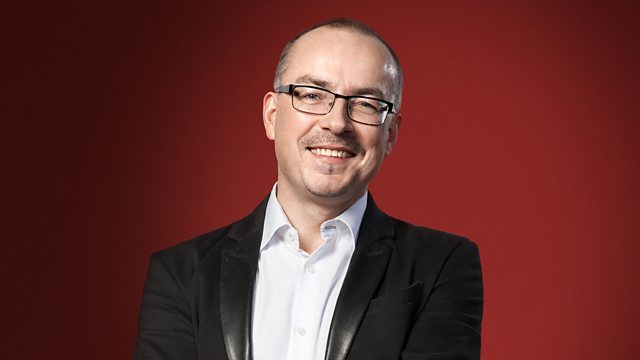 Andrew McGregor with Iain Burnside and Nicholas Baragwanath
As part of 'Debussy's Paris' marking the 100th anniversary of the his death, Building a Library is on Book 1 of Debussy's Piano Preludes; Nicholas Baragwanath reviews opera DVDs.
9.30
As part of "Debussy's Paris" marking the 100th anniversary of the composer's death this weekend, Building a Library is a live discussion between Andrew and Iain Burnside on Book 1 of Debussy's Piano Preludes.
Book I was written in a matter of months between 1909 and 1910. The titles of the preludes are all very descriptive, and, unusually, they were placed at the end of each work, which encourages the performer to experience each unique sound world with open ears, without being prejudiced by Debussy's titles.
10.45
Andrew talks to Nicholas Baragwanath about new DVDs of operas by Mozart, Tchaikovsky, Giordano and Monteverdi
11.45
Andrew chooses an outstanding new release as his Disc of the Week.
Record Review
9.00am 
CLAIR DE LUNE: DEBUSSY, FAURÉ & RAVEL
CLAUDE DEBUSSY:
Arabesques (2); No. 1 Andante con moto
Rêverie
Suite Bergamasque: 3. Clair de lune
Children's Corner; 5. The Little Shepherd
La plus que lente
Préludes - Book 1:
1. Danseuses de Delphes
2. Voiles
8. La fille aux cheveux de lin
10. La cathédrale engloutie
12. Minstrels
GABRIEL FAURÉ:
Barcarolle No. 6 in E flat major Op. 70
MAURICE RAVEL:
Pavane pour une infante défunte
Miroirs, 5 pieces for piano; 2. Oiseaux triste
Menahem Pressler (piano)
DG 4798756 (CD)
FALLA: FANTASIA BAETICA & OTHER PIANO MUSIC
MANUEL DE FALLA::
4 Piezas Españolas - #1 Aragonesa
4 Piezas Españolas - #2 Cubana
4 Piezas Españolas - #3 Montañesa
4 Piezas Españolas - #4 Andaluza
El Sombrero De Tres Picos - #2 Danza De Los Vecinos
El Sombrero De Tres Picos - #3 Danza Del Molinero
El Sombrero De Tres Picos - #1 Danza De La Molinera
Canto De Los Remeros Del Volga
El Amor Brujo - #1 Pantomima
El Amor Brujo - #2 Canción Del Fuego Fatuo
El Amor Brujo - #3 Danza Del Terror
El Amor Brujo - #4 El Círculo Mágico: Romance Del Pescador
El Amor Brujo - #5 Danza Ritual Del Fuego
Homenaje, 'Pour Le Tombeau De Claude Debussy'
La Vida Breve - Segunda Danza Española
Fantasia Baetica
Garrick Ohlsson (piano)
Hyperion CDA68177 (CD)
F. COUPERIN & FORQUERAY - PIECES DE VIOLES
FRANÇOIS COUPERIN:
Première Suite en Mi Mineur
Concert No. 10 (les Goûts réunis) in A minor
ANTOINE FORQUERAY:
Pièce à trois violes en Ré Mineur
La Girouette in G Minor
FRANÇOIS COUPERIN:
Deuxième Suite en La Mineur
Atsushi Sakaï (viola da gamba), Christophe Rousset (harpsichord), Marion Martineau (continuo gamba), Isabelle Saint-Yves
Aparté AP166 (CD)
BARTÓK: VIOLIN CONCERTOS NOS. 1 & 2
BÉLA BARTÓK:
Violin Concerto No. 1, BB48a, Sz 36
Violin Concerto No. 2, Sz 112
Renaud Capuçon (violin) London Symphony Orchestra, François-Xavier Roth
Erato 9029570807 (CD)
THE GLUEPOT CONNECTION: CHORAL MUSIC BY IRELAND, RAWSTHORNE, WARLOCK, BAX, ALAN BUSH, LUTYENS, WALTON & EJ MOERAN
PETER WARLOCK:
The Full Heart
ALAN RAWSTHORNE:
4 Seasonal Songs
JOHN IRELAND:
The Hills
ARNOLD BAX:
I Sing of a Maiden That Is Makeless
Like Rivers Flowing
FREDERICK DELIUS:
On Craig Dhu (An impression of nature)
ELISABETH LUTYENS:
Verses of Love
ERNEST JOHN MOERAN:
Songs of Springtime
WILLIAM WALTON:
Where does the uttered music go?
JOHN IRELAND:
Twilight Night
ALAN BUSH:
Lidice
ARNOLD BAX:
Mater Ora Filium
Londinium Chamber Choir, Andrew Griffiths
Somm SOMM0108 (CD)
9.30am – Building a Library – Iain Burnside on Debussy's Preludes Book 1
Composer:      Debussy
Piece:              Preludes – Book 1
Reviewer:        Iain Burnside
Recommended Recording:
Debussy: Complete Solo Piano Music, Vol.1
Jean-Yves Thibaudet (conductor)
Decca 4520222 (digital download)
Other Recommended Recordings:
Below are other recordings that Iain also liked, although we can't guarantee availability.
Jean-Efflam Bavouzet
Chandos CHAN 10421          
Alfred Cortot
Biddulph LHW006
Steven Osborne
Hyperion CDA67530
10.20am New Releases:
HANDEL ARIAS
GEORGE FRIDERIC HANDEL:
Oreste: "Agitato da fiere tempeste"
Serse: "Frondi tenere", "Ombra mai fu", "Crude furie degli orridi abissi"
Rinaldo: "Cara sposa, amante cara", "Venti, turbini, prestate"
Imeneo: "Se potessero i sospir' miei"
Il pastor fido, HWV8a:"Sento brillar nel sen"
Rodelinda: "Pompe vane di morte", "Dove sei amato bene"
Giulio Cesare in Egitto: "Se in fiorito ameno prato"
Ariodante: "Scherza infida, in grembo al drudo", "Dopo notte, altra e funesta"
Partenope, HWV 27: "Ch'io parta?"
Franco Fagioli (countertenor), Il Pomo d'Oro, Zefira Valova  (violin and director)
DG 4797541 (CD)
BEETHOVEN: STRING QUARTETS, OP. 18 NOS 1-3
LUDWIG VAN BEETHOVEN:
String Quartet No. 1 in F major, Op. 18 No. 1
String Quartet No. 2 in G major, Op. 18 No. 2
String Quartet No. 3 in D major, Op. 18 No. 3
Eybler Quartet
Coro COR16164 (CD)
1045 New Releases: Nicholas Baragwanath on opera DVDs
MOZART: DES KÖNIGS ZAUBERFLÖTE ('THE KING'S MAGIC FLUTE')
WOLFGANG AMADEUS MOZART:
Gerd Anthoff ("Real" Papageno), Jorg Durmuller (Tamino / Emperor Franz Joseph I), Susanne Bernhard (Pamina / Empress Elisabeth), Antje Botterlich (Queen of the Night / Archduchess Sophie of Austria), Tareq Nazmi (Sarastro / King Ludwig II), Jochen Kupfer (Papageno / Duke Max Emanuel in Bavaria), Martin Petzold (Monostatos / Prince Bismarck)
Orchestra Klangverwaltung & Chorgemeinschaft Neubeuern, Enoch Zu Guttenberg
Farao D108094 (2 DVDs or Blu-ray)
MONTEVERDI: IL RITORNO D'ULISSE IN PATRIA
CLAUDIO MONTEVERDI:
Rolando Villazón (Ulisse), Magdalena Kožená (Pénélope), Katherine Watson (Junon), Kresimir Spicer (Eumée), Anne-Catherine Gillet (L'Amour/Minerve), Isabelle Druet (La Fortune/Mélantho), Maarten Engeltjes (La Fragilité humaine/ Pisandre), Callum Thorpe (Le Temps/Antinoüs), Lothar Odinius (Jupiter/ Amphinome), Jean Teitgen (Neptune), Mathias Vidal (Télémaque), Emiliano Gonzalez Toro (Eurymaque), Jörg Schneider (Irus), Elodie Méchain (Euryclée)
Le Concert d'Astrée, Emmanuelle Haïm
Erato 9029573812 (2 DVDs)
TCHAIKOVSKY: PIQUE DAME
PIOTR ILYICH TCHAIKOVSKY:
Misha Didyk (Hermann), Alexey Markov (Count Tomsky/Zlator), Vladimir Stoyanov (Prince Yeletsky), Andrei Popov (Chekalinsky), Andrii Goniukov (Surin), Mikahil Makarov (Chaplitsky), Anatoli Sivko (Narumov), Svetlana Aksenova (Liza), Larissa Diadkova (The Countess), Anna Goryachova (Polina/Milovzor)
Chorus of Dutch National Opera, Royal Concertgebouw Orchestra, Mariss Jansons
C Major 743908 (2 DVDs or Blu-ray)
GIORDANO: FEDORA
UMBERTO GIORDANO:
Fedora
Daniela Dessì (Fedora), Fabio Armiliato (Loris), Alfonso Antoniozzi (De Siriex), Daria Kovalenko (Olga)
Orchestra and Chorus of Carlo Felice Theatre, Valerio Galli
Dynamic 57772 (DVD or Blu-ray)
11.45am – Disc of the Week
BRAHMS: SYMPHONIES NOS. 1-4 (COMPLETE)
JOHANNES BRAHMS:
Symphony No. 1 in C minor, Op. 68
Symphony No. 2 in D major, Op. 73
Symphony No. 3 in F major, Op. 90
Symphony No. 4 in E minor, Op. 98
Scottish Chamber Orchestra, Robin Ticciati
Linn CKD601 (2 CDs)