Main content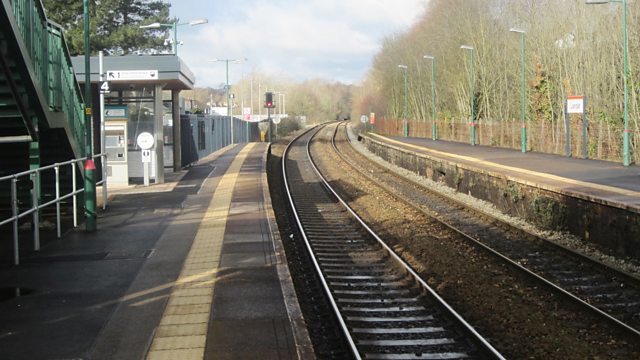 Following the lives and stories of those who live along the rail network that fans out from Cardiff up into the south Wales valleys.
Marsha Owen presents the stories of those who live and work along the rail network that fans out from Cardiff up into the South Wales Valleys.
Broadly covering the ex-coalfield of South Wales, the Valleys is a collection of towns and villages ranged along, and separated by, hills and mountains. Running roughly north to south, the Valley Lines connects these towns and villages to each other - and to the growing city of Cardiff on the south coast.
Trains can offer up a slice of life, a window onto a world - glimpsed back gardens, frozen street scenes, snatches of lives and overheard conversations - and the Valley Lines provide an opening onto the people and places - and the culture and economics - of this region, defined by its geography.
As resistant to generalisations as any place, the meaning of the Valleys depends upon who you ask: a collection of deeply rooted communities with an enviable sense of cohesion and identity; a cradle of industrial and socialist history; a sublime natural resource and increasingly a rural playground; a predicament to be confronted, a problem to be solved.
And certain statistics do seem to back up this last concern: according to metrics of deprivation and economic inactivity, of educational attainment, health and life expectancy, the problems in the Valleys seem very real.
It's easy to be blinded by these statistics. And one proffered solution to 'the problem of the Valleys' that surfaces from time to time calls for, effectively, a managed clearance of large parts of the area, to rewild them, creating a tourist-focused region comparable perhaps to the Lake District.
One response to these intentions can stand as a premise for these programmes: what about the people?
It's a story usually told in a current affairs context, but these programmes hope to loosen that form to tell part of the story of the Valleys through the Valley Lines railway, its passengers and passers-by.
Producer: Martin Williams
Music: Potato Lettuce by David Grubbs.
More episodes
Next
You are at the last episode