Main content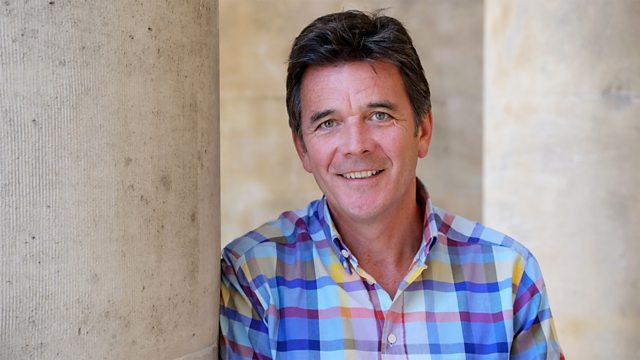 Acid Attacks and Corneal Grafts, Bowel Cancer Screening, Sports Prosthesis for Children
Acid attacks are at a record high in the UK. Dr Mark Porter talks to Andrew, blinded by a robber who stole his car, and to the eye surgeons using donated corneas to save his sight.
The UK has one of the highest recorded rates of acid attacks in the world, nearly 500 cases in 2016. Most of the victims are men and most have corrosive liquid, typically acid or bleach, squirted into their faces while they are being mugged for their phone, bag or car. Andrew Keene was attacked in London last year while he sat in his car, and blinded by a robber who then drove off in his car. He's had five operations, including two corneal grafts, to try to restore the sight in his right eye. Dr Mark Porter talks to Andrew at Queen Victoria Hospital in East Grinstead, where sight-saving eye surgery was pioneered over sixty years ago. This hospital set up the UK's first Eye Bank for donor eyes and it is from these donations that eyes, damaged like Andrew's, are repaired using grafts. Mark hears about the shortage of donated corneas which mean long waiting lists for eye surgery and Eye Bank head Dr Nigel Jordan tells him they're having to import donor eyes from the USA to meet demand.
BBC News anchor George Alagiah has gone public with the news that his bowel cancer has come back three years after it was diagnosed at an advanced stage. He has questioned why screening starts at different ages in different parts of the UK. If he lived in Scotland where the bowel cancer screening programme starts at 50, up to 10 years before the rest of the country, he would have been screened earlier and his cancer might have been picked up earlier, making it easier to treat. Inside Health's Dr Margaret McCartney discusses the complexities involved in rolling out national screening programmes and tells Mark why there's a difference in Scotland and the rest of the UK about the starting age for bowel screening.
Until a couple of years ago, children who were born without a limb, or those who lost a limb after illness or injury, could get a traditional prosthesis, or artificial limb fitted, but it was a limb of the most basic kind which would enable them to walk, but not to run or do sports. But thanks to money released into a special fund by the Department of Health in England, for the last 18 months these children have been fitted with the high-tech futuristic-looking prostheses - racing blades - that allow them to run, jump and compete in all sorts of activities and sports. Mark visits a paediatric rehabilitation clinic at the Royal National Orthopaedic Hospital in Stanmore and meets the children who are benefiting from these new activity blades.
Programme Transcript - Inside Health
Downloaded from www.bbc.co.uk/radio4
THE ATTACHED TRANSCRIPT WAS TYPED FROM A RECORDING AND NOT COPIED FROM AN ORIGINAL SCRIPT.  BECAUSE OF THE RISK OF MISHEARING AND THE DIFFICULTY IN SOME CASES OF IDENTIFYING INDIVIDUAL SPEAKERS, THE BBC CANNOT VOUCH FOR ITS COMPLETE ACCURACY.
INSIDE HEALTH – Programme 11.
TX:  27.03.18  2100–2130
PRESENTER:  MARK PORTER
PRODUCER:  FIONA HILL
Porter
Coming up over the next half hour:
Screening for bowel cancer – why does the programme start at 50 in Scotland, but later across the rest of the UK?
And sports prostheses for children – how making high tech blades available on the NHS is transforming the lives of those with artificial limbs.
Clip
For him, his confidence is a lot to do with sport, Soffyan the striker, the boy that can play football.  So, for him his mobility is everything.
Porter
More on blades later.
But first eyes and acid attacks.  The UK has one of the highest recorded rates of corrosive liquid attack in the world, nearly 500 cases in 2016.  Four out of five of the victims are men, and most of them had the liquid – typically acid or bleach – squirted in their faces while being mugged for their phone, bag, scooter or car.  For many, the resulting facial scarring and damage to their eyes will change their lives forever.
Andrew Keene was parked at the side of the road in London when somebody decided to steal his car. What happened next was brutal.
Keene
It was quarter to seven in the evening and someone got into the car and it was a split second – I sort of turned around and he kind of – sort of a squeezy bottle, basically squeezed a jet of some sort of acid mixture – hair dye they think, with something else in it – straight into my eyes.  And how I turned around to the passenger door most of it – the jet of it went into my right eye.  It was a couple of split seconds.  I was blinded straightaway, burning sensation.  All I remember thinking was I need water in my eyes.
Porter
Terrifying – under attack and blinded.
Keene
A, you're in a situation where you're being attacked and you've not got any vision.  So, it's not a great spot to be in and the you think, right I've heard about these attacks, this is in my eyes, I need to be at hospital very quickly.
Porter
At what stage did you realise that it wasn't just about temporary blindness and pain but this could have serious long-term consequences for you?
Keene
I think when I saw a surgeon, probably two or three days later, he was very direct with me and said this is serious, it's going to take a long time for this to heal up, it's a serious injury.
Porter
Andrew suffered extensive alkaline burns to both eyes, but his right eye was much worse – his cornea, the delicate see-through membrane at the very front of the eye, had been badly damaged.
After the attack he was referred to the specialist centre at Queen Victoria Hospital in East Grinstead.  Consultant eye surgeon, Damian Lake, is one of the team at the hospital that repair damage corneas using grafts – transplants taken from donor eyes.
Lake
The cornea should be clear, it should be a nice even curve, so that it focuses light precisely on to the back of the eye.  So, if you think of what's now an old-fashioned camera, which was just a camera, when I was growing up, you have a lens at the front, you have a lens in the middle which moves and then at the back of the eye you had a film.  So, the lens on the front of the camera equates to the cornea, it's the clear focusing mechanism of the eye.
Porter
If the cornea's injured how good is it at healing itself?
Lake
It's very good at healing itself but not in a way that is conducive with being able to see afterwards.  The main way that an eye heals is through scar formation but of course scars are opaque and you can't see through those, so therefore people lose their vision.
Porter
Queen Victoria Hospital pioneered sight-saving surgery using corneal grafts.  The story goes back to the Second World War, when badly burned spitfire pilots were being treated by the renowned plastic surgeon Sir Archibald McIndoe, who was based at the hospital.  Up until then eye transplants had been illegal, thanks to restrictions imposed on the use of body parts introduced to combat grave robbing by the likes of Burke and Hare.  But many burned pilots had scarred corneas so in 1945 McIndoe asked Sir Benjamin Ryecroft to establish the Corneo-Transplant Unit here in East Grinstead.
He led a national campaign to get the law changed: the 1952 Corneal Grafting Act was the result and this hospital set up the UK's first eye bank to collect and store donated corneas, and surgeons here started transplanting them.
Lake
The main reason that we require to repair the cornea is because it becomes cloudy for some reason or distorted in shape.  The main groups are elderly people, in which it becomes thick and cloudy because the cells wear out in the cornea and in young people it becomes distorted in shape because they have a weakness of the cornea, something called keratoconus.
Porter
Can you explain in simple terms what corneal grafting involves, what are you trying to do?
Lake
What we're trying to do is to deal with the problem so that we're left with a cornea which is clear and which is also the correct shape, so that it focuses the light properly.
Porter
Let's use the example of someone who has a damaged cornea through the acid attack, as in Andrew's case, do you actually have to remove the damaged cornea that's there and then replace it with the graft – is that essentially what you're doing?
Lake
In that case it becomes more complicated because yes, in the end, we will need to remove the opaque cornea and put a new one in, which is clear, but when you have particularly acid or chemical attacks it damages a lot of the supporting cells around the cornea, so we need to also replace those first.  So, it can often be a multi-stage process over a number of years unfortunately.
Porter
And one year on from the attack, Andrew has had five separate operations including two corneal grafts.
Keene
My anatomy of the eye was probably GCSE biology, so I've learnt quite a lot since.  But yeah, I mean I didn't really know these operations existed.
Porter
How long ago was the graft put in?
Keene
This graft was done about six weeks ago, at the same time that I had the stem cells put in, so a little ring of stem cells goes around the cornea…
Porter
To help the healing?
Keene
That helps grow in, because I've not none of my – no cells of my own.  And that's taken well, so it's time, it takes time.
Jordan
Okay Mark, well welcome to our eye bank, I'm Nigel Jordan and I'm the eye bank manager.  We're just walking through the doorway into the lobby of our eye bank.
Porter
And there it is.
Jordan
In front of you, you can see a window looking into our nice clean room.
Porter
And just describe what we're looking at then, so what do you actually have in there at the moment?
Jordan
In the first room we have incubators and some fridges and freezers where we store the corneas after they've been processed.  Through the transfer hatch you can see six cabinets and we perform all of our tissue processing, corneal storage, in those cabinets.
Porter
What's actually happening?  Whole eyes are arriving here from the donors?
Jordan
Sure, so we retrieve eyes from Kent, Surrey and Sussex mainly and we bring the whole eyes back, we have a great team of retrievers who are very dedicated and go out at all times of the day and night and will retrieve eyes, bring the whole globe back.  So, we have 24 hours from the time of death from a donor to remove the eyes and then we have a further 24 hours to then process the eyes.
Porter
And by processing – which bits of the eye are you interested in?
Jordan
Sure, okay.  We're mainly interested in the cornea, which is the front clear section of the eye, those are the pieces that we transplant mostly.  The cornea that we've removed is then placed into a storage media, which contains nutrients that keeps the cells on the back of the cornea alive and we can store those corneas for up to 34 days before use.  And they sit in an incubator at 30-31 degrees.
Porter
What about the rest of the eye, the cornea's obviously the see-through bit right at the front of the eye, is any of the rest of the eye of any use?
Jordan
Yes, other eye banks store the sclera and use that for…
Porter
The white bit.
Jordan
…the white bit, for patches for glaucoma surgery.  We can use other sections of the eye because we grow limbal stem cells from diseased donor corneas and we can grow sheets of corneal epithelial cells which are then applied to the surface of a recipient eye.
Porter
So, these you would hope would take seed and grow and heal the scar or a wound naturally, is that the…?
Jordan
They stabilise the surface of the cornea which then following the stabilisation process a corneal graft can be performed.
Porter
Looking at you now, your left eye looks normal but your right eye is, as anyone would notice, is closed.  And is that stitched closed at the moment?
Keene
Yeah, I've had Botox in the – which I didn't ever thought I'd say – but Botox in the eyelid to relax it and to keep the eye closed.  And I've got a stitch in the far corner.  I mean the idea being you're trying to create the best environment for the stem cells to grow and also for the graft to take.  So, if the eye is closed to the elements the better really.
Porter
Andrew was treated as an emergency but for less pressing corneal problems there's a waiting list.  Three thousand families agree to donate relatives' eyes every year but units like Queen Victoria Hospital need 70 donations a week to meet demand, that's a shortfall of more than more 500 a year.
Dr Nigel Jordan at the eye bank told me supply is a real problem, so do they ever run out?
Jordan
We do, we do and we've resorted to importing from the US, in the tens this year, never done before.
Porter
To meet demand.
Jordan
To meet demand.
Porter
How do you identify people that might be potential donors?  I mean if I – if I put myself on the donor register and I'm happy to donate my eyes and I'm in your hospital or a hospital locally round here, will you get to know that I'm a potential donor?
Jordan
Only if we're called by the referring staff at the hospital.  So that's one of the main problems in sourcing enough corneas.
Porter
So, I might be on the register but unless the staff actively ask about the possibility and contact you it's not going to happen.
Jordan
That's one of the main problems we have.  So, we really urge medical staff to think about donation at the time of death.  We know it's a difficult question to ask or we know that some of them find it a difficult question to ask but without asking and then without contacting us we'll never be aware of a potential donor.
Porter
So, it seems that signing yourself up for the organ donor register isn't enough.  Unless you talk to your family about your wishes and unless hospital and hospice staff talk to families and ask the difficult question, there will continue to be a shortfall in cornea donations.  On top of a national shortage of donors, one in 10 who do register tick the "except eyes" box on the register form.  Why?  Some are squeamish, some mistakenly believe their religion forbids it, and others worry that they will need their eyes for whatever they think comes next.
But before you tick that box, eye surgeon Damian Lake has a request.
Lake
If you could just sit still and cover your eyes for 10 or 15 minutes and then try and think what it's like to not be able to see for a prolonged period of time and then think about the fact that we're not producing enough donations and we're not doing enough transplantation, when quite simply you could give the gift of sight.
Porter
So, what's the future hold for you, when's that stitch going to come out and when are you going to be able to look through the eye to see how well it's all worked?
Keene
It's an ongoing process.   So, I had a check up this morning and the growth is good and we come back in a week and we'll see how far that's gone again.  But hopefully, we'll get the skin of the eye healed and then the vision again is – it could take our time on that.
Porter
So, they're focusing on the front of the eye at the moment.
Keene
Yeah, yeah so we'll get that safe and then we'll take a bit of time and hopefully we'll see how the vision is from there.
Porter
The remarkably stoic Andrew Keene and we wish him well. 
There is more information on becoming a donor on the Inside Health page of the Radio 4 website. And, please, if you already on the register do tell your family, so that, should the worst ever happen, they can respect your wishes and help transform another life or lives.
BBC news anchor George Alagiah has gone public with news that his bowel cancer has come back three years after it was diagnosed at an advanced stage.   And he has questioned why screening starts at different ages in different parts of the UK.  Had he lived in Scotland, where the bowel cancer screening programme starts at 50, up to 10 years before the rest of the UK, he would have been screened for nearly a decade before he eventually developed symptoms, and the cancer might have been picked up much earlier, making it far easier to treat. So why the difference?
Margaret McCartney is in our Glasgow studio.  Margaret, setting a programme up like this is complex.
McCartney
It is and we've discussed on the programme a lot about screening and the fact that what might seem very sensible sometimes turns out to be much more complicated and counterintuitive than we'd first thought.  But what we probably haven't talked about enough is just how massive an operation it is to set up a screening programme. 
So, the UK National Screening committee, who makes all the decisions about what it's useful to screen for and not in the UK, they decided in 2003 that bowel cancer screening looked as though it was cost effective, it would help to reduce deaths from bowel cancer and they recommended implementing a programme.  But that meant that millions of people were going to have to be invited for screening tests which means a system has to be set up, there would have to be enough trained colonoscopists, people who could look into the bowel for positive results from the screening, would all have to be trained and in place before that programme could be properly rolled out.  So, although the UK National Screening committee made the decision on starting screening in 2003 it actually took until about 2006, 2007 to get the first roll outs happening.  And because it's such a massive thing to do the four nations all did it slightly differently, they take charge of how the system is going to be organised, how it's going to be supported and how quality assurance is going to be done.
Porter
Is this how we ended up with a difference.  Scotland, are they ahead of the game effectively?
McCartney
Well I think it's more confusing and more complicated than that.  So, the intention, as far as I can see, from both Scotland and England had been that they would do the screening programme between the ages of 50 and 74, that was the initial sort of concept.  But that's a huge population.  So, what had started in England was a kind of roll out, bit by bit, they started off with the middle population, the 60-69s first, then the 70-74s and then they plan to do the 50-59s.  And the reason for that is that bowel is more common in the older rather than the younger population.  So, they thought we'll start rolling this out in the population most likely to benefit.  And remember England is a much bigger area than Scotland is, so there's a huge amount of organisation in actually getting the staff, the equipment and the training up to spec in all of that.  But what happened was in 2009, just as roll out was really progressing, a paper came out in the Lancet.  Wendy Aitkin and colleagues looked at the effect of once off flexible sigmoidoscopy, looking at the lower end of the bowel in people aged between 55 and 64.  And she found that that reduced bowel cancer by a third, which effectively means a 191 people had to be screened to stop one cancer diagnosis.  And this was felt to be effective and better than the offer already recommended for the bowel cancer screening in that age group.  And England went ahead with that, so England now are up and running with a once off invitation for 55-year olds.
Porter
Now it's funny you should mention that because I'm actually going for my screening next week, so I just turned 55 at the end of last year and I've been invited for that.  So, that is what's happening in England and that's why there's this apparent disparity.  But it's unclear what we're going to have going forward because this is all still being piloted at the moment isn't it.
McCartney
Well this is the thing.  So, you had these massive randomised control trials, that were done, very high-quality trials, looking into bowel cancer screening, that were done in the late 1980s, 1990s and all that research was done and rolled out into a programme.  And then what happens is more research starts coming in and of course you have to start responding to that.  So, if you've got something that you think is better you're obviously going to start offering that rather than what you'd already planned to do.  And of course, there's also been another change to the programme, as it's been rolled out, the first test that was done was faecal occult blood testing and that's now changed to FIT testing, which is a more sophisticated type of test that is more user friendly and has less false positive results.  So, again that's another improvement that's been made.  So, what you're seeing is a system that's always trying to improve to the best of its capability but it's never really doing what it originally set out to do because the science has moved on since then.
Porter
But you could understand Margaret how frustrating this must be for people like George Alagiah, we don't know whether the cancer would have been picked up earlier, but there's a chance that it would have.
McCartney
Well this is a really big issue I think when we talk about these public screening campaigns because they're designed for populations but of course they're done on individuals.  And when you're doing a population screening programme, a mass programme, you have to make sure your system is robust enough, you have to make sure that you're offering high enough quality tests and you have to make sure you're offering really high-quality information for people, so they can make a decision about taking part in it or not.  And we know that bowel cancer screening often struggles to get the numbers that it really needs to be cost effective.  To begin with it was kind of 50%, it's up towards about 60% participation rates now.  So, as time goes on, I think, as the tests have improved perhaps more people will want to take part in it.  But there are always going to be gaps, there are always going to be areas that are catching up, there's always going to be areas that are not in the pilot's area for example or the system changes just before you would have been allowed in.  Whenever there's a big public programme like this there's always going to be people who are in or not just by chance.  And I think what that says to me is that these are useful and important programmes in many ways but they're designed for the population, they're not really designed for the individual.  And what is I think consistent with wherever you sit on bowel cancer screening or whatever you think about it, if you have symptoms always go and speak to a doctor, get some advice about that.  But screening can only ever help a bit with many things.  We know the sensitivity of the original test for bowel cancer was only approaching 50% in many instances, so we know that there are lots of errors, we know that the test doesn't perform 100% of the time, these are things that can only help, they're not going to offer an assurance of a cure all the time, very unfortunately.
Porter
Thank you, Margaret.  And as ever you'll find more information on our website.
Now we're used to seeing Paralympic athletes competing with blades – high-tech futuristic looking prostheses that allow them to run, jump and compete at the highest level.  But they are not the only ones who can benefit.
For the past 18 months children in England, born without part of a limb or those who have had an amputation after accident or illness, have also been able to get these blades on the NHS.
Up until 2016, when special funding was released by the Department of Health, the only prostheses that children could get on the NHS were standard artificial limbs that enabled them to walk, but not to run.
I went to a children's clinic at the Royal National Orthopaedic Hospital in Stanmore to see just what a difference the new blades are making.  In the gym, Dr Imad Sedki, Consultant in Rehabilitation Medicine in the Prosthetic Unit, is playing football with one of his young patients.
Actuality – football game
Porter
Fourteen-year-old Sasha is giving Dr Sedki the run-around in the gym, deftly twisting and turning as she chases the football.
Watching her it's hard to believe that just two years ago she lost both her feet below the ankle because of sepsis.  Not only is she a mean footballer, but since her surgery she has also taken up trampolining and she only went and finished second in her category at the British Schools Gymnastic competition.
Sasha, what other sports are you planning on dominating then?  So, we've got trampolining, you're talking about running.
Sasha
Badminton…
Porter
Because that's quite tricky – badminton – because it's fast and lots of direction changes and things…
Sasha
No, it's quite easy.
Porter
Oh right, okay. 
Sasha has carbon fibre C shaped blades and switches prostheses depending on what she's doing.
Claire
She takes her blades to school, like other people take their gym kit – huge bag – to change into her blades.
Porter
So, you literally take off your normal prostheses, put on your blades when you're doing sports.  How did you feel the first time you put on your blades?
Sasha
Springy.
Claire
She loved it, absolutely, she was bouncing around in here, in this gym, yeah.
Porter
Were they difficult to master – because they're quite different from a normal ankle and foot aren't they?
Sasha
They were – at the start they were a tiny bit hard but they just got easier and easier to walk on them.
Porter
Practise makes perfect.
Sasha
Yeah.
Sedki
It was very difficult for me, as a clinician, because I know that for children running and walking fast is actually a need rather than a luxury.
Porter
Until the fund for these special prostheses was set up, it was hard for clinicians like Dr Sedki, restricted to fitting only the most basic of artificial limbs for his patients.
Sedki
And we were forcing them to walk slower than they could do with substandard feet.  Also, we were denying them from experiencing their interests in doing hobbies.  So, there was dancing, there was archery, there was swimming – there are so many other things that prosthetics can facilitate that these children were not able to do.
Porter
Are people surprised when they find out that you haven't got your feet?
Sasha
Quite surprised because they don't really realise when I have trousers on.
Porter
I can understand that, I mean you move completely normally, I mean watching you kick the football – I think you're a better football player than Dr Sedki.  Don't tell him that will you.
Sedki
The smile on the face is enough, when you see them in the fitting room jumping and running around.  And it doesn't take long for a child to utilise it, it takes minutes sometimes.  You see them walking into the clinic and then they run out of the clinic straight ahead.  It's remarkable.
Porter
It's hard to grasp just how agile and mobile Sasha is after such a devastating illness.
Sasha
I had a cold on my birthday and then I had a cough and then I – I think it was a couple of days later I was in bed and then I went downstairs and I couldn't breathe very easily.
Porter
So, you were in hospital with sepsis and what happened to your legs?
Sasha
They went black because they lost their circulation.
Porter
Her very survival was hanging in the balance.
Claire
Well actually she did have a heart attack and they did eight CPR and got her back with defibrillation.
Porter
You're tough aren't you.
Claire
She is, that's what the nurses said, she's a tough old thing and actually was blue/black up to the – to here.
Porter
Sasha lost both of her…
Claire
Feet.
Porter
…feet, she's coped remarkably hasn't she.  I mean are you surprised, I know mothers are biased?
Claire
Yes, we are surprised and her consultant at King's College Hospital was surprised.  Sasha used to ask her how she was.
Sedki
Right, so as you can see Soffyan has a prosthesis on the right side, he has an amputation above the knee and it's usually quite hard to play football with these types of prosthesis but he's quite skilled and he's able even to stand on his prosthetic side, balance himself on one leg and then kick the ball with the other leg.  And he can kick it very accurately and very strong as well.
Porter
Soffyan is another of Dr Sedki's patients, here to get his prosthetic limb upgraded.  He's 10 years old, a fanatical Arsenal supporter and a brilliant footballer.  But his life changed last June when he was diagnosed with a rare cancer, synovial sarcoma.
Soffyan
I used to play a lot of football, I used to be really good.  I used to go out every day after school to a pitch right next to my school and one day, having cancer, is not nice and you have to go through a lot and actually the first thing that I thought was – was I'm going to die, that's what I thought first because people die from cancer.  And I thought I was going to die.
Porter
The decision was taken to amputate Soffyan's leg, it was devastating news for him and his family but of according to his mother, Raoda, it was his future on the pitch that worried him most.
Raoda
His main concern, before he had his amputation, was whether he'd ever be able to play football again.  He wasn't bothered about anything else, it was just – will I be able to kick a ball, will I be able to get on the pitch.
Porter
Soffyan had his amputation last September and just a month later, Dr Sedki and his team at Stanmore, were able to access the activity blades fund and fit him with a prosthesis that meant he could play football again.
Sedki
These things when they're provided as early as possible they reduce the psychological suffering and you can see he became confident, he's very outspoken.  It makes a huge difference.  So, I would think of it mainly actually for psychology and secondly for physical.  For children the physical activity is a need, it's not a luxury.
Soffyan
When I started to walk and started to do really well and I didn't believe what could happen with it and it worked.  Now I'm walking really fluidly, I [indistinct word] very quick.  I've been trying my best [indistinct words], I'm a lot stronger than I used to be with two legs, my upper body strength is really strong.  I'm stronger than the year sixes in my school.  I beat all of them in a plank – four minutes.
Raoda
This funding is just life changing.  His whole life is sport and I think it's a big thing that he's able to do something that he was able to do before.
Soffyan
I could do a bit more if I'm honest because the past year – because of what I went through inside you become a stronger person.
Raoda
The most important thing in his recovery is the fact that he's had access to these prosthetics.  For him, his confidence is a lot to do with sport because that's what he was known before, Soffyan the striker, the boy that can play football.  So, for him, his mobility is everything.
Porter
Soffyan's proud mum Raoda, who's all too aware of the difference his blades have made.  But there's a fly in the ointment.  As children grow they need new blades and ongoing funding is currently subject to annual review and even if it does continue it stops when they reach 18.
This is the last in the current series of Inside Health.  Claudia Hammond will be taking over this chair next month for another run of All in The Mind, during which the team investigate loneliness.  Many thousands of you have already completed the online survey – The BBC Loneliness Experiment – making it one of the world's largest ever surveys on the topic but there are still two weeks left if you want to contribute. 
Working with psychologists from three British universities, All in The Mind want to find out more about what causes loneliness and crucially, what propels people out of it.  Anyone over the age of 16 can take part, whether or not they feel lonely at the moment.  There's a link on our website or you can go straight to thelonelinessexperiment.com.
Inside Health will be back in July.  Until then goodbye.
ENDS