Main content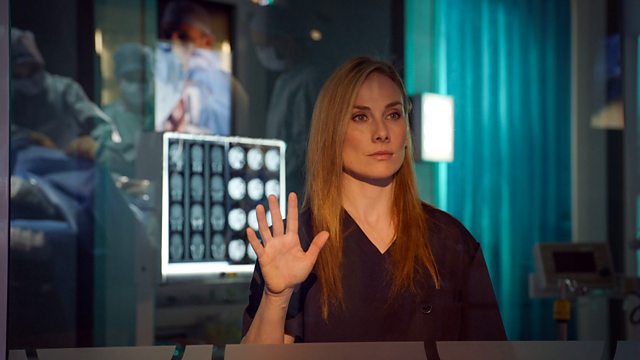 No Matter Where You Go, There You Are - Part One
Ric Griffin finally stands trial. Ollie accepts the ultimate challenge from Roxanna. Jac is backed into a corner emotionally.
The events surrounding Elaine Warren's death are relived in court. With new revelations emerging, can Ric fight for freedom?
Desperate to no longer be Roxanna's pet patient, Ollie pushes himself to the brink. But what future awaits him on the other side?
Jac has eyes for Fletch, but when things take a turn for the worse Frieda is the one she turns to for help.
Credits
| Role | Contributor |
| --- | --- |
| Ric Griffin | Hugh Quarshie |
| Donna Jackson | Jaye Jacobs |
| Oliver Valentine | James Anderson |
| Jac Naylor | Rosie Marcel |
| Roxanna MacMillan | Hermione Gulliford |
| John Gaskell | Paul McGann |
| Serena Campbell | Catherine Russell |
| Essie Di Lucca | Kaye Wragg |
| Henrik Hanssen | Guy Henry |
| Frieda Petrenko | Olga Fedori |
| Adrian 'Fletch' Fletcher | Alex Walkinshaw |
| Meena Chowdhury | Salma Hoque |
| Dominic Copeland | David Ames |
| Nicky McKendrick | Belinda Owusu |
| Jason Haynes | Jules Robertson |
| Elizabeth Cartwright | Stirling Gallacher |
| Amira Zafar | Poppy Jhakra |
| Becky Colter | Cat Simmons |
| Geoffrey Buruma | Robert Mountford |
| Lola Winston | Megan Jones |
| Writer | Patrick Homes |
| Producer | Yasmin Kalli |
| Director | David Innes Edwards |