Main content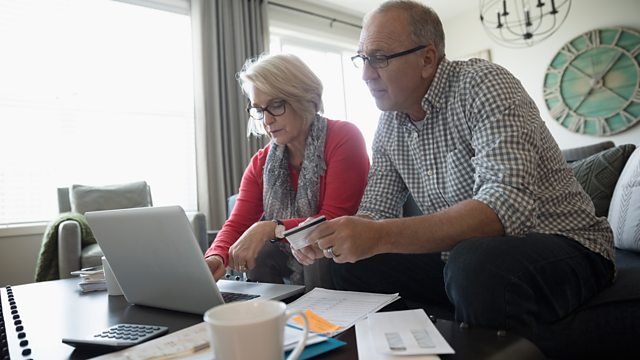 Retirement Debt, Help To Buy, Renting Out Your Car
How do you clear a big debt when you have retired and your income has shrunk? Plus the government's 'Help to Buy' scheme is five years old next month. How well has it worked?
How can you clear a big debt when you've retired and your income has shrunk? Research by Prudential suggests that one in five people planning to retire this year will be in debt. The amount owed by newly retired people has increased in recent years. On average, this year they will owe nearly £34,000. For some, this is mortgage debt, for others the money is owed to credit card or loan companies. But as your income falls on retirement, it becomes harder to pay off these outstanding debts. For people who own their home, equity release can be an option, but some complain that it is an expensive way to borrow. If you don't own your home, the options are even more limited. We hear one woman's experience of how easily debt can spiral out of control and an expert on retirement debt provides advice on how to manage your finances.
The government's "Help To Buy" scheme is five years old next month. It was set up to help people to buy their own home, and then, to move up the property ladder. More than 140,000 households have taken advantage of attractive loan deals offered through the scheme, but how well has the scheme succeeded in helping people who would otherwise have been unable to buy their own home?
Leaving your car in an airport car park can be a significant extra holiday expense, but a new service at Gatwick Airport allows holidaymakers to rent out their car to other people, while they are abroad. You pay the airport parking fee, your car is washed and prepared for rental, and if the company rents it out, then you get paid. We ask if the business model can really work, and why so many ideas from the "sharing economy" have not really taken off.
Producer: Jonathan Hallewell
Presenter: Winifred Robinson.
Chapters
HOSPITAL LAWYERS

The Department of Health said it's to ban lawyers based in hospitals from suing the NHS.

Duration: 07:26

CAR RENTAL

A new service at Gatwick Airport offers your car as a rental while you're abroad.

Duration: 06:24

PENSIONER DEBT

A situation facing tens of thousands of people who retire with debts left unpaid.

Duration: 08:12

GARDEN BIRDS

We're spending more and more time and money attracting birds to our gardens.

Duration: 04:27

ACTION FRAUD RE-LAUNCH

Action Fraud, the UK's National Fraud Reporting service is about to be re-launched.

Duration: 05:10

HELP TO BUY

Help to Buy offers people buying new homes a government loan towards their deposit.

Duration: 06:36