Main content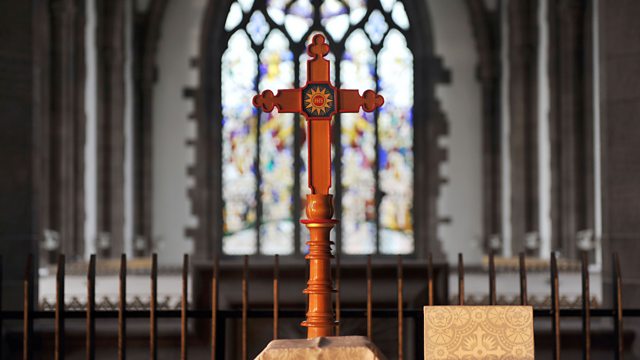 Inquiry into child sex abuse in the Anglican Church
A three week hearing into child sex abuse in the Anglican Church came to a close. What was learned and how is the institution responding?
The Independent inquiry into child sexual abuse in the Anglican Church concluded three weeks of hearing this week. Phil Johnson, abuse survivor, talks to Emily Buchanan about what the hearings have meant to him. Bishop Alan Wilson, long term critic of the Church on its handling of clerical sex abuse cases, discusses the positives and negatives to have emerged. And Bishop Mark Sowerby, the deputy lead bishop for Safeguarding responds. Martin Bashir BBC Religion Correspondent provides analysis.
An anti-radicalisation programme billed as an alternative to the government Prevent strategy has been launched in British mosques.
Safe and Secure has the backing of the Muslim Council of Britain. We speak to one of the people behind it, Dal Babu, a former Chief Superintendent with the Met Police and critic of Prevent.
Cardinal O'Brien died on Monday - former Archbishop of St Andrews and Edinburgh and one of the most senior Catholics in Britain. He fell from grace in 2013 when it was revealed that O'Brien himself had had a homosexual relationship. His funeral will take place in Newcastle next month and Cardinal Vincent Nichols, Archbishop of Westminster, will lead the service. We speak to Christopher Lamb.
On Good Friday 1998 - a political agreement was reached that ended 30 years of sectarian violence in Northern Ireland. The role of Catholic and Protestant clergy during the Troubles is well known, but the stories of the daily lives and struggles of Catholic Religious Sisters has not been heard. It was to address this silence that Belfast academics along with the University of Winchester launched the "Witness Seminars." Around twenty nuns gathered over a two year period to record their memories of the Troubles, and several have now contributed to a World Service documentary - Sisters of the Troubles - which airs this weekend ahead of the 20th anniversary of the Good Friday agreement on 10th April. Rosie Dawson has a special report.
It's the final week of Lent - which means for many Christians the final few days of going without meat perhaps, or chocolate. But Christians in Pakistan commemorate Lent by fasting for 24 hours, with only one meal at sunset - similar to the fasts their Muslim neighbours do in Ramadan. Secunder Kermani reports on how this approach to Lent is bringing communities together.
And Bob Dylan's Christian years: David Gaines, Professor of English at Southwestern University in Georgetown, Texas, talks to us about how Christianity affected Dylan's music, ahead of a new BBC 4 film titled: Arena: Bob Dylan - Trouble No More to be shown on Good Friday on BBC Four.
Producers:
Louise Clarke-Rowbotham
Catherine Earlam
This edition of Sunday has been edited for editorial accuracy.