Main content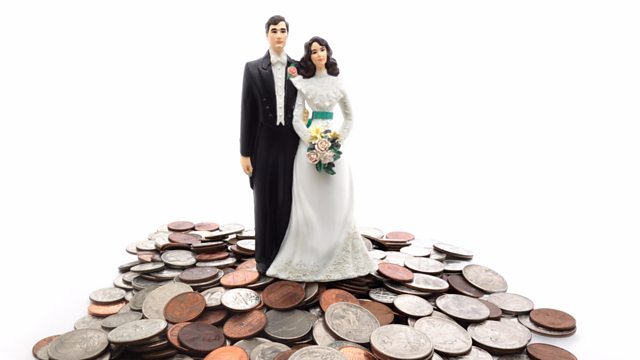 Millions missing out on Marriage Tax Allowance
The latest news from the world of personal finance.
More than a million couples who could save £230 a year off their tax bill have still not claimed an allowance designed to support marriage. When the Marriage Tax Allowance began in April 2015, the Treasury estimated that 4.2 million people would be eligible, but so far only 65 per cent are taking advantage of the scheme. Plus, is the Savings Allowance system too complicated? We discuss the issues with Mel Stride, the Financial Secretary to the Treasury in charge of tax policy.
According to the National Crime Agency, 'significantly' more than ninety billion pounds of criminal money is laundered through Britain each year. Much of it through high-end property in London. Since the end of January, new powers called Unexplained Wealth Orders have been in place to seize these ill-gotten gains. The order requires those under investigation to explain how they paid for the assets, and if they can't do that satisfactorily, the assets can be taken by the state.
Online fraud is now the most prevalent crime in England and Wales, making it a major area of public concern costing an estimated at £10 billion. But how are banks coping at dealing with fraud and scams? We asked the big six high street how many reports of fraud they've had in the past year and how many people they employ in their fraud department, but none were forthcoming with the figures. Meg Hillier MP, Chair of the House of Commons' Public Finance Committee explains how MPs are looking into the issue, and Katie Warobec, of UK Finance outlines the industry's perspective.
Also, finally some good news for drivers. The cost of car insurance is expected to fall after the government introduced the Civil Liability Bill, designed to reduce the high number of whiplash claims in the UK. But will drivers really see their premiums fall?
Chapters
Marriage Tax Allowance

Millions missing out on claiming

Duration: 06:45

Unexplained Wealth Orders

New powers to prevent money laundering

Duration: 03:29

Bank Fraud

Why won't banks give us the numbers?

Duration: 08:30

Car Insurance

Will the cost finally fall?

Duration: 03:43