Main content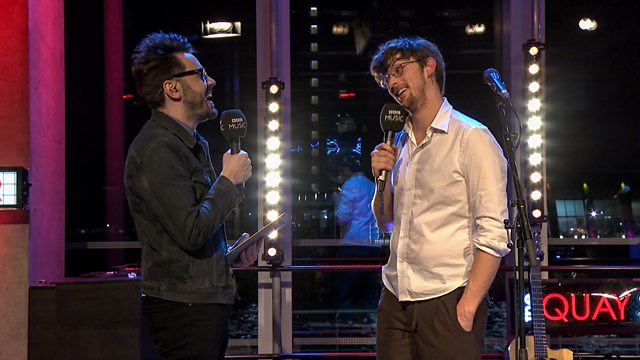 Albin Lee Meldau and Annie Booth
Sweden's Albin Lee Meldau and Scotland's Annie Booth share The Quay Stage.
Albin Lee Meldau and Annie Booth share The Quay Stage this week.
Hailing from Gothenburg, Albin is the son of a Swedish jazz singer and a British punk rocker and was nominated as Best Newcomer in the 2017 Grammis Awards (Swedish Grammys). With over 25 million Spotify streams under his belt, Albin is gearing up for big things this year and brings his uniquely soulful voice and riveting performance style to The Quay Sessions.
Edinburgh singer-songwriter Annie Booth brings a full band to showcase her debut album, An Unforgiving Light, which has earned well-deserved praise across the blogosphere for an assured alt-folk-rock debut.
Last on
Music Played
Manic Street Preachers

Distant Colours

Distant Colours.
ColumbiaUK.
1.

Annie Booth

Demons (The Quay Sessions, 22nd March 2018)

Annie Booth

Chasm (The Quay Sessions, 22nd March 2018)

Annie Booth

Post-Goodbyes (The Quay Sessions, 22nd March 2018)

Sam Fender

Friday Fighting

Annie Booth

Little Lies (The Quay Sessions, 22nd March 2018)

Annie Booth

Never Go To Church (The Quay Sessions, 22nd March 2018)

Annie Booth

Thought Of You (The Quay Sessions, 22nd March 2018)

Annie Booth

Over My (The Quay Sessions, 22nd March 2018)

Annie Booth

Reverie (The Quay Sessions, 22nd March 2018)

Annie Booth

The Line (The Quay Sessions, 22nd March 2018)

Laura Veirs

Everybody Needs You

The Lookout.
Bella Union.

Albin Lee Meldau

Before & After (The Quay Sessions, 22nd March 2018)

Albin Lee Meldau

About You (The Quay Sessions, 22nd March 2018)

Albin Lee Meldau

I Need Your Love (The Quay Sessions, 22nd March 2018)

James

Catapult (The Quay Sessons, 22nd March 2018)

Albin Lee Meldau

Stuck In The Middle With You (The Quay Sessions, 22nd March 2018)

Albin Lee Meldau

Bloodshot (The Quay Sessions, 22nd March 2018)

Albin Lee Meldau

Try (The Quay Sessions, 22nd March 2018)

Albin Lee Meldau

The Weight Is Gone (The Quay Sessions, 22nd March 2018)

Albin Lee Meldau

Same Boat (The Quay Sessions, 22nd March 2018)

Albin Lee Meldau

Lou Lou (The Quay Sessions, 22nd March 2018)

Snow Patrol

Don't Give In
Broadcasts