Main content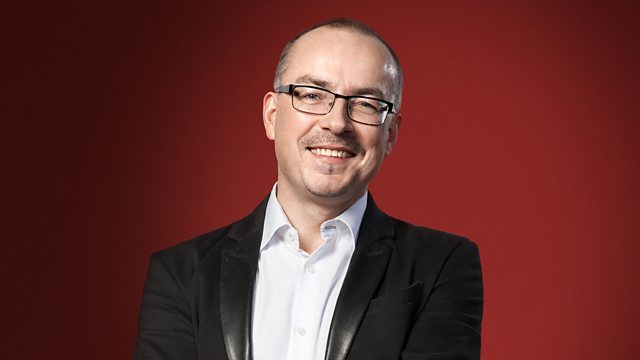 Andrew McGregor with Flora Willson and Simon Heighes
With Andrew McGregor. Including Building a Library on Massenet's opera Manon with Flora Willson. Simon Heighes reviews new baroque releases including music by Bach and Handel.
9.30
Building a Library: Massenet's Manon with Flora Willson.
Based on the 1731 novel L'histoire du chevalier des Grieux et de Manon Lescaut by the Abbé Prévost, Manon is probably still Massenet's most popular opera. It was first performed at the Opéra-Comique in Paris in 1884, and it has never been out of the repertory since its creation. It is full of charm and vitality with a complex central character who develops from the ingenue of Act 1 to someone altogether more manipulative at the end of the drama.
10.45
Simon Heighes reviews new releases of baroque music including works by Bach, Handel and William Hayes
11.45
Andrew chooses an outstanding new release as his Disc of the Week.
Record Review
9.00am
GABRIELI FOR BRASS: VENETIAN EXTRAVAGANZA
GIOVANNI BATTISTA BUONAMENTE:
Sonata a 6
GIROLAMO FRESCOBALDI:
Canzon a due canti No. 3
GIOVANNI GABRIELI
Canzona per sonare a quattro - 'La Spiritata'
Canzon III a 6
Canzon VIII
Canzon V
Canzon duodecimi toni, a 10 (No. 1)
Canzon noni toni a 12, C 183
Canzon septimi toni a 8
Sonata No.19 à 15
Sonata No. 18 à 14
Sonata XXI con tre violini
Sonata XX a 22
Sonata octavi toni a 12
Sonata pian e forte a 8
CESARIO GUSSAGO:
Canzona a 4 "La Bottaga"
PIETRO LAPPI:
Canzon Undecima 'La Serafina' a 4
TIBURTIO MASSAINO: Canzon XXXIII
LODOVICO DA VIADANA:
Sinfonia "La bergamasca"
Royal Academy of Music and Juilliard School Brass, Reinhold Friedrich
Linn CKD581 (CD)
THE ROMANTIC PIANO CONCERTO 74 - SIR WILLIAM STERNDALE BENNETT
SIR WILLIAM STERNDALE BENNETT:
Piano Concerto No.1 In D Minor, Op. 1
Piano Concerto No.2 In E Flat, Op. 4
Piano Concerto No.3 In C Minor, Op. 9
Howard Shelley (piano & conductor), BBC Scottish Symphony Orchestra
Hyperion CDA68178 (CD)
JS BACH: CONSOLATIO
JOHANN SEBASTIAN BACH:
Cantata BWV22 'Jesus nahm zu sich die Zwölfe'
Cantata BWV75 'Die Elenden sollen essen'
Cantata BWV127 'Herr Jesu Christ, wahr' Mensch und Gott'
Hannah Morrison (soprano), Carlos Mena (counter-tenor), Hans-Jorg Mammel (tenor) Matthias Vieweg (bass), Ricercar Consort/Philippe Pierlot
Mirare MIR 332 (CD)
9.30am – Building a Library – Flora Willson on Massenet's Manon
Composer:      Massenet
Piece:              Manon
Reviewer:        Flora Willson
Recommended Recording:
Angela Gheorghiu (Manon); Roberto Alagna (Chevalier des Grieux)
Orchestre Symphonique de la Monnaie; Antonio Pappano (conductor)
Warner Classics 4563892 (3 CDs)
Other Recommended Recordings:
Below are other recordings that Flora also liked, although we can't guarantee availability.
Victoria De Los Angeles (Manon); Henri Legay (Chevalier des Grieux)
Orchestre du Théâtre national de l'Opéra-Comique; Pierre Monteux (conductor)
TESTAMENT SBT3203 (3 CDs).  Also on Naxos 8111268-70 and EMI 7635492.
Germaine Feraldy (Manon); Joseph Rogatchewsky (Chevalier des Grieux)
Orchestre de l'Opéra-Comique de Paris; Elie Cohen (conductor)
Classical Collector FDC22001.  Also on Naxos 8110203-04.
Anna Netrebko (Manon); Rolando Villazón (Chevalier des Grieux)
Staatsopernchor and Staatskapelle Berlin, Daniel Barenboim (conductor)
DG 0734431 (2 DVDs)
10.20am New Releases:
HORENSTEIN CONTUCTS SIBELIUS
JEAN SIBELIUS:
Symphony No. 2
Violin Concerto
Ivry Gitlis (violin), Vienna Symphony Orchestra, Orchestre Radio National de France, Jascha Horenstein
Pristine Audio PASC 516 (CD)
SARGENT CONDUCTS ELGAR:
EDWARD ELGAR:
Cello Concerto
The Dream of Gerontius
Jacqueline du Pré (cello), Richard Lewis (tenor), Marjorie Thomas (mezzo), John Cameron (baritone), Huddersfield Choral Society, Royal Liverpool Philharmonic Orchestra, BBC Symphony Orchestra, Sir Malcolm Sargent
Pristine Audio PASC 525 (CD)
Pristine Audio releases can be found at https://www.pristineclassical.com/
1050 New Releases: Simon Heighes on baroque vocal
HANDEL'S LAST PRIMA DONNA: GIULIA FRASI IN LONDON
GEORGE FRIDERIC HANDEL:
Susanna, HWV 66: Crystal Streams in Murmurs Flowing
VINCENZO CIAMPI:
L'Adriano: O Dio! Mancar mi sento
Il trionfo di Camilla: Là per l'ombrosa sponda
THOMAS ARNE:
Artaxerxes: Why Is Death for Ever Late
JOHN CHRISTOPHER SMITH:
Paradise Lost: Oh! Do Not, Adam, Exercise on Me Thy Hatred
Paradise Lost: It Comes! It Comes! It Must Be Death!
Rebecca: But See, the Night with Silent Pace Steals On
Rebecca: O Balmy Sleep!
THOMAS ARNE:
Alfred: Gracious Heav'n, O Hear Me! (Revised Version, 1753)
GEORGE FRIDERIC HANDEL:
Theodora, HWV 68:
Symphony
O Thou Bright Sun!
With Darkness Deep as Is My Woe
Symphony of Soft Musick
But Why Art Thou Disquieted, My Soul?
Oh That I on Wings Could Rise
PHILIP HAYES:
Telemachus: Soon Arrives Thy Fatal Hour
GEORGE FRIDERIC HANDEL:
The Choice of Hercules, HWV 69: There the Brisk Sparkling Nectar Drain
Jephtha, HWV 70: Ye Sacred Priests
Jephtha, HWV 70: Farewell, Ye Limpid Springs
Solomon, HWV 67: Will the Sun Forget to Streak
Ruby Hughes (soprano) Orchestra of the Age of Enlightenment, Laurence Cummings
Chandos CHSA0403 (Hybrid SACD)
CEREMONIAL OXFORD, MUSIC FOR THE GEORGIAN UNIVERSITY BY WILLIAM HAYES
WILLIAM HAYES:
The Passions
O worship the Lord
Psalm 23: Lo! My Shepherd's hand divine
Lord, how long wilt thou be angry
Organ Concerto in G major
Save, Lord, and hear us
Voluntary in G Major
Lord, thou has been our refuge
Psalm 120 - To God I cry'd with anguish stung
O be joyful I God, all ye lands
The Fall of Jericho     
The Hundredth Psalm
The Choir of Keble College, Instruments of Time & Truth, Edward Higginbottom (organ), Rory Moules (organ), Matthew Martin (organ and director),
CRD CRD3534 (CD)
BACH, J S: MASS IN B MINOR, BWV232
JOHANN SEBASTIAN BACH:
Mass In B Minor, BWV 232
Katherine Watson (soprano), Helen Charlston (mezzo-soprano), Iestyn Davies (countertenor), Gwilym Bowen (tenor), Neal Davies (bass), Trinity College Choir Cambridge, Orchestra of the Age of Enlightenment, Stephen Layton
Hyperion CDA68181/2 (2 CDs)
11.45am – Disc of the Week
BACH, J S: MASS IN B MINOR, BWV232
JOHANN SEBASTIAN BACH:
Mass In B Minor, BWV 232
Katherine Watson (soprano), Tim Mead (countertenor), Reinoud Van Mechelen (tenor), André Morsch (bass), Les Arts Florissants, William Christie
Harmonia Mundi HAF 8905293.94 (2 CDs)