Main content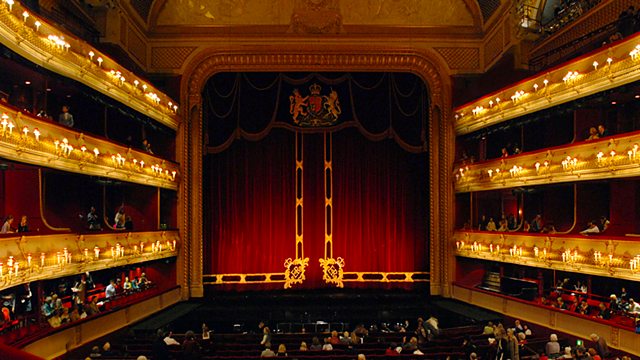 Thursday - Opera Matinee: Hansel and Gretel
Penny Gore introduces Engelbert Humperdinck's Hansel and Gretel from the Royal Opera House, Covent Garden, conducted by Sir Colin Davis.
Penny Gore introduces Engelbert Humperdinck's setting of Hansel and Gretel: the classic story from the Brothers Grimm, where two children get lost in a forest after dark and are charmed by a witch to enter her magical gingerbread house. The children are ensnared but manage to defeat the witch, and in a rousing happy ending they are returned home and reunited with their parents.
In a performance from the Royal Opera House, Sir Colin Davis conducts Humperdinck's fairytale opera with a cast that includes mezzo-soprano Angelika Kirschlager as Hansel and soprano Diana Damrau as Gretel.
Hansel ...... Angelika Kirchschlager (mezzo-soprano)
Gretel ...... Diana Damrau (soprano)
Gertrud ...... Elizabeth Connell (soprano)
Peter ...... Thomas Allen (baritone)
Witch ...... Anja Silja (soprano)
Sandman and ...... Pumeza Matshikiza (soprano)
Dew Fairy and Echo ...... Anita Watson (soprano)
Echo ...... Eri Nakamura, Simona Mihai (sopranos)
Tiffin Boys' Choir
Tiffin Children's Chorus
Orchestra of the Royal Opera House
Colin Davis (conductor)
And at 3.45pm
Penny Gore continues this week's focus on recent Ulster Orchestra recordings, with works by Piers Hellawell and Prokofiev.
Piers Hellawell - Wild Flow
Prokofiev - Symphony No. 5 in B flat major, Op 100
Ulster Orchestra
Rafael Payare (conductor).
Synopsis
Act I
Hansel and Gretel are home alone, bored
and hungry. Their father Peter, a broom
maker, has tramped off to a nearby town to
sell his brooms. The family are desperately
poor and the children's mother, Gertrud,
is in despair. For weeks the family have
been living on dry bread, and even that
has run out. The children are so hungry
that they play around instead of getting
on with their work, and a jug of cream
gets broken. Their exasperated mother
sends them off to the forest to gather
wild berries.

Meanwhile Peter has at last made some
money and comes back with bags of food.
He is horrified to hear his wife has sent
the kids into the forest, and tells her
of the terrifying witch who lives at its
heart.Mother and father rush off to
save their children.
Act II
It's too late: the children are already
deep in the forest and thoroughly lost.
Fortunately the Sandman finds them
and soothes them to sleep. The children
say their prayers, fall asleep and are visited
by angels.
Act III
Morning is heralded by the Dew Fairy.
The children wake. Both of them remember
their angel dream and get up, ready for
anything, unaware that somebody is
waiting for them : the Witch.
Hansel and Gretel discover a biscuit
house, which they can't resist. They nibble
at it, and are caught by the Witch. It
becomes all too obvious that she intends
to bake them into gingerbread biscuits.
However, Hänsel and Gretel manage to
push the Witch into her own oven and to
release the biscuit-children she had already
trapped. Hänsel and Gretel are found by
their parents , and everyone gives thanks.
Featured in...
We broadcast more live and specially-recorded concerts and opera than any other station.