Main content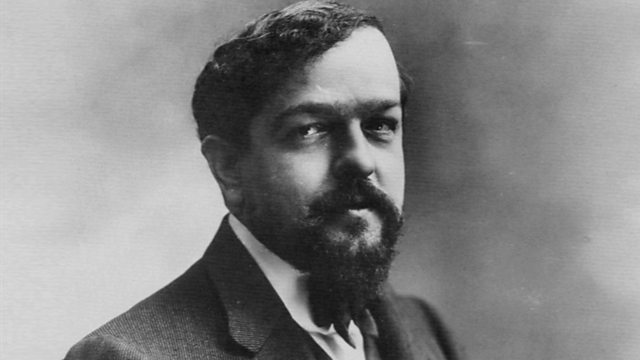 Donald Macleod explores an episode in Debussy's life that scandalised Paris and turned most of his friends against him.
Donald Macleod explores a Donald Macleod explores a short period in Debussy's life that scandalised Paris and turned most of his friends against him
In the week of the centenary of the composer's death, Donald Macleod looks at the development of Debussy's career against the background of his turbulent personal life. 'At every crossroads in Debussy's life there was a woman', wrote his biographer Marcel Dietschy, and this week we meet them: from Mme Vasnier, the married singer with whom he conducted an affair during his early years as a struggling composer in Paris and Rome, to the bohemian Gaby Dupont, and his first wife Lily - who attempted suicide when Debussy left her for Emma Bardac. He would settle happily with Emma for the rest of his life, and in his prime, touring internationally as a conductor, wrote to her and their beloved daughter Chouchou, expressing his longing for home.
Donald Macleod explores a traumatic period in Debussy's life when Parisian society, and many of his close friends, turned against the composer for abandoning his wife in virtual poverty to run off with a woman of the world, the rich wife of a banker, Emma Bardac. The works he wrote during these first few years of the 20th century reflect both his state of mind and his environment.
Masques
Steven Osborne, piano
Estampes
Jean-Yves Thibaudet, piano
Trois Chansons de France
Sarah Walker, mezzo soprano; Roger Vignoles, piano
L'Isle Joyeuse
Ulster Orchestra; Yan Pascal Tortelier, conductor
Reflets dans l'eau (Mvt 1 Images)
Jean-Efflam Bavouzet, piano
Dialogue du vent et de la mer (La Mer)
New Philharmonia Orchestra; Pierre Boulez, conductor.