Main content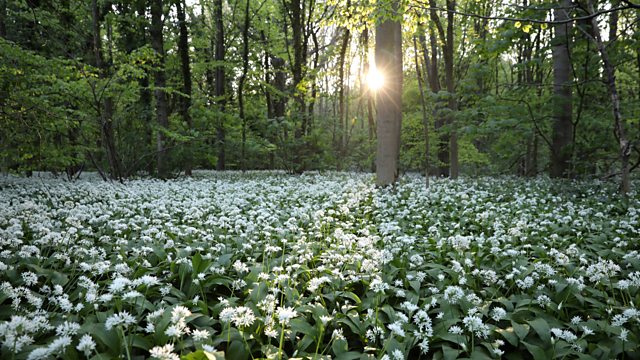 In Praise of Passion
Cultural discussion programme. Andrew Marr on our fascination with wildness, disorder and Bacchic revelry with Bettany Hughes, John Lewis-Stempel, Rachel Hewitt and Stephen Walsh.
We are drawn to wildness and disorder, argues historian Bettany Hughes. She tells Andrew Marr about the attraction of Bacchus, the god of wine and fertility, and the subject of a new BBC Four documentary. Bacchus (also known as Dionysus) has been a symbol of excess ever since Roman maidens fled to the woods and drank wine in his name. Hughes follows the Bacchic cult through history, and argues that chaos has been as important to civilisation as reason and restraint.
The wood - scene of so many Bacchic revelries - comes to life in nature writer John Lewis-Stempel's new account, The Wood: The Life and Times of Cockshutt Wood. Through poetry, folklore and his own observations he asks what it is that draws us to magical spaces.
Today we revel in feelings of joy and wonder, but feelings themselves are a surprisingly modern invention, says cultural historian Rachel Hewitt. She looks back at the 1790s, the decade when men and women of learning first began to take emotions seriously. Hewitt explains how an Enlightenment interest in reason led us to explore our own chaotic moods.
There are Bacchic scenes in the music of Debussy, as biographer Stephen Walsh shows in a new study of the French composer. Away from his piano Debussy had to battle professional vendettas, but in pieces such as Prelude to the Afternoon of a Faun, Debussy created a world of rich woodland scenes and musical intoxication.
Producer: Hannah Sander.
Last on
Bettany Hughes
Bettany Hughes is an award-winning historian, author and broadcaster, whose speciality is ancient and medieval history and culture.
Bacchus Uncovered made by SandStone Global and presented by Bettany Hughes will be on BBC World and BBC Four in April.
John Lewis-Stempel
John Lewis-Stempel is an author who has twice won the Wainwright Prize for Nature Writing, and is a columnist for Country Life.
The Wood: The Life and Times of Cockshutt Wood is published by Doubleday and will be Radio 4's Book of the Week.
Rachel Hewitt
Rachel Hewitt is a prize winning author, and has a doctorate in English Literature. She writes for various publications, including the Guardian, New Statesman and TLS.
A Revolution of Feeling: The Decade that Forged the Modern Mind is published by Granta Books.
Stephen Walsh
Stephen Walsh is an Emeritus Professor at Cardiff University.
Debussy: A Painter in Sound is published by Faber & Faber.
Credits
| Role | Contributor |
| --- | --- |
| Presenter | Andrew Marr |
| Interviewed Guest | Bettany Hughes |
| Interviewed Guest | John Lewis-Stempel |
| Interviewed Guest | Rachel Hewitt |
| Interviewed Guest | Stephen Walsh |
| Producer | Hannah Sander |
Broadcasts